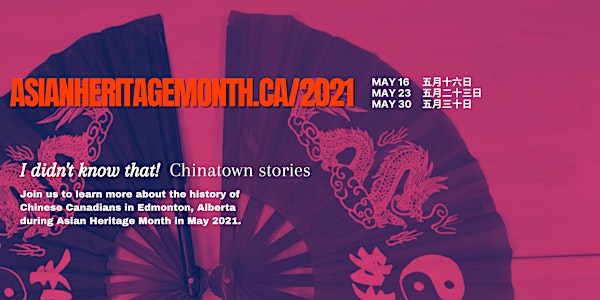 Goodwill Ambassadors: Edmonton China Dolls
"I didn't know that!" Chinatown Stories consists of 3 free online webinars for Asian Heritage Month 2021 - May 16, 23 and 30.
About this event
Goodwill Ambassadors: Edmonton China Dolls
Back in the late1960s the Edmonton China Dolls could be spotted at Chinese community events. These young women were there as goodwill ambassadors for Chinatown.
Curious to find out more?
These webinars are presented by the Chinese Benevolent Association and sponsored by Edmonton Heritage Council and Edmonton City as Museum Project (ECAMP).
Partnering organizations are the Chinese Graduates Association of Alberta and Fort Saskatchewan Multicultural Association (Asian cultural performance).