About this Event
A Message from GDG Cloud Toronto:
Season's Greetings,
Hope, you all are doing good and keeping safe. We are living through difficult times. COVID - 19 has impacted all of us in different ways, be it be our work, family life, or social activities.
Considering the current situation we have decided to postpone our Devfest' 20 till the last quarter of the year (tentative in Mid September) and will be publishing the details soon.
However, we feel uninterrupted learning is one of the keys to keeping ourselves strong and prepared for the future situation, therefore we would be hosting the online Hands-on Workshops this month as well as per the Devfest Agenda.
What you can do now. You can choose between below options -
1. Get a complimentary ticket to our 2 Day Hands-on Workshop with a certificate this month. Get 55$ worth value of Google Cloud Platform and your ticket to Google Devfest' 20 still remains valid for the rescheduled dates. Event link - https://www.eventbrite.ca/e/google-devops-essentials-on-gcp-two-days-workshop-with-certificate-tickets-107267116834
2. Request for Refund. We will refund the ticket amount, however, Eventbrite may still charge their fee and associated taxes.
Note - If you do not respond, your ticket will be automatically enrolled for both the workshop and the rescheduled workshop.
*** We will be sending the details of the workshop shortly.
GDG Team
gdgcloudtoronto@gmail.com
=========================================================
Devfest' 20 is a one day conference aimed to bring students, developers, tech-companies and awesome speakers together under one roof. Where they can learn about the Google's emerging technologies like Google Cloud Platform, Machine Learning, Artificial Intelligence, and more. GDG DevFests are community-run developer events happening around the globe focused on community building and learning about Google's technologies. Devfest' 20 is one of the biggest Google tech conferences in Toronto carefully crafted for tech enthusiastic students, professionals and researchers by the GDG Cloud Toronto community!
Key Takeaways for Every Participants -
* $55+ value lab subscription with an additional 30 days of access to the Google Cloud training platform.
* Networking opportunities for Students, Professionals and Startup Companies.
* Exciting Swags, Gifts and Prizes.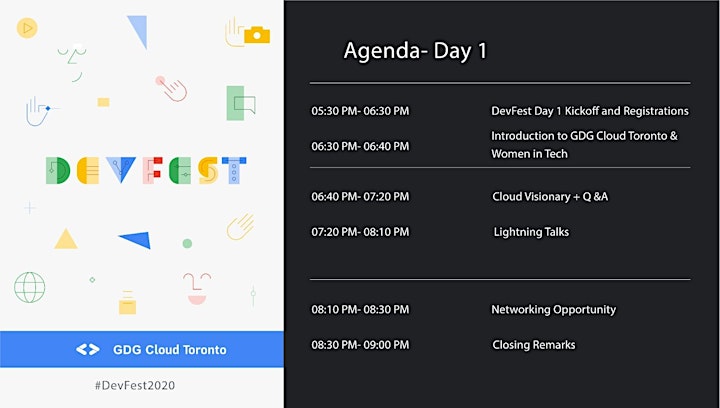 Day 2 has two parallel tracks. Location will be updated closer to the event.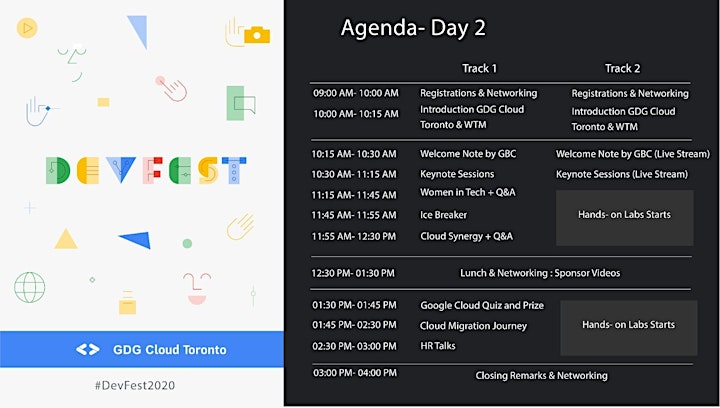 Watch our event videos from past -