Description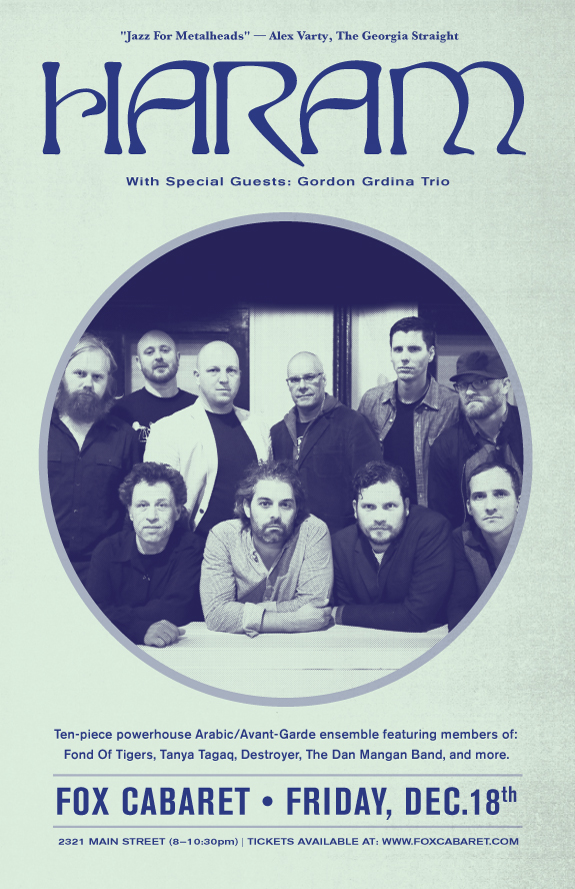 Join us for a special evening of live music with 10-piece powerhouse VancouverArabic/avant-garde ensemble, Haram and special guests, The Gord Grdna Trio.


About HARAM
Filtering Arabic music from great composers like Farid Al-Atrache and Oum Khalsoum through Vancouver¹s creative improvising community, Haram's music constantly shifts directions while building to euphoric crescendos.This cross-cultural, boundary annihilating music will appeal equally toworld, jazz and avant-garde indie audiences. Soloists Houle, Zubot (Fond of Tigers, Tanya Tagaq), Carter (Destroyer, Fond of Tigers, Dan Mangan), Grdina (Mangan, The Crackling) and Loewen (Mangan, The Crackling) make up Grdon Gordina's HARAM.

About The Gordon Grdina Trio
Exploring introspective ballads, improv, and song-forms and mixes them with Arabic inspired compositions, metal and full out punk brutality, The Gord Grdna Trio has amassive dynamic range being at once quiet for an oud lead taqasim andthen raging over a free-form punk groove the next. The band is vibran tand exciting to see live as the audience never knows what is going to happen next.
Show Info:
Doors: 7:30 | Show: 8:00 pm
Curfew: 10:30 pm

Ticket Info:
$12 — Presale (Limited)
$15 — General Admision (Advanced)
$18 — General Admision (Door)