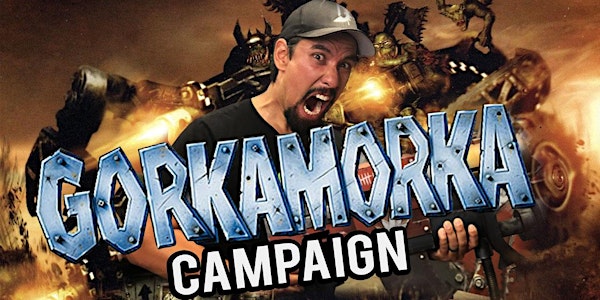 GorkaMorka Narrative Campaign
A collaboration of Orky goodness where warbands are scratch built, painted, and battled against other Ork enthusiasts!
When and where
Location
214 King St 214 King Street Welland, ON L3B 3J7 Canada
Refund Policy
Contact the organizer to request a refund.
Eventbrite's fee is nonrefundable.
About this event
Welcome to Gorkamorka! A specialist game where Ork trucks and/or warbikes (if you're brave enough) race and battle against each other to compete for the praise or Mork or possibly Gork. Orky randomness is a huge component of the rules so if you're a stickler for 'em, you may just be overruled by a Warboss.
Gamesmasters/Hosts: David Nordquist (MiniWarGamer Dave) & Luka
Dates: Monday Oct 212019 - Friday Oct 25 2019
Players: 5 participants will represent a unique warband in this Orky campaign. They will battle against each other to gain favour in the eys of Mork or possibly Gork .
Length: 18 Episodes will be filmed by and with Dave & Luka over the course of 5 days.
Cost: a deposit of $50 CAD to reserve your spot in the campaign. The Total cost of registration is $500 CAD per person + accommodation (varied depending on the themed room you book). Registration includes a 6x4 Tablewar F.A.T. Mat of your choice($60 value). All models for the campaign i.e. Ork Trukk, Boys, Nobs ($120 value). So if my Orky math is correct those awesome things alone is a $180 value. 10% off Battle Foam products (specific to players of the campaign). 15% off Max Aggression Gaming (This is the gaming store attached to MiniWarGaming). This doesn't even include the mountain of bits you get to rummage through to add to your warband. I don't even know where to begin what that value would be.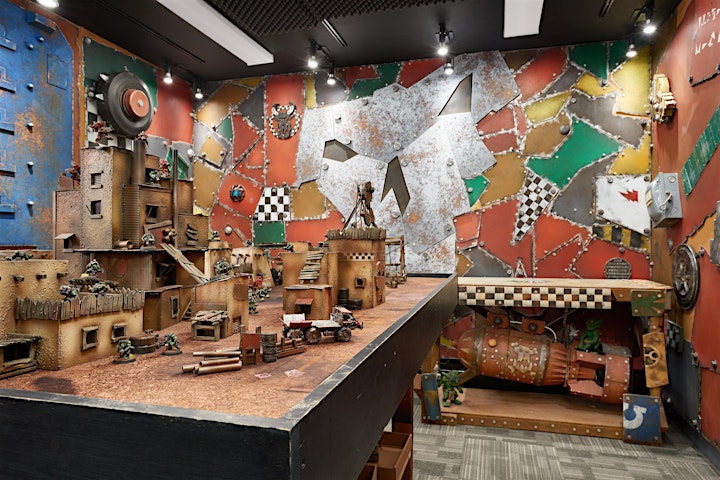 The Campaign Experience: Five days at the MWG Bunker where you'll be building, painting, and racing your warband of Orks in an epic clash of spikey bits and ramshackled gubbins. The original Gorkamorka rule set will be used in this campaign. If you've never played before, not a problem! The first 2 days of the event will include the preparation of the warbands and demo games to get you familiarized with the rules. This is an Orky retreat vacation like none you've ever experienced. It's designed to yank you out of reality and immerse you in the world of Gorkamorka. You can come with absolutely no models and leave with everything you need for the campaign. The bits and models seen in the pic below represent 1 tenth of the available bits we have especially for you. We boast one of the largest collections of Warhammer 40000 miniatures in the world and we've accrued quite the pile of bits and sprues as a result of that!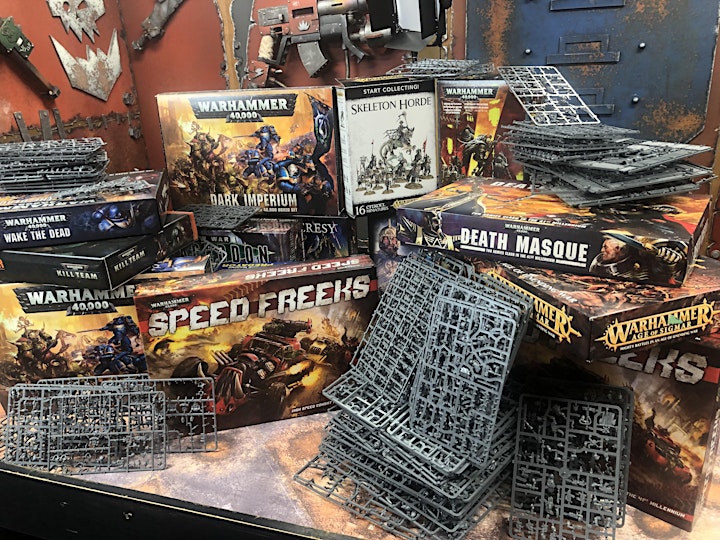 What is Gorkamorka?: Aeons ago a Space Hulk filled with Orks on a Waaagh! (a huge Ork invasion) crashed into Angelis plowing a massive canyon, "Da Skid", and devastating the world's ecosystem. The Orks, a race who can survive just about any catastrophe, promptly decided that this wasn't the Waaagh! and resolved to find a way off-world as quickly as possible. They turned to their Mekboyz (Ork technicians, engineers, mechanics and the closest thing they have to scientists) for aid, who set the other Orks to work gathering up wreckage from the crash. Construction began on a huge machine, although what it was going to do differed depending on the ideas of the individual Mekboy.
The lack of unity in the construction and the machine's resemblance to a religious idol led to conflict amongst the Ork population. A religious schism occurred and factions formed based around whether believers felt the idol was of the Ork god Gork or Mork. The resulting violence destroyed the entire machine, forcing the Meks to broker an unsteady peace between the warring sides. From then on the machine would be known as Gorkamorka, at least until the day of completion.
Angelis was a suspected Necron tombworld, prompting Imperial efforts to assess the planet. At the time of the crash there were surveyors underground within the pyramids, an Imperial outpost, and an Imperial cruiser in orbit. The cruiser was brought down by the hulk with the disfigured descendants of the crash survivors became "Muties", while those inside the pyramids became primitive tribals known as "Diggas".[2]In the summer in which the Necrons were released Games Workshop held small tournaments in shops and conventions, themed around the Nightbringer's awakening on Angelis. It concluded with Imperial forces destroying the planet and the Necrons escaping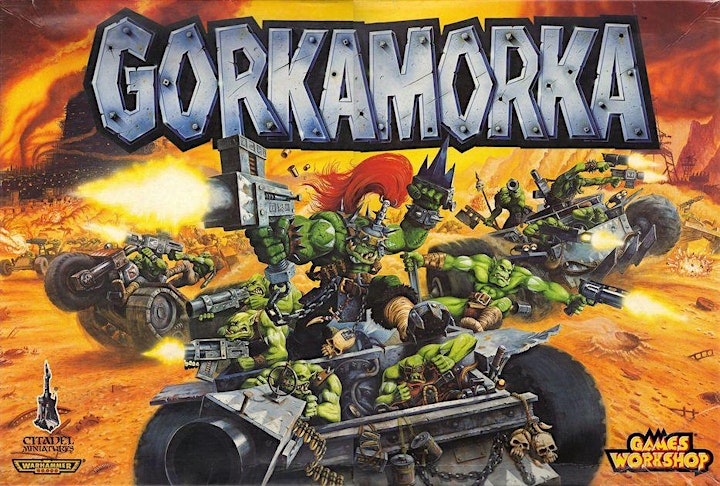 Itinerary: Sunday Oct 20 - Saturday Oct 26
Sunday
Evening arrival at the Bunker - players will need to Uber or taxi from the airport to the Bunker). Josh on site to receive guests.
Monday
9:00AM - Meet & Greet with Dave and Luka + Orientation
10:00AM - Warband Building
12PM - Lunch in cafeteria
1PM - Warband Building
5PM - Free time
Tuesday
9:00AM - Warband Painting + Demo Games
12PM - Lunch in cafeteria
1PM - Warband Painting + Demo Games
5PM - Free time
Wednesday
9AM - Campaign Filming
12PM - Lunch in cafeteria
1PM - Campaign Filming
5PM - Free Time
Thursday
9AM - Campaign Filming
12PM - Lunch in cafeteria
1PM - Campaign Filming
5PM - Free Time
Friday
9AM - Campaign Filming
12PM - Lunch in cafeteria
1PM - Campaign Filming
4PM - Triumphant Ceremony + Swag Awarded
5PM - Free Time
Saturday
Morning departure (Josh on site)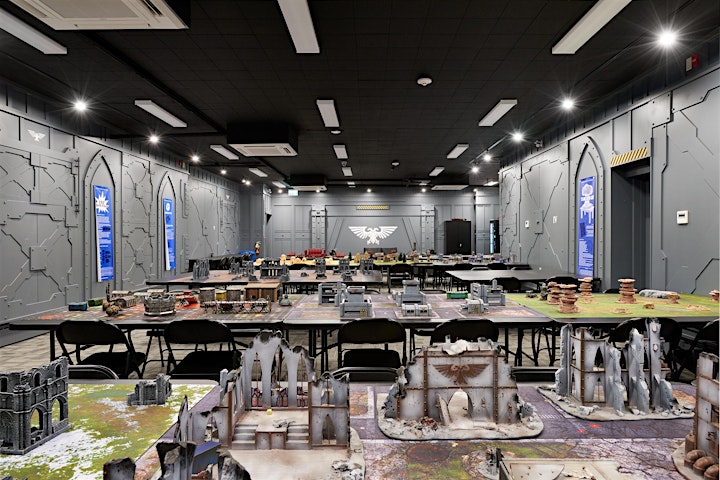 How much does it cost?
You will pay a deposit of $50 CAD here on Eventbrite to reserve your spot in the campaign. The Total cost of registration is $500 CAD per person + accommodation which ranges in price from $525 CAD for a bed in a shared barracks to $1800 CAD for exclusive use of the private Imperial Officer's suite with several options in between. Included in this is:
Six nights accommodation
A five day campaign filmed with your Gamesmasters (9 Missions in total per player) 72 missions played overall. At least 3 games on camera games filmed per player.
A welcome package
Applicable taxes
Registration
Reserve your place at the Bunker with a deposit now and we will invoice you for the balance of the registration, which will vary depending on your selections at check-out. Registration itself is $500 CAD per person and includes, welcome package, and all gaming materials needed for the campaign. Accommodation is additional, and you can select from various options on check-out, subject to availability.
Deposits are refundable within 24 hours of registration. The balance of payment is payable 30 days before the event.
Once you register, You'll be contacted by our staff to iron out details for accommodations. Since there are only 5 spots in the campaign, it's first come first serve for staying in the Ork bedroom. When you arrive at the Bunker, you will receive a player package which includes all campaign materials.
Accommodation
Select your accommodation from the options given on check-out. Prices range from a single bed in our shared Barracks Accommodation for $600 per person, to a private Imperial Officer's Suite for $1800, with semi-private options in between. All prices are for all 6 nights (taxes extra).
The Barracks, semi-private rooms, and the luxury suite are all located on site at the MWG Bunker. Rooms are priced according to share capacity and not per guest. It's possible you'll be bunking with other guests of MiniWarGaming who aren't in the campaign. If so, this will reduce your cost of accommodation.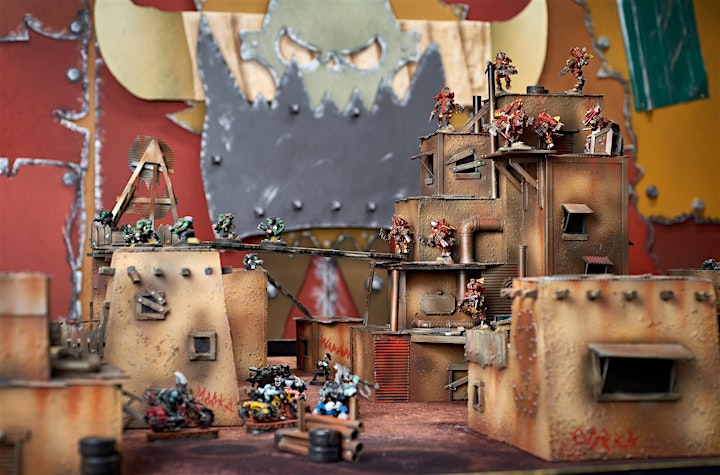 The object of the game is to lead a group of warriors to fame and fortune within the setting. Players choose from a range of factions with varying motivations and abilities and fight battles against others. Most of these groups are between five and fifteen fighters with appropriate transport, known as a "mob". Battles take place in an assortment of locations and scenarios, including sieges, races, and rescue missions.
The gameplay is similar to Necromunda,[3] which also revolves around small gangs. The primary difference is the inclusion of vehicles, although there are many significant differences that lead to Gorkamorka being a less "serious" game by comparison, characterised particularly by less lethal ranged combat and the bizarre nature of the Orks.
Games are designed to be played in a series and form a campaign, wherein fighters gain new abilities and suffer permanent battle injuries or death, and new warriors are purchased, or "retire" once they get to too high of a level. Players earn money ("Teef") based on how well they perform and the relative strength of their opponents. The campaigns are designed to be open-ended, allowing new players to join and leave at any time thanks to a mechanic which adjusts the rewards players receive evening out the power disparity. The closest thing to winning a campaign would be reaching the "retirement" level before other players.
FAQs
What is included in the cost of registration?
Your deposit is included in the cost of registration. The registration ($500 + Accommodation Fee + applicable taxes) includes 40 hours of gaming, experienced at the MWG Bunker with your Gamesmasters and hosts Dave & Luka. Since rooms vary in size and luxury, they are booked separately. When you arrive, you will receive a welcome package, including swag from our sponsors. There are no hidden fees and no additional costs.
I have allergies/sensitivities or other dietary restrictions. Will there be anything for me to eat?
Food will be purchased by the individual player during the specified times. Food is not included in the campaign.
Can I split the cost with friends?
You can share your room with your partner, or with a friend. You will be given an option for that upon checkout, and your invoice will reflect that. Registration itself cannot be split.
Can I stay in a nearby hotel and just come for the day to play?
Only guests that are registered and staying on site are permitted participate in the campaign due to the demand of players who are willing to support us by staying at the Bunker. In addition, staying at the Bunker grants 24 hour access to the gaming hall which non Bunker guests don't receive.
Can I bring my kids with me?
Children may not attend this event unless they are also scheduled to participate in another event or this one. If they are at least 14 years of age they may participate in our other battle reports as guests or hang out in the tournament hall.
I've never played Gorkamorka before. Will I still be able to enjoy this?
That's no problem at all. A MiniWarGaming team member will work with you before you (Dave or Luka), and hold your hand throughout the retreat. We'll explain everything you need to know and make sure you have a great time even if you've never played before.