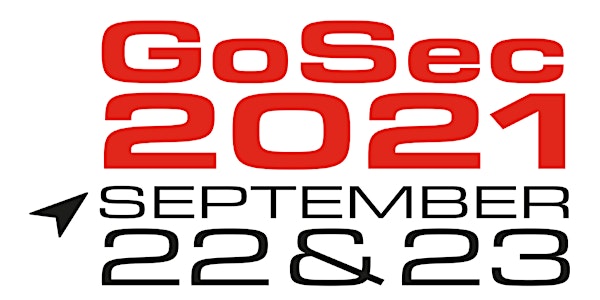 GoSec 2021 - Virtual Event - 17th Edition
GoSec brings together experts in the information technology security field from multiple sectors.
Refund Policy
Contact the organizer to request a refund.
Eventbrite's fee is nonrefundable.
About this event
Once again, GoSecure would like to invite you to take part in the 17th annual GoSec Cyber Security Conference, but this year it will be online !
GoSec brings together experts in the information technology security field from multiple sectors.
In addition to being a great networking opportunity, this event allows participants to learn about new industry trends and topics of different interests by offering more than 25 talks covering topics such as: audit and governance, risk management, research, and operational security.
Your data will be collected and processed by GoSec, organizer of the event, to allow your access to the event and its digital platform.
By registering, an account will be created with the information you provide, which will allow you to access our digital platform and the list of other participants to network before, during and after the event.
Your data will be transmitted to our partner Swapcard, publisher of our digital platform. Your data are protected but might be accessible to some of our partners. In particular, you have the right to access, correct and delete your data.
For more information on the processing of your data and your rights, please consult the Swapcard data protection policy, accessible here https://www.swapcard.com/fr/rgpd.
______________________________
Vos données seront collectées et traitées par GoSec, organisateur de l'événement, pour permettre votre accès à l'événement, ainsi qu'à sa plateforme digitale.
En vous inscrivant, un compte vous sera créé avec les informations que vous nous fournissez, lequel vous permettra d'accéder à notre plateforme digitale et à la liste des autres participants afin de réseauter avant, pendant et après l'événement.
Vos données seront transmises à notre partenaire Swapcard, éditeur de notre plateforme digitale. Vos données sont protégées mais peuvent etre communiquées aux partenaires de l'événement. Vous disposez notamment d'un droit d'accès à vos données, de rectification et d'effacement.
Pour plus d'informations sur le traitement de vos données et vos droits, veuillez consulter la politique de protection des données de Swapcard, accessible ici https://www.swapcard.com/fr/rgpd