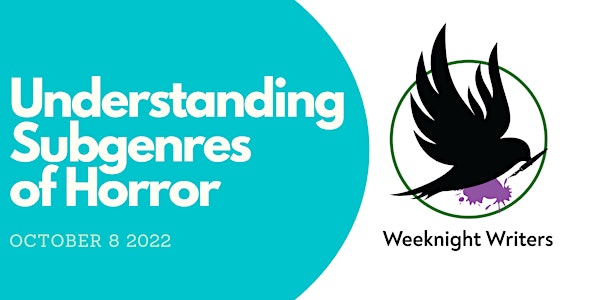 Gothic, Cosmic, Apocalyptic: Understanding Subgenres of Horror
This panel will define the differences between popular horror subgenres like gothic horror and cosmic horror.
Refund Policy
Contact the organizer to request a refund.
Eventbrite's fee is nonrefundable.
About this event
This panel will define the differences between popular horror subgenres like gothic horror and cosmic horror, plus offer resources for learning more about specific subgenres of horror.
The Moderator
Jade Benjamin is a Canadian writer and editor who is fiercely in love with language, words, and magical worlds. She has a double undergraduate degree in English (and Environmental Sciences), a Postgraduate Certificate in Book Publishing, and interning as an Editorial Assistant at Fitzhenry and Whiteside Ltd. (Markham, Ontario). Jade now works as a freelance editor, fitting work for independent author clients around her 9-5 expenses-paying job.
Sìne (SHEE-na) Peril has the dubious pleasure of being born at least fifty years after her skill set stopped being marketable, and also knowing she would not survive in pre-WWII society. She grew up in a Gothic novel, in an isolated portion of Ohio which has influenced much of her writing and sparked her interest in history. Her first novel, OFF THE RAILS, was released in 2018, and is the first book in a series. It was followed up by the stand alone novels BY THE GRACE and COLORS IN THE DARK. You can join her every other Wednesday on the Spooky Stitches Podcast on Youtube.
Des M. Astor is a writer in the Urban Fantasy genre. She twists things in a unique way and brings a new flavor to the mythical creatures you know and love. Des has been writing her entire life and decided to refine her craft by going professional. In her works, she tries to tell important lessons through her characters, such as the importance of working together in a romantic relationship and consent. In terms of friendships, she likes telling stories where a group of friends struggle in battle but come through in the end. She has a mixture of strong female and male protagonists. Her stories are character driven. Her favorite character archetype is the 'antihero', in which the protagonist might make some dark decisions for the protection of the innocent. Her stories tend to lean on the violent and action-heavy side, but they also include romances that build during these conflicts.
Hannah Brown grew up exploring the rocks and crags of the South Wales beaches she called home and has since graduated to living on the islands in Tokyo bay. By day she teaches writing to teenagers and by night she studies for her creative writing MA and writes until she drops. She has written horror shorts for Room Magazine and Fly on the Wall Press's 'Under the Sea'. You can find her on twitter @Hannah_Aimee_17.
Conference
This event is part of Storycrafting Sessions: Horror, a virtual conference hosted by the Weeknight Writers Group. Check out the other panels too:
Haunted Houses and Other Spooky Places: Creating Atmospheric Settings in Horror
Spirits, Ghosts, and Ghouls: Emotional Echoes and Supernatural Encounters
Crossroad Blues: Exploring the Boundary Between Life and Death
Dire Warnings: Building Social Critique and Concern Into Your Horror Writing