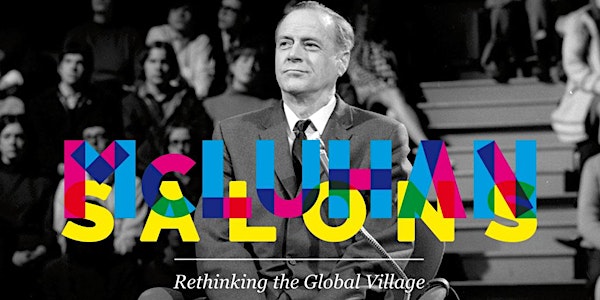 Governance and Representation: Communities in the City
Event Information
Location
Innis Town Hall
2 Sussex Avenue
Doors open at 6:15 PM
Toronto, ON M5S 1J5
Canada
Description
As a part of the McLuhan Salons series, this panel discussion will explore the role of public organizations such as universities, civic institutions, and local communities in supporting the urban sustainable development.
Featured speakers:
Siri Agrell, Director of Strategic Initiatives City of Toronto
Jean-Paul Addie, Urban Studies Institute Georgia State University
Kofi Hope, Executive Director CEE Centre for Young Black Professionals
Opening remarks: Paolo Granata, University of Toronto
Moderator: Shauna Brail, University of Toronto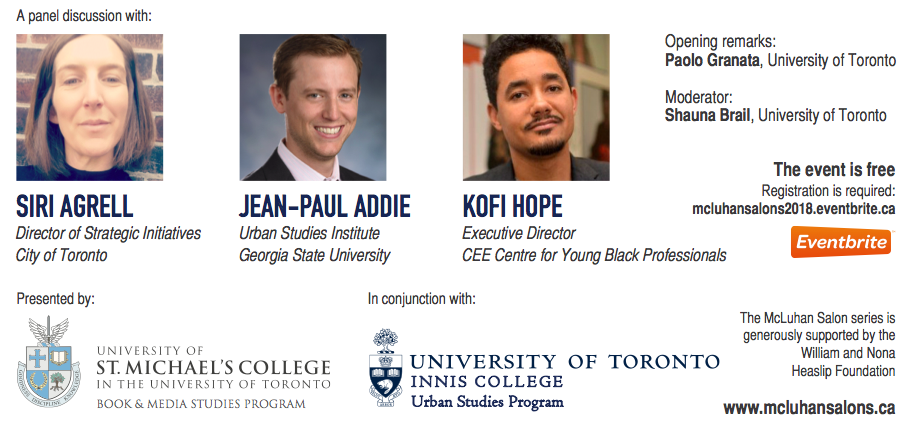 Siri Agrell is the Director of Strategic Initiatives for Mayor John Tory, where she oversees files including the Waterfront and Quayside, the King Street Pilot project, government modernization and innovation. She previously served as Deputy Director of Communications for Premier Kathleen Wynne and worked as a journalist for more than a decade, most recently as the Globe and Mail's Urban Affairs Reporter.
She founded Real City Matters, a debate series on Toronto issues during the 2014 municipal election and co-founded TypeFace, a literary portrait project benefitting the Toronto Public Library Foundation.
Jean-Paul Addie is an Assistant Professor in the Urban Studies Institute at Georgia State University. He was previously a Marie Curie Fellow and Lecturer at University College London, and holds a PhD in Geography from York University. Jean-Paul's current research examines how universities are adapting their institutional structures, pedagogies, and spatial strategies in response to the demands of contemporary urban society. His work on rethinking the urban university has been published in international academic journals including Regional Studies, CITY, and Urban Affairs Review, and in policy reports for UN Habitat and The British Council. You can follow him on Twitter @JP_Addie
Kofi Hope is a Rhodes Scholar, Doctor of Philosophy in Politics, community activist and youth advocate. He has over 15 years of experience in managing community based programs. Kofi was the 2017 winner of the Jane Jacobs Prize, for his work improving the City of Toronto. In 2005 he founded the Black Youth Coalition Against Violence, a group which advocated for real solutions to the issue of gun violence. This advocacy work included a presentation for then Prime Minister Paul Martin and led to him being named one of the Top Ten People to Watch in Toronto in 2006 by the Toronto Star.
Currently he is the Executive Director of the CEE Centre for Young Black Professionals (CEE) a non-profit which creates economic opportunities for Black youth in Toronto. He has delivered over 100 speaking engagements in Canada and the UK, was co-chair of Olivia Chow's election advisory committee in 2014 and is a member of the Board of Directors for the Atkinson Foundation and Toronto Environmental Alliance. Kofi has been featured widely in the Canadian media including: Metro Morning, Canada AM, TVO's The Agenda, Ontario Today, The Toronto Star, The Globe and Mail, The National Post and CP24. A global traveler he has visited 22 countries around the world and calls Toronto Ontario home.
* * *
The McLuhan Salons series is an initiative of the St. Michael's College in the University of Toronto, in conjunction with the Estate of Marshall McLuhan and several high-level academic and cultural institutions, and generously supported by the William and Nona Heaslip Foundation.
The McLuhan Salons aims to position the city as instructive in rethinking the larger interconnected global village, looking for metaphoric meanings of our urban homes and communities in a "classroom without walls".
Each McLuhan Salon will be open to the public, will commence with moderated probative discussion within a panel of top leaders and thinkers, and will engage the audience.
Date and time
Location
Innis Town Hall
2 Sussex Avenue
Doors open at 6:15 PM
Toronto, ON M5S 1J5
Canada