GRADTalks: Engineering Wellness

Thursday, 25 January 2018 from 5:00 PM to 8:00 PM (EST)
Event Details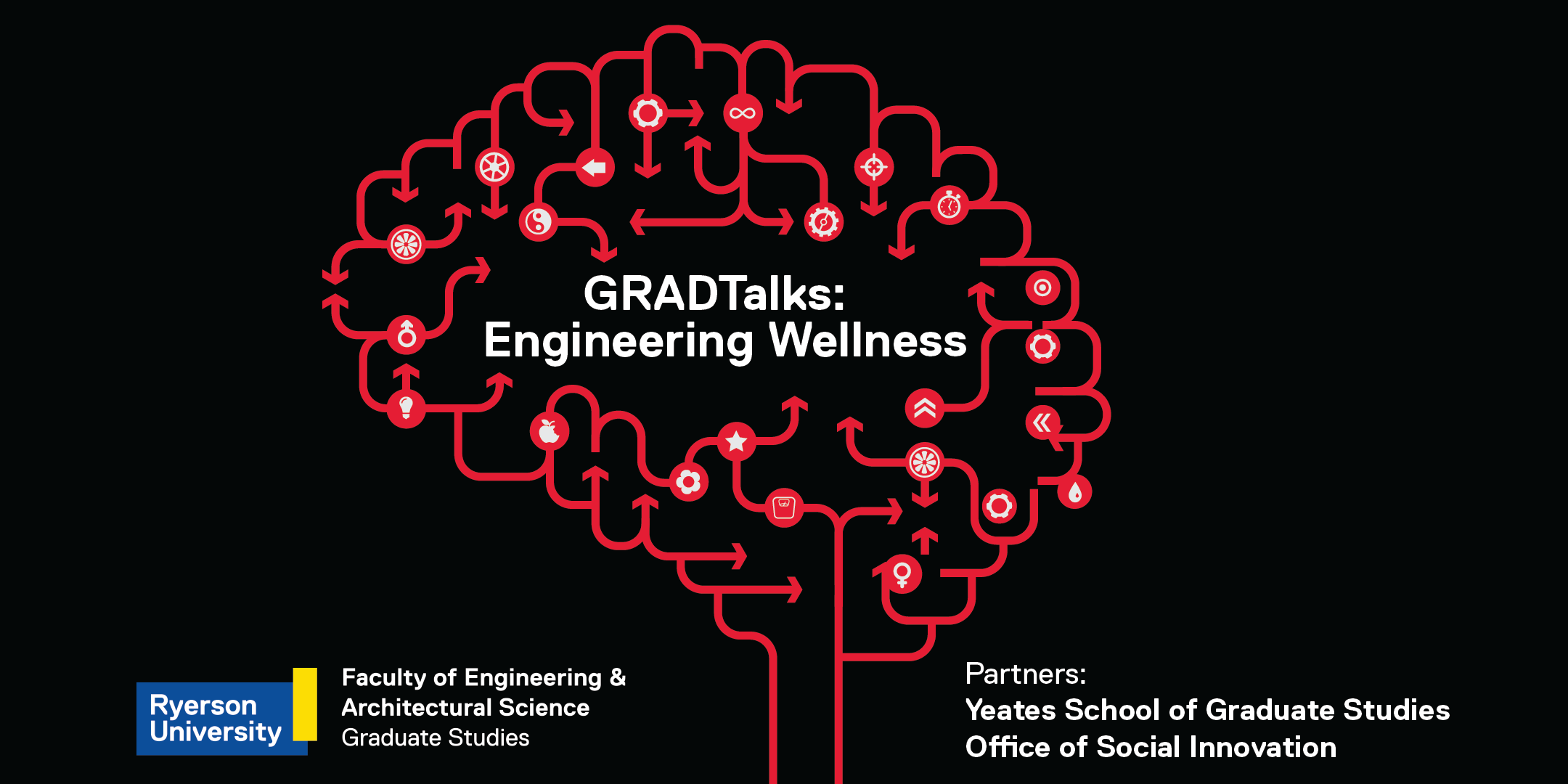 Presented by the Faculty of Engineering & Architectural Science in collaboration with the Yeates School of Graduate Studies and the Office of Social Innovation
Students' drive for success may sometimes come at a personal cost to wellness. Join us and listen in on the discussion comprised of a unique panel of leading members in the engineering and architectural industry who are striving to create a culture of wellness.

Panel discussion of speakers from:
Metrolinx
Siemens
Diamond Schmitt Architects
Logit AI
Toronto East Health Network
Moderated by Valerie Pringle.
This event is part of Ryerson's first annual Mental Health & Wellness Conference (MH&WC) created through a collaboration between Success Without Stress (SWS) and Students for Mental Awareness, Support & Health (SMASH). It is taking place within a week of Bell Let's Talk Day and is meant to start a public discussion on how to cultivate, monitor and control wellness in the fields of engineering and architecture known for high burnout.
Eligible for Future Smart: Essential Professional Skills for Graduate Students Program credit. Bring your passport to be signed (more information).
Agenda
5:00 - 6:30 | Registration & Interactive Welcome Reception (details forthcoming)
6:30 - 7:30 | Panel Discussion
7:30 - 8:00 | Q&A & Wrap Up

About the Panelists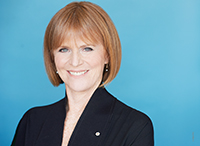 Moderator: Valerie Pringle is one of Canada's best known and most respected broadcasters, public figures and volunteers. She started her career at age 19 as a student reporter with CFRB Radio in Toronto after graduating from Radio and Television Arts at Ryerson. She helped launch the CBC-TV news and current affairs program, MIDDAY. Valerie moved to CTV in 1993 and co-hosted Canada AM until 2001. Valerie then helped produce, write and host documentaries and series including "Valerie Pringle Has Left the Building", "Test of Faith" and "The Canadian Antiques Roadshow". She is now involved full-time in not for profit work. She is co-Chair of the Trans Canada Trail Foundation. She is a member of the Foundation Board of the Centre for Addiction and Mental Health Foundation, The Ontario Brain Institute, the Stephen Lewis Foundation and the International Festival of Authors.She is a mentor for the Pierre Elliott Trudeau Foundation. Valerie was awarded an honourary doctorate from Ryerson University and was appointed as a Member of the Order of Canada in 2006 for her contributions to communications and her volunteer work.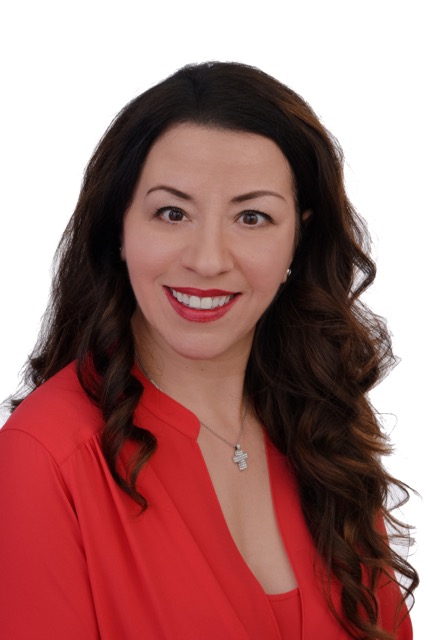 Panelist: Julia Barrasso is an experienced health and wellness professional specializing in building, improving and maintaining individual and workplace health. Over the past 20 years, Julia has worked extensively with individuals and organizations in providing subject matter expertise related to Individual and Workplace Health and Wellness. She has worked with stakeholders at all levels including private and public sectors. Julia`s success formula for healthy and wellness is an integrated one, she focuses on prevention and early intervention, integrates individual psychological and physical health and safety; educates stakeholders on ``ability`` vs. ``disability``, and promotes best practices to foster the promotion of psychological and physical well-being. Julia holds a Bachelor of Arts Degree in Languages and is privileged to be a Certified Disability Management Professional and a Consensus Based Disability Management Auditor with NIDMAR (National Institute of Disability Management and Research) etc. She is also a certified Mental Health First Aid (MHFA) Canada Instructor and Psychological Health and Safety Advisor, as designated by the Canadian Mental Health Commission.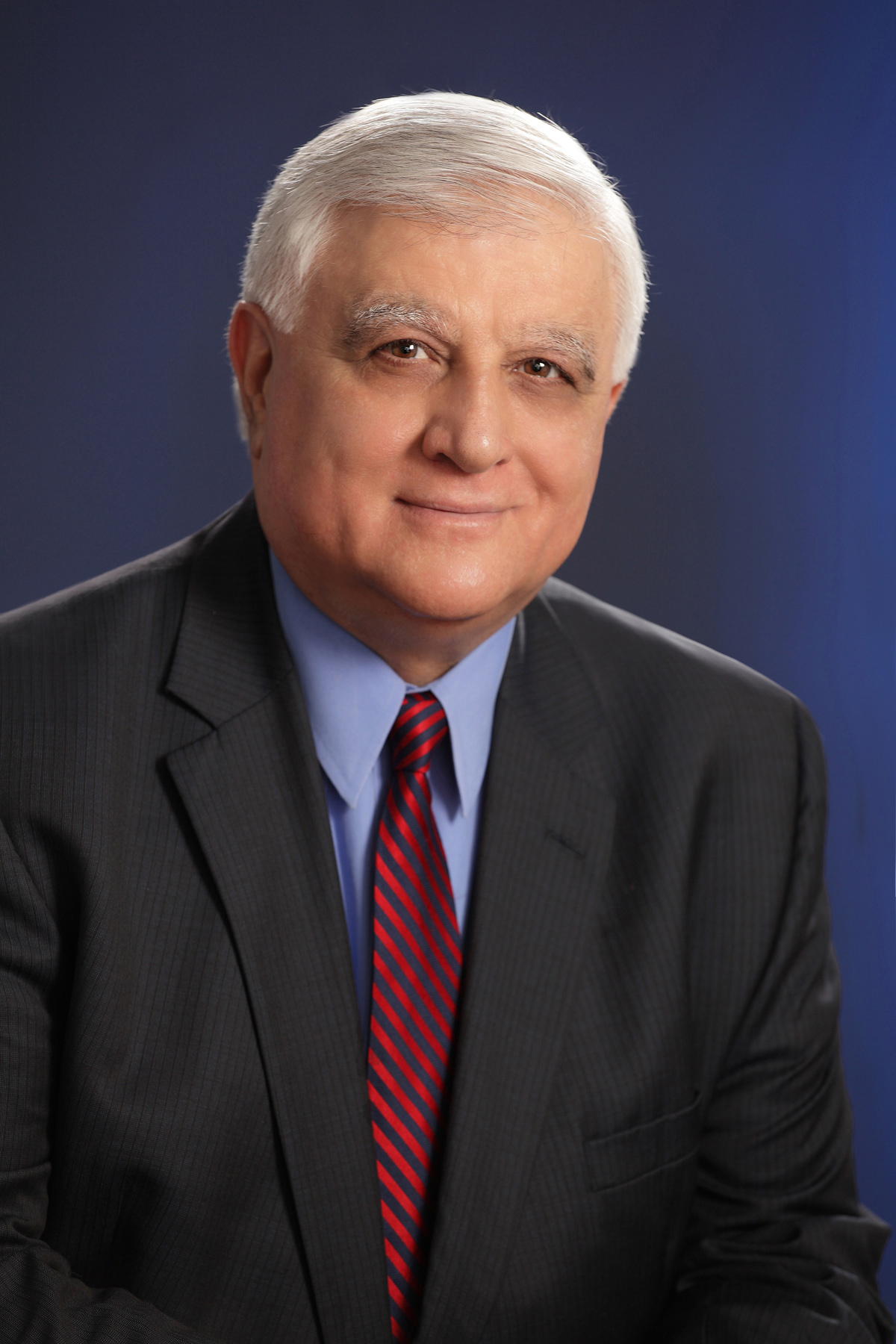 Panelist: Dr. Tom Murad, member of PEO Engineering Order of Honour, is a respected leader, thinker, and distinguished speaker on the topics of Engineering, Technology, and Technical talents development and education. Tom joined Siemens Canada in 2010, and he is the founder of the Siemens Canada Engineering and Technology Academy, "SCETA", that he established and directed since October 2014. He is also serving as a member of various advisory Boards of Directors in the Industry and in Academia. Dr. Murad has about 40 years of Professional Engineering and Technical Operations Executive Management including Academic and R&D work in Electrical Power, Industrial Controls, and Automation. He holds a Bachelor of Engineering (Electrical & Electronics), and a Doctorate (PhD) in Power Electronics and Industrial Controls from Loughborough University of Technology in the UK, with a Leadership Program Certificate from York University's Schulich School of Business. 

Panelist: Jessica Shiffman joined Diamond Schmitt Architects in 2002 and was made an Associate in 2014. Additional details to be updated shortly.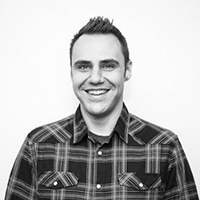 Panelist: Jason McFadden is an entrepreneur with over a decade of experience building disruptive businesses and innovative products that transform industries and make people's lives better. Prior to joining Logit AI, Jason co-founded Halogen Mobile a successful digital agency (merged with Kinetic Cafè) where he partnered with forward-thinking companies like LG, Microsoft, Toyota and The Huffington Post to turn amazing ideas into beautiful products & experiences. As the Chief Growth Officer at Logit AI, Jason brings unbelievable grit, resilience and plain old hard work to achieve the impossible. In his role at Logit AI, he's helping drive the go-to-market strategy including marketing, sales, public relations, partnership development, and fundraising. His passion for health and wellness, innovation, and entrepreneurship help Logit AI bring to market an intelligent health platform that will help people perform better and live healthier lives.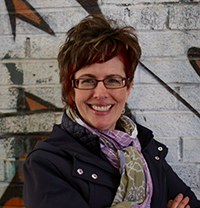 Panelist: Lois Didyk is a community mental health counsellor with the Toronto East Health Network.  She has 28 years experience supporting adults with various mental health issues to be more than their diagnosis.  Lois is a recent Social Work graduate from Ryerson (MSW '16) and is well acquainted with the mental health stressors that accompany grad studies.  Since graduating, she has been busy speaking with various student groups about widening how we think about mental health and wellness, and is a member of the Program Advisory Committee with the Faculty of Social Work as well as a Field Instructor.  Lois is committed to supporting students in developing their own personalized tools for success, and loves mentoring individuals with mental health issues who have returned to school.  In her home life, Lois lives with both an engineer and an architectural student, making this event particularly relevant - she has been bridging the worlds of social work and engineering/architecture for decades!  Informed by academia, family and personal experiences, Lois loves widening our thinking about mental health, and believes that humanizing and contextualizing mental health issues is an important step in the right direction.
We are pleased to announce that the following activations will also be taking place during our welcome reception:
Lisa McMurtrie (Nutritionist) is a certified yoga instructor and personal trainer who is currently pursuing a holistic nutritionist designation at the Institute of Holistic Nutrition. Lisa will be discussing the importance of digestive health, and the connection between the gut and the brain. We will be discussing the effect stress has on the body, and how that relates to gut health. Learn about some tips that you can add into your daily regimen to improve mental clarity, sustain energy and improve brain function. Lisa has completed her Bachelor of Fine Arts Degree at OCAD University with a minor in Social Sciences, and her passion is the Human Body, Health, Wellness, and Mindfulness. 
Ryerson SMASH (Students for Mental Awareness Support, & Health)
Tania Derlis (Nutritionist) has been interested in health and nutrition for many years. She believes that a healthy diet, proper nutrients, and a balanced lifestyle can help the body heal from within and allows people to feel their best. She has been creating her own delicious recipes for years and works with a catering company in Toronto in various capacities. She holds a science degree from the University of Toronto, is currently completing her certification as a Holistic Nutritional Practitioner at the Institute of Holistic Nutrition and is also working on her Culinary Arts Certification from George Brown College.
Logit AI is a data analysis engine that decodes how daily life impacts the body and how behaviours lead to overall health and wellness. Using scientifically validated questionnaires, wearables and other life data, the platform analyzes and itnerprets this information to accurately forecast precursors to injury, illness, burnout, and other ailments. Daniel Benin (Co-Founder) and Jason McFadden (Chief Strategy Officer) will be performing a demo of the platform during the event reception.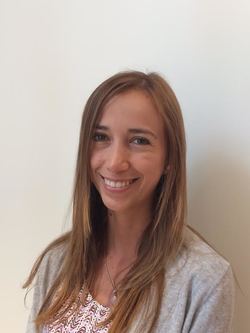 Dr. Maria Chaparro (Psychologist & Ryerson University Counsellor) is a Clinical Pscyhologist registered with the College of Psychologists of Ontario. She received both her Masters and Doctoral degrees from the University of Toronto and has had training and ample experience in treating a variety of clinical concerns including depressed mood, different types of anxiety, traumatic stress, disordered eating, as well as other concerns including dealing with relationship distress, perinatal mood difficulties, and parenting challenges. She is inspired by her clients' ability to thrive on challenges and motivation to engage in change. She is currently a counsellor at Ryerson University's Centre for Student Development and Counselling where she provides psychological treatment for a diverse student population. 
Pleasure Pop! is an installation designed by two MArch students Michelle and Nahal. Pleasure Pop! is a whimsical product that provides a short break from reality with instant relief and a first step to addressing your wellness. Impossible to play with quietly, Pleasure Pop! is a reminder that it is find to express when you are not fine.
When & Where

Sears Atrium, Third Floor, George Vari Engineering & Computing Centre
245 Church Street
Toronto, ON M5B 1Z4
Canada

Thursday, 25 January 2018 from 5:00 PM to 8:00 PM (EST)
Add to my calendar
Organizer
The Faculty of Engineering and Architectural Science (FEAS) is a hotbed of leading-edge applied education and research with 7 research and innovation clusters. We are a dynamic faculty, with close to 4,000 undergraduate students enrolled in 9 undergraduate programs, nearly 900 graduate students in 11 disciplines and 26 programs, over 150 faculty members - 7 of whom hold Canada Research Chairs - and 75 administrative and technical staff. The Faculty of Engineering and Architectural Science (FEAS) Graduate Studies Office was created to enhance the lives of our graduate students.