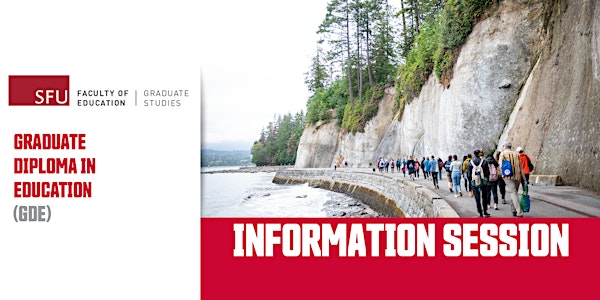 Graduate Diploma in Education - Infosession
Learn about the Graduate Diploma in Education program at the Faculty of Education!
About this event
See how you can create an enriched learning environment.
Join us in an information session on our Graduate Diploma in Education programs, hosted by Jas Uppal Hershorn and Ramona Elke.
Graduate Diploma in Advanced Professional Studies in Education (GDE) programs are designed in collaboration with BC school districts for educators whose primary focus is school-based practice. Through graduate level course work, the GDE provides educators with an extended professional development opportunity focusing on inquiry and professional questions of interest. GDE themes explore current theories and principles within content-specific and interdisciplinary learning.
These programs allow you to "live the work" in a collaborative learning community, with the support of colleagues, mentors, and instructors.
The information session will provide an overview of the program structure, admission requirements, and application process. Be sure to ask us any questions about the program you might have.
Select from the following information session dates:
Tuesday, October 11 - 3:30pm to 4:30pm
Monday, October 24 - 3:30pm to 4:30pm
Thursday, November 3 - 3:30pm to 4:30pm
Please note: this session will be hosted on Zoom. Please see order confirmation for meeting details.