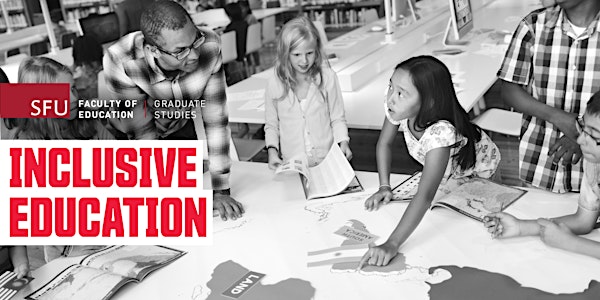 Graduate Diploma in Inclusive Education - Online Info Session
Join us for an Information Session about our Graduate Diploma in Advanced Professional Studies in Education (GDE) program.
About this event
Attend an online information session to learn more about the GDE instructional team, program curriculum, admission requirements and application process.
Program: Inclusive Education, Sea to Sky, Delivered Online
Program Start: Spring 2022 (January)

Apply by: November 12, 2021
This online Graduate Diploma in Advanced Professional Studies in Education (GDE) program, has been developed in partnership with School District #48, Sea to Sky, for educators interested in deepening their enduring understandings of inclusion as a right, diversity as a strength and personalization as a way forward. 
GDE programs are developed in collaboration with British Columbia school districts for educators whose primary focus is school-based practice within BC. This online program focuses on British Columbia's Ministry of Education K-12 curriculum and highlights ways to engage with curriculum through inclusive, experiential, and relational pedagogies, in order to foster learning environments where all members feel that they belong and can participate in meaningful ways.
Our programs allow you to "live the work" in a collaborative learning community, with the support of colleagues, mentors, and instructors. Our cohorts tend to attract educators with a range of experiences and backgrounds, including new teachers and TTOCs. Join us for this unique opportunity to connect with educators from across the province who share your curiosity and passion for building belonging in your educational communities.
This program is regarded as a preferred qualification for support teaching roles within the Sea to Sky School District. 
PROGRAM THEMES
Exploring developmental, constructivist and inclusive approaches to education
Connecting educational purposes, beliefs, values and practices
Examining theories, principles and frameworks of inclusive education, including Universal Designs for Learning and culturally responsive education
Designing for personalization and responsive classroom practices
Supporting students through co-designing personalized learning plans
Practicing co-planning, co-teaching and co-assessment of student learning
Creating inclusive environments, which includes understanding socio-cultural perspectives
Engaging with Indigenous and holistic approaches to teaching and learning (First Peoples Principles of Learning)
Collaborating, supporting, and strengthening relationships with students, colleagues, parents and other educational partners
Ideally Suited For:
This two-year, 30-unit program of study is for teachers whose primary focus is school-based educational practice. It provides the opportunity to engage in focused, sustained reflective inquiry. Completion of the diploma allows teachers to move from TQS category 4 to TQS 5 or from category 5 to 5+.
GDE Features: Range of Program Themes, Cohort Based, 2 years (6 terms), and TQS Upgrade Opportunity.