The Western Swing Authority is Canada's most recognized and awarded authentic Western Swing group.
About this event
The Western Swing Authority is Canada's most recognized and awarded authentic Western Swing group. Made up of a collection of some of the country's finest touring and studio musicians, they came together to play the timeless style of music they love. Seamlessly combining stellar musicianship and vocals with traditional country and jazz standards and their own "new vintage" originals, they have created a sound that is truly their own.
WSA have been recognized with awards and nominations in both Canada and the United States and are reintroducing the Western Swing sound to an entire new generation of music-lovers with every performance.
Recently, they caught the attention of a few of the music industry's most legendary icons, receiving an invitation to play a private party in Nashville for none other than Garth Brooks and his manager Bob Doyle.
In October 2019 the WSA released their 4th studio album, "BIG DEAL", that includes guest appearances by 9x Grammy winner Ray Benson of Asleep at the Wheel, Grammy nominated Jazz sensation Jane Monheit, Canadian Country Stars George Canyon and Jason McCoy, along with many more amazing artists who have added their support and talent.
Tuesday August 18, 2020 | 7:00 pm
NOTE: In the event of rain (it's an outdoors show), we'll shift to
Wednesday August 19, 2020 | 7:00 pm, when, no doubt, it will be snowing.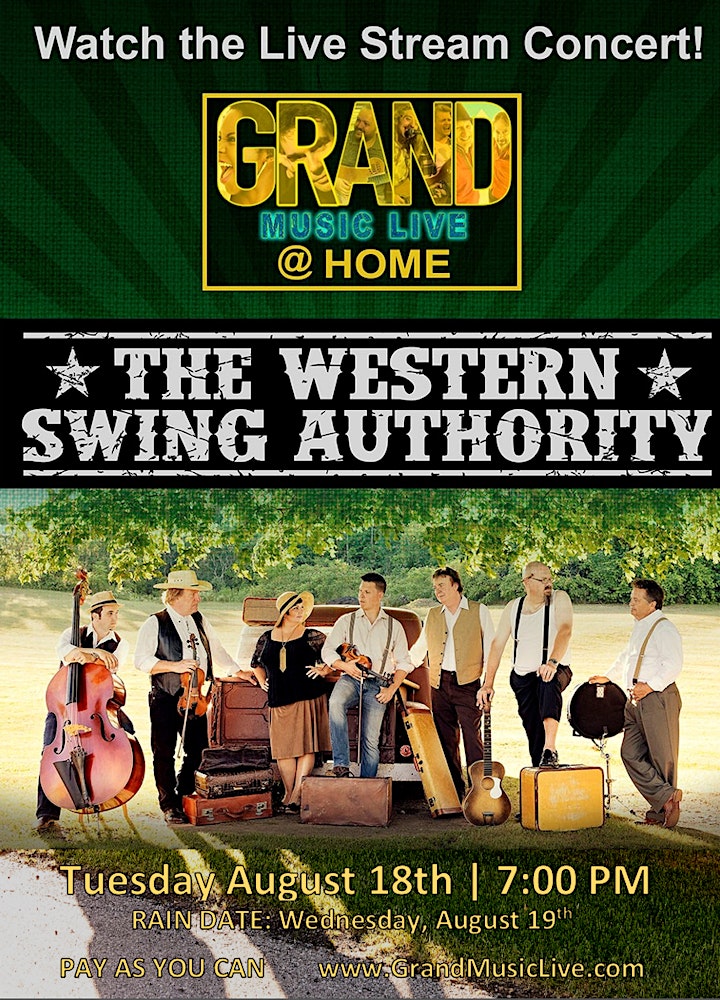 Organizer of Grand Music Live@Home Presents: The WESTERN SWING AUTHORITY
Chestnut Hall Music is a Canadian-owned and operated label and music production company. We specialize in live concert recording and streaming.as well as music videos, promos CDs, and documentaries.  Our recent productions include the Montreal Symphony Orchestra, Jane Bunnett, Molly Johnson, National Youth Orchestra, Penderecki String Quartet, Art of Time Ensemble, Pax Christi Chorale, Mark Fewer and more.

And we also handle live sound: recent tours/shows include Steven Page and Art of Time Ensemble (two US tours, and one cross-Canada with major symphony orchestras), Liona Boyd, Dan Hill, Branford Marsalis and Madeleine Peyroux.

We provide complete turnkey systems for streaming, or integrate with venue camera and Internet systems, directing the production and supplementing with our experienced production crew as needed, ensuring a dynamic and engaging visual and sound experience for your audiences.