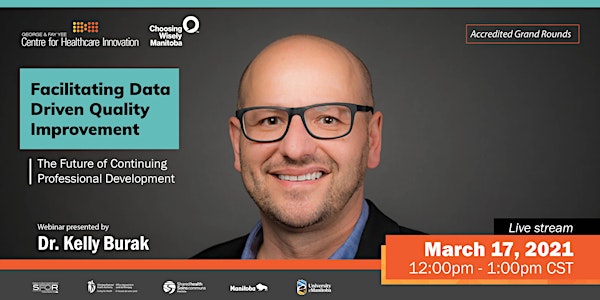 Grand Round: Facilitating Data Driven Quality Improvement
Facilitating Data Driven Quality Improvement: The Future of Continuing Professional Development
About this event
This Grand Round is hosted jointly by Choosing Wisely Manitoba and the Centre for Healthcare Innovation.
Speaker
Dr. Burak is Associate Dean of Continuing Medical Education and Professional Development and the Co-Lead of the Physician Learning Program (PLP) at the University of Calgary. In these roles he works to improve health care quality in Alberta by assisting practicing physicians to learn through reflection on their own performance data (facilitated feedback) and by using effective knowledge translation strategies to affect positive changes in behavior.
As the Co-Chair of a new Provincial CPD Network in Alberta, he is working to align stakeholders to implement a new system of CPD, in which physicians will participate in continuous cycles of quality improvement informed by scientific evidence and practice-based data.
Objectives
List a recommendation from the Future of Medical Education in Canada (FMEC) - Continuing Professional Development (CPD) report
Define audit and feedback and recognize its impact in changing physician behaviours
Describe the Calgary Audit and Feedback Framework (CAFF)
Accreditation
The CHI Grand Rounds are a self-approved group learning activity (section 1) as defined by the Maintenance of Certification program of the Royal College of Physicians and Surgeons of Canada. This grand round is accredited for a maximum of 1 hour. Certificates of attendance will be issued annually to the name/email address provided at registration. *While attending the online event, please ensure your name in Zoom matches your name that you registered with in order to receive your certificate.
Space is limited.
Register now to save your spot and you'll receive the webinar connection link one week in advance of the session.