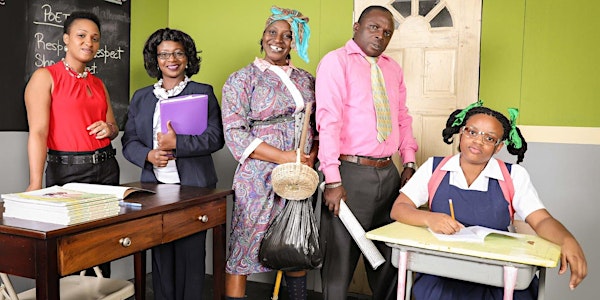 Granny Del, featuring Delcita and Her Hilarious Grand Pickney, Cotisha
Date and time
Sat, Mar 9, 2019 7:00 PM - 10:00 PM EST
Location
Bayside High School Performing Art Center 1901 Degroodt Rd. SW Palm Bay, Fl 32908
Refund Policy
Contact the organizer to request a refund.
Description
Delcita and her hilarious grand pickney, Cotisha, will be in Palm Bay, Florida, on March 9th, 2019. Here are 3 ways to get tickets to see Granny Del:
1. Call ticket hotline at 954-245-1182
2. Purchase tickets online from Eventbrite
- (Save $5 on early bird tickets until February 25, 2019)
3. Visit one of our ticket outlets listed below
Please follow and share this event on Facebook
https://www.facebook.com/events/509135426278263/
Ticket Outlets
Eli West Indian Grocery
4270 Minton Rd. Suite108 West Melbourne, Fl 32904
Call 321-952-9339
Hazel's Caribbean Restaurant
4970 Stack Boulevard Plaza Unit B6, Melbourne Fl. 32901
Call 321-768-6453
Jamrock Bar and Grill
1901 Palm Bay Rd NE, Palm Bay, Fl 32905
Call 321-372-7876
Brown's Jamaican Restaurant
1155 Malabar Rd. NE. Palm Bay, Fl 32907
Call 321-727-1060
Awesome Jamaica Jerk and Thing
4000 S. Babcock Street, Melbourne, Fl 32901
Call 321-802-4262
Island Seafood
875 N courtenay Parkway, Merritt Island, Fl 32953
Call 321-338-2006
Jerk Flava Restaurant
935 School Street, Cocoa, Fl 32922.
Call 321-631-6699
Golden Krust Caribbean Bakery and Grill.
1009 West Vine Street, Kissimmee Fl, 34741
Call 407-944-8879
Golden Krust
5510 West Colonial Drive, Orlando, Fl, 32808
Call 407-298-0543
Eckle's Restaurant and Jamaican Cuisine
1520 Orange Ave, Fort Pierce, Fl 34950
Call 772-448-8989
Story
Granny Del stars the energetic and unstoppable Andrea 'Delcita' Wright. Granny Del is an ancillary worker at Mount Jacobs Primary School. Her grand daughter, Cotisha Deleesha (Shakira Kelly), attends the school and is disruptive due to delayed learning and emotional challenges.
Cotisha and Granny Del move the comedy along quite quickly. Cotisha is a riot. In fact, Scriptwriter Andrea Wright is convinced that 'the laughter will be longer than the script'. This is a must see!
Get your ticket now before this event is sold out!!!
Call 954-245-1182 or purchase tickets here.
(Save $5 on online early bird tickets until February 25, 2019)
Ticket Prices
(a processing fee will be added to online purchases)
Early bird $30 - ends on February 25, 2019
General pre-sold $35
General @ the door $40
VIP pre-sold $45
VIP @ the door $50
Children under 12 $25 @ the door
About the organizer
Marcia Productions has been partnering with amazing people and organizations to bring some great shows to Florida.
Some of the highlighted events have featured Delcita, Mutabaruka, Oliver Samuels, Shebada, Bashment Granny, Jookie Jam and Sammy Quest.
Marcia Productions is set to feature a number of annual events highlighting the best of the Caribbean culture