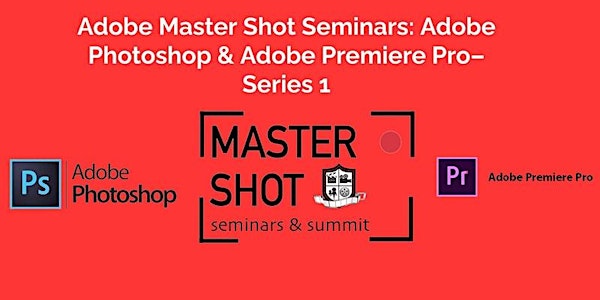 (Graphic Design)Adobe Master Shot Seminars: Adobe Photoshop- Series 1
The Windsor Centre for Film is proud to offer a FREE 6-week graphic design Adobe Photoshop Master Shot Seminar Series!
About this event
About this event
To take The Adobe Photoshop Master Shot Seminars you would pay $50.00, but MOST people can qualify for FREE if:
if you self-identify as a person who is financially disadvantaged or affected by covid and as a: Woman, Youth (under 30), LGBTQ2+, Person of Colour, Person with a Disability or New Canadian, or with Indigenous Peoples and or other Racialized Community, then attendance is FREE.
Adobe Photoshop
This course will provide the essentials on how to use Photoshop. By learning the basic elements and tools to edit photos and design graphics the way you imagine them. The course will provide:
An introduction to the Basics.
Explanation of all the important editing tools available in Photoshop.
Designing actual graphics, you can use for your business, or for fun.
An understanding of how to use Adobe Photoshop for fun or as a career opportunity.
We will be teaching the course using the latest creative cloud version, but if you have a previous version (CS6, CS5, CS4, CS3), you can still learn to edit like a pro. This course is great for both Mac and PC users.
***IF YOU DO NOT OWN ADOBE PHOTOSHOP YOU CAN STILL ATTEND*** PLEASE DOWNLOAD ONE OF THESE FREE ALTERNATIVES GIMP: https://www.gimp.org/ (Adobe Photoshop alternative) Krita: https://krita.org/en/ (Adobe Photoshop alternative)
Class Schedule
Classes are hosted every Wednesday from 7PM-9PM. With the exception of the class on February 5th.
Class 1: January 19, 7PM-9PM
Class 2: January 26, 7PM-9PM
Class 3: February 5, 7PM-9PM
Class 4: February 9, 7PM-9PM
Class 5: February 16, 7PM-9PM
Class 6: February 23, 7PM-9PM