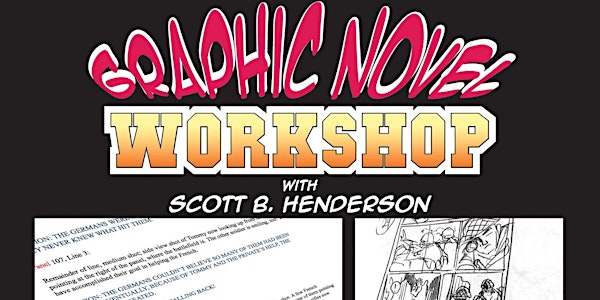 Graphic Novel Writing Workshop
When and where
Location
Burns Family Classroom 218-100 Arthur Street Winnipeg, MB R3B 1H3 Canada
Description
If you've ever wanted to learn how to create a dynamic graphic novel, here's your chance! Scott Henderson will be presenting a workshop on creating a graphic novel. Some of the things he will cover are:
*examples of different formats for comic scripts.
*tutorials on how to translate words into images.
*the methods of how they eye flows from panel to panel, with the goal of Clarity always in mind.
*the effects and benefits of storytelling techniques to tell a story.
*the relationship between words and pictures in comics.
*examining the unique traits of comic book storytelling as it is both similar and different to prose, film, and other media.
*interspersed with exercises in applying comic book storytelling techniques.
Scott B. Henderson works as a freelance illustrator. He is the author and illustrator of the sci-fi/fantasy graphic novels 'The Chronicles of Era'. His illustration work includes '7 Generations: A Plains Cree Saga' (2013 MB Book Awards nominee), select titles from the 'Tales from Big Spirit' series,' Betty: The Helen Betty Osborne Story' (2016 MB Book Awards nominee), and most recently, 'Fire Starters'. Scott, alongside David A Robertson and GMB Chomichuk, are featured in the documentary 'Artists by Night', directed by Kelly-Ann Reiss. In 2016, Scott received the C4 Storyteller Award.
Scott is a graduate from the University of Manitoba's School of Fine Art and currently lives in Winnipeg with his wife and two children.
http://scotthendersonart.wordpress.com