Description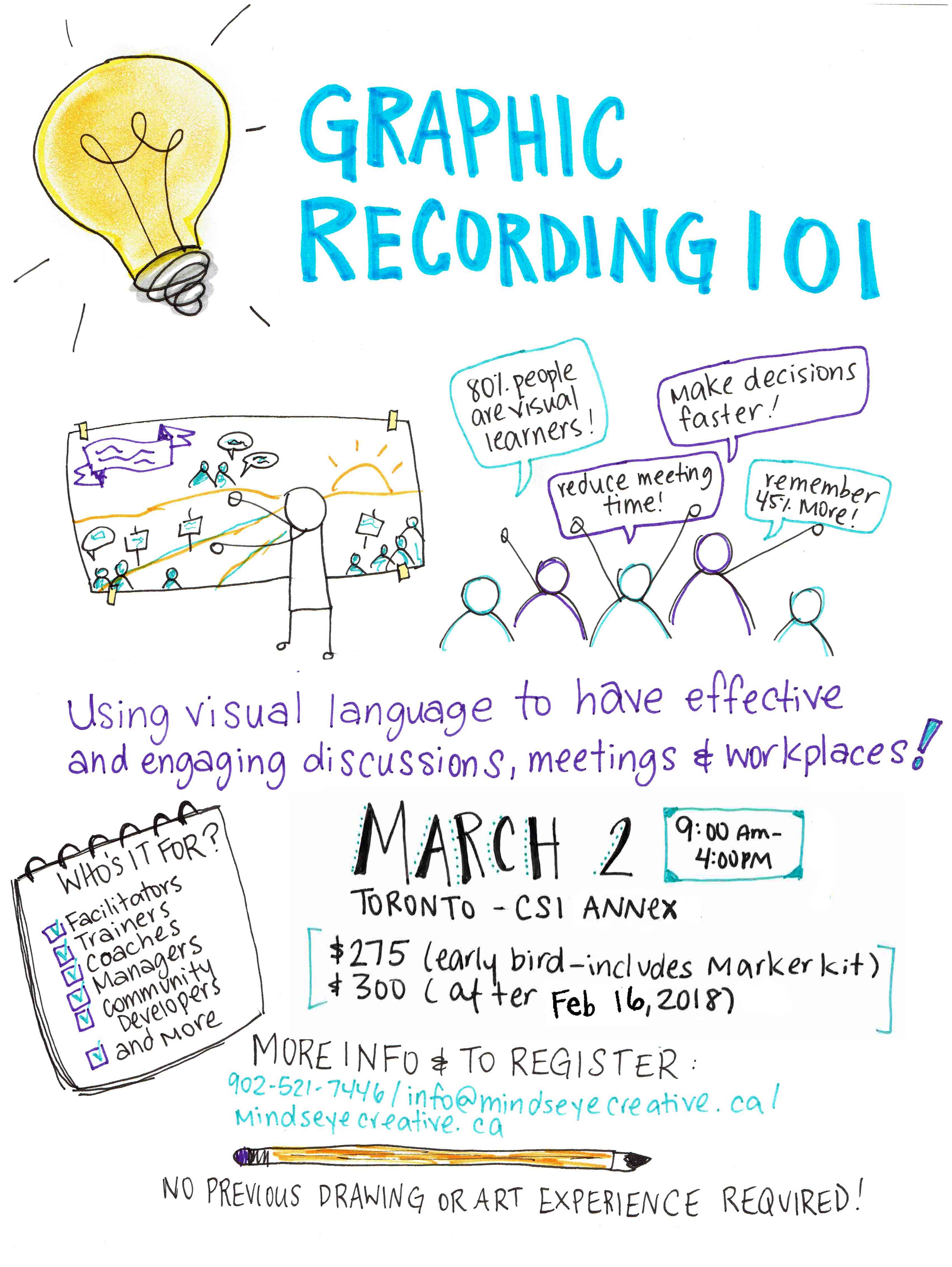 GRAPHIC RECORDING 101 - An interactive, fun workshop on how to use visual language to have effective and engaging meetings and work places. This workshop is an introduction on how you can use simple images and colour to make it easier to build clarity, focus, insight, action and results!
In this 7 hour workshop we will learn and practice:
What is graphic recording, graphic facilitation and visual note taking.
The 8 essential drawing elements – practice recording large!
Learning the balance between listening and capturing content
Listen. Think. Draw. Synthesizing information. Putting it all together
Build your visual vocabulary so you can record quickly and effectively
Practice time – have conversation and record in real-time.
GOALS & OUTCOMES
> Dive into graphic recording and how to balance information effectively.
> Have tangible graphic recording skills to be able to implement into your work immediately after the workshop
> Build knowledge around this tool and how it's effective in helping teams work effectively together and enhance their engagement
APPROACH AND METHODOLOGY
Graphic recording is a powerful visual tool used to transform complex ideas into simple and easy to understand images. The process of using words and visuals increases memory retention and promotes innovation and creative thinking. Since many people think in pictures, language used during discussions are captured graphically, which makes information easy to digest and refer back to throughout and after an event or meeting. Someone trained in the skill of graphic recording typically stands at the front, at a giant board drawing in real time the key concepts with supporting details. The graphic recorder is there to 100% support the content from the room to bring their words to life and create that extra value added benefit to all who attend. Visual charts are created alongside and with participants.
EXAMPLES OF SOME USES
Visual notes at team meetings, board meetings, AGMs, etc.

Strategic Planning or Strategy Sessions

General planning meetings where you need a team on board to help make a plan that you can use the visual as a roadmap to implement that plan.

Open Space

Round tables

Organized discussions

World Café, etc.

Guest Speakers

Transition sessions where conversations may be tense and uncomfortable and participants can see their voices being heard, valued and validated.

Any time where you require a group to help break down a complex idea

Much More!