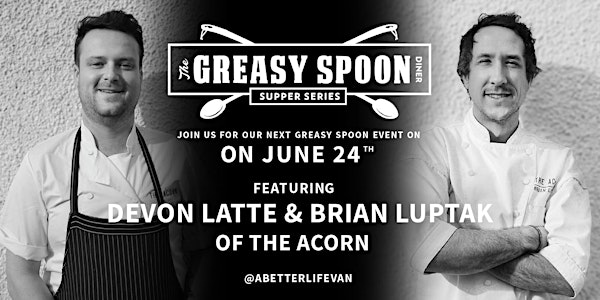 Multiple Dates
Greasy Spoon Vol 51 feat Brian Luptak and Devon Latte of The Acorn
Description
The Greasy Spoon Diner is truly one of a kind. It pairs the best chefs in the world with the legendary Save On Meats to create a monthly four-course dining experience.
Chefs trade in their tweezers for tongs, creating four courses inspired by upscale diner food. The meal is paired with cocktails made by award-winning bartenders, as well as craft beer and wine. The best part; it helps feed and employ members of our community. It's an opportunity to re-connect with purpose, enjoy an exceptional meal with people who share the same values, and hear about the work being done to serve those less fortunate. The Greasy Spoon is the easiest way to make a big impact while having a great time.
The Acorn is an award-winning, vegetable-forward restaurant and bar located at the heart of Vancouver's Main St. It is a destination for diners seeking the best and most creative meals made from fresh, locally sourced ingredients. Carefully crafted dishes cater to vegans and gluten free diners while ensuring that even the staunchest meat eaters leave fully satisfied.
The menu developed for the night has two snacks and four courses, including dessert. Each course is paired with either beer, wine, or a cocktail.
SNACK
Radish, Baby Carrots, Beans, Ranch, Sugar Salt Coffee Crumb

EGGS ON TOAST
Sourdough Toast, Leek Ash, Ramp Top Buttered Scrambled Eggs, Pickled Ramps
QUEBEC TOASTIE
Miso Brioche Bun, Pepperrot, Garlic Scape Relish, Mustard, Sauerkraut, Pickled Red Onions
CHICKEN FRIED "STEAK"
Marinated, Pressed & Fried Maitake, Biscuit, White Gravy, Bread & Butter Pickles
SHEEPFOOD PIE
Farm Scraps, Whipped Potato, Preserved Corn, Gravy
STRAWBERRY ANGEL FOOD CAKE
Sorrel Angel Food Cake, Strawberry Sundae Sauce, Apricot Pit Chantilly, Oxalis
PINEAPPLEWEED FLOAT
Pineappleweed Soda, Ginger & Elderflower Ice Cream, Pineappleweed Garnish
Organizer of Greasy Spoon Vol 51 feat Brian Luptak and Devon Latte of The Acorn
At A Better Life Foundation (ABLF) our mission is to support local community by providing upward mobility through food security, education, training and employment. Our vision is to feed our community and by doing so, alleviate many of the social problems our community faces. Food security is key to well-being. ABLF raises critical funds to provide nutritious food to women, children, and those on assisted living through daily meal programs prepared at the Save On Meats Diner located in the heart of Vancouver's Downtown Eastside at 43 W Hastings.
ABLF's daily meal program (in partnership with Atira/BC Housing) provides ~1,000 nutritious meals to marginalised members of the community every single day, building a path to a food-secure future for all Vancouverites. Proceeds from the Greasy Spoon Diner series go directly towards our daily meal program; so you can have a great night out while making a big difference to those in need.
Thank you for helping us provide 2 million meals (and counting!) in our community.