Great Expectations: Board Management and Relations, with Shelagh Donnelly
Great Expectations: Board Management and Relations, with Shelagh Donnelly
About this event
Great Expectations: Board Management and Relations - 75 minutes, including Q&A
Just as expectations of boards and their members are high, your contributions to the board's success are also held to a high standard. You need to communicate effectively and produce quality meeting packages. You also need to navigate sensitive situations and maintain confidentiality.
While reporting structures vary, you're likely accountable to a number of stakeholders. You're constantly collaborating with directors, C-level colleagues and their EAs, and so relationship management skills are key to your success.
Technical skills aside, it's your emotional and cultural intelligence that help you secure deliverables, produce relevant meeting packages in a timely manner and gain stakeholders' respect.
We'll look at relationships and expectations, and getting the job done through influence rather than authority. We'll also focus on establishing and maintaining credibility, trust and confidence through the quality of your communications, meetings and board packages.
Key learning objectives
Expectations of boards and those who support them: assessing your own stakeholder relations
Communications with the board and management
Managing relations and expectations
Included with your registration
30-day access to recording of our session
PDF companion workbook, to download and use as you watch the recording
certificate for your professional development portfolio
What participants have said about Shelagh's webinars
"very informative – just the right level"
"There were a lot of useful tips"
" Her sense of humor and creative slide images add value to the presentation."
"Many things made me feel like I was on the right track and others made me glad I had taken this webinar!"
"Shelagh was exceptional ... Well prepared, impeccable knowledge."
"Your advice was both practical and inspirational"
About your trainer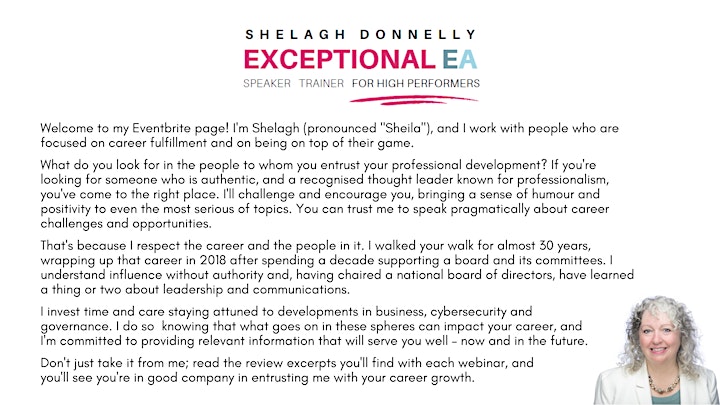 Invest in your career with someone who's walked the walk and presents on current best practices
Shelagh is trusted and respected by assistants and employers around the globe. She has been publishing her Exceptional EA website since 2013, and writes for other publications. An in-demand trainer, Shelagh works with conference organisers, professional associations, government bodies, higher education and businesses, including corporations such as the NBA.
For Shelagh's bio and a sampling of clients and references, please click here.
Registration fee
The fee for each webinar in this pandemic series is $55 US. Depending on currency fluctuation rates, that's approximately £44, or €50.
Canadian residents registering for this webinar will see that GST of $5.12 CAD is included in the cost.
What's included in this registration fee?
This is a live, 75-minute webinar that Shelagh will present via GoToWebinar. You'll receive your unique access link via a GoToWebinar email within 24 hours of registration.
After the webinar, Shelagh will email you a certificate of attendance that will come in handy for tracking and showcasing your professional development.
You'll also have access to a recording of the webinar for 30 days post-event. This can come in handy if you'd like to review a concept, and if time zones or people throw your schedule for a loop the day of a webinar.
As well, Shelagh publishes a companion workbook for you . As with the session recording, this is accessible for you to download for a period of 90 days, and it's ideal to have at hand as you watch the recording of our session.
Speaking of time zones ..
Check out the time in your time zone. Shelagh will present this live at 10:00 a.m. PDT/GMT-7 hours; click here to access a time zone converter. If this represents the wee hours of the night in your time zone, you'll be in good company by registering and relying on access to the recording and PDF companion workbook.
Date and time
Location
Refund policy