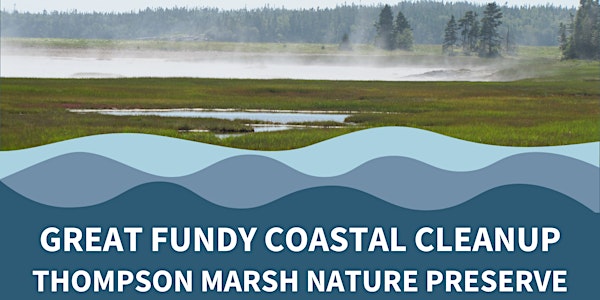 Great Fundy Coastal Cleanup at Thompson Marsh in Chance Harbour. NB
Help us protect New Brunswick's coastal ecosystems and wildlife by joining the cleanup at Thompson Marsh in Chance Harbour, NB!
When and where
Location
Thompson Marsh Nature Preserve 1 Chance Harbour, NB E5J 1Y7 Canada
About this event
Great Fundy Coastal Cleanup
Location: Thompson Marsh Nature Preserve, Chance Harbour NB
Date: August 20th, 2022
Rain date: August 21st, 2022
Time: 10:00am - 2:00pm
Cost: Free
Leader: Nature Trust of New Brunswick Staff
Registration: Online
Number of Available Registrations: 20
Description: Help restore the coastal ecosystem by participating in this cleanup at the Thompson Marsh Nature Preserve!
The Thompson Marsh Nature Preserve consists of coastal salt marsh and gravel barrier beach peninsula near Chance Harbour, on the Bay of Fundy.
The preserve contains two pieces of land separated by a saltwater marsh. A small creek, known as Belding's Creek, runs through the preserve, draining into Little Dipper Harbour. Thompson Marsh has with gooseberry shrubs and clumps of white and red spruce.
At this cleanup, teams will work together to identify and remove debris along the shorelines of the preserve. Participants should be prepared for collecting garbage and some bushwhacking.
More details will be circulated to participants upon registration and in advance of the cleanup event. Please note the entrance to this preserve can be difficult to spot. Please look for the windflag off the highway.
This is an outdoor event so please dress according to the weather.
What to Bring:
- Closed toes shoes or rainboots
- Appropriate clothing for weather
- Water
- Lunch and snacks
- Sunscreen
- Bug spray and/or bug net
- Work gloves (optional)
- Camera (optional)
-----------
Grand nettoyage du littoral de Fundy
Lieu : Réserve naturelle du marais Thompson, Chance Harbour NB
Date : 20 août 2022
Date en cas de pluie : 21 août 2022
Heure : 10hr00 – 14hr00
Coût : Gratuit
Animateur : Personnel de la Fondation pour la protection des sites naturels du Nouveau-Brunswick
Inscription : En ligne
Nombre d'inscriptions disponibles : 20
Description : Aidez à restaurer l'écosystème côtier en participant à ce nettoyage à la réserve naturelle du marais Thompson !
La réserve naturelle du marais Thompson est constituée d'un marais salé côtier et d'une péninsule de cordon littoral de gravier près de Chance Harbour, dans la baie de Fundy.
La réserve comprend deux parcelles de terre séparées par un marais d'eau salée. Un petit ruisseau, appelé Belding's Creek, traverse la réserve et se jette dans Little Dipper Harbour. Le marais Thompson comporte des arbustes de groseilles à maquereau et des touffes d'épinettes blanches et rouges.
Lors de ce nettoyage, les équipes travailleront ensemble pour identifier et enlever les débris le long des rives de la réserve. Les participants doivent être prêts à ramasser des déchets et à faire un peu de brousse.
De plus amples informations seront communiquées aux participants lors de leur inscription et avant l'événement de nettoyage. Veuillez noter que l'entrée de cette réserve peut être difficile à repérer. Veuillez chercher le drapeau à vent à la sortie de l'autoroute.
Il s'agit d'un événement en plein air, veuillez donc vous habiller en fonction de la météo.
Ce qu'il faut apporter :
- Des chaussures fermées ou des bottes de pluie
- Vêtements adaptés à la météo
- De l'eau
- Repas et collations
- Crème solaire
- Spray anti-moustiques et/ou filet anti-moustiques
- Gants de travail (facultatif)