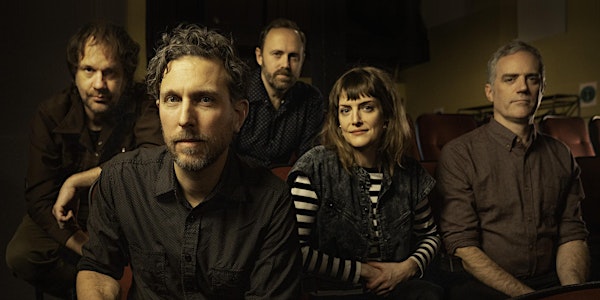 Great Lake Swimmers at The Isabel Bader Centre
UNDER 16 WITH PARENT OR LEGAL GUARDIAN
Flying V productions
Great Lake Swimmers at the Isabel Bader Centre September 14th at The Isabel Bader Center General Admission Doors 7pm Show 8pm
Date and time
Thursday, September 14 · 8 - 10pm EDT.
Location
The Isabel Bader Center 390 King Street West Kingston, ON K7L2X4 Canada
About this event
2 hours

UNDER 16 WITH PARENT OR LEGAL GUARDIAN

Mobile eTicket
Great Lake Swimmers at The Isabel Bader Center
September 14th at 8pm General Admission tickets
Doubt, followed by discovery. Demos that ended up as finished tracks. New beginnings, rear-view reflections, and ruminations on the fluidity of time: Uncertain Countrycaptures these feelings and so much more. This celebration, 11-songs long, follows a prolonged period of collective anxiety. Though recorded in different locales—and with a variety of musicians—a theme of questioning runs throughout. Even before the world turned upside down, singer-songwriter Tony Dekker felt mired in uncertainty: from the climate crisis and the ever-changing political landscapeto deep shifts within the music industry. The "uncertain country"Dekker chose as the album's theme is not a specific place. Rather, it's a territory we, as humans, inhabit in the 21stcentury —a worldthat, more often than not, is confusing, unfamiliar and unsettling. The long journey from there to here started more than three years ago, when Dekker took a 10-day trip to one of his favorite places: the north shore of Lake Superior. A pair of friends and collaborators: Adam CK Vollick (who filmed the experience) and Joe Lapinski (who co-produced Uncertain Country) joined him. On this immersive trip, the songwriter soaked in the beauty of the landscapes and learned the stories of the people who have inhabited them since time immemorial. The two songs that open Uncertain Country,the title track and "When The Storm Has Passed," were recorded at the Oddfellows Temple Hall in St. Catharines, OntarioinSeptember 2020. These jubilant sessions, following five months of unease, were a much-needed release for Dekker and his band. Both songs capture the album's themes of the elasticity of time and processing change.Making this joyful noise together again set a tone—and direction—for the record. The music morphed from hushedand folky to a more comforting, curatedlistening experience, acting as a kindof salve. Onehears echoes of some of Dekker's early 1990s influences: propeller-pop and indie lo-fi bands like Teenage Fanclub, Galaxie 500,and Buffalo Tom.The rest of the songs on Uncertain Countrywere recorded in other acoustically distinctive locations close to Dekker's home in the Niagara Region. Locales included the Silver Spire United Church in downtown St. Catharines, Ontarioand a pair of buildings in Ball's Falls Conservation Area in the village of Jordan Station: an old chapel that featured a pump organ and a historic barn on the same property. Long-time Great Lake Swimmers member, multi-instrumentalist Bret Higgins is featured on manyof the songs, as is keyboardist Kelsey McNulty. Guests include newcomers and old friends: the group Minuscule, an all-woman identifyingchoir based in the Niagara Region, led by choral arranger Laurel Minnes,and JUNO Award-winner Serena Ryder, who sings on a pair of songs: "I Tried to Reach You" and "Swimming Like Flying." "Moonlight,Stay Above" epitomizes what Great Lake Swimmers represents. The 10-voice strong choir lifts the lonely-sounding and wistful song up. As with that addition, the band on each album is fluid and always evolving. It always starts and ends with Dekker, but the songs themselves suggestwhat players and instrumentation might fit best with each new recordingand live touring band.
Twenty years since the first self-titled release, Uncertain Countryshows a songwriter at the top of his craft with so much more to say. In a time of uncertainty, one thing is certain: the Great Lake Swimmers'first collection of new songs in five years is worth the wait