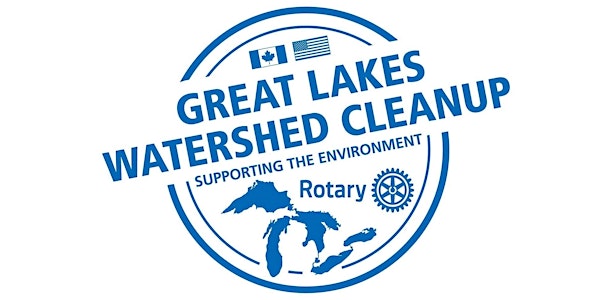 GREAT LAKES WATERSHED CLEANUP KINGSTON, LOYALIST & ISLANDS
Great Lakes Watershed Cleanup: Kingston, Loyalist & Islands - Saturday, May 29, 2021 to June 30 pick up shoreline trash - Please read more:
By ROTARY CLUBS IN KINGSTON WITH PARTNERS
When and where
Date and time
Starts on Sat, May 29, 2021 9:00 AM EDT
About this event
Rotary Clubs surrounding the Great Lakes and Watershed, are organizing the first, single-largest cleanup event ever planned in honour of Earth Day 2021. Due to the lockdown this event could not take place in April but is postponed to May 29 or the first day after lockdown is eased. We hope to involve all interested parties and communities and high school volunteers!
Register now to help, and be part of history!
In Kingston and Loyalist Township, all the Rotary Clubs, partner organizations and community volunteers are working together to organize this important event, so you can register to clean close to home. The sites are grouped into five areas: Loyalist, Kingston West, Kingston Central, Kingston East and the Islands. Within these areas, there will be more than 20 potential cleanup sites along the shores of the Cataraqui River, Little Cataraqui River, Collins Creek, Lake Ontario, St Lawrence River, as well as other rivers and lakeshores ready to be cleaned! All sites will be accessible by land.
Cleanup Site assignments will depend on the cleanup area you register for. You will be notified in the week prior to May 28, to which site you'll be assigned.
There is a draw for prizes for early-bird registration (or before May 20th), so register early!
More than 10 million kilograms of trash and plastic ends up in the Great Lakes each year. The Great Lakes contains almost 20% of the world's freshwater and the Great Lakes System is arguably the largest source of fresh water on the planet. It borders 8 states, 2 provinces and has 16,900 kilometers of shoreline. Trash, plastics and other litter items in oceans, lakes, and rivers pose a threat to terrestrial and aquatic life. The trash often becomes micro plastics and harmful toxins, and pollutes one of the most precious and limited natural resources. Shopping carts, tires, furniture, trash, foam cups, plastic containers, cigarette butts, lids and aluminum cans contaminate our waterways.
8 million metric tons...
That's how much plastic is estimated to enter the ocean every year.
‍All volunteers are asked to please download and register on the App Marine Debris Tracker. Debris Tracker is designed to help citizen scientists like you make a difference by contributing data on plastic pollution in your community. This unite technology and citizen science to fight plastic pollution. Every day, dedicated educational, non-profit, and scientific organizations and passionate citizen scientists from all around the world record data on inland and marine debris with this easy-to-use app, contributing an our open data platform and scientific research.
https://youtu.be/lhGvFLLp6dA
The Great Lakes Watershed Cleanup initiative is an effort that has grown from a service project covering a small portion of Lake Ontario and Erie to a comprehensive plan to focus attention on all 5 of the Great Lakes and to all the streams and waterways feeding them.
Many clubs in the USA (States and Rotary Districts bordering our Great Lakes) have already accomplished successful clean-up events this spring. See some of it on this facebook page: https://www.facebook.com/groups/814977885733650Uncertainty about the Lockdown in Ontario prompted the following ideas and actions:
A mass single date event is probably not going to happen.
Safety
• In order for volunteers to abide by current lockdown rules the event will stretch over time. We will start the pickup on May 29 if the lockdown is lifted (or the first day of lockdown lift!) and it will run until June 30.
• Individuals are encouraged to pick-up alone or with their own household members and to focus on keeping their distance from others.
• Please take gloves and hand sanitizer. Never touch your face with gloves or un- sanitized hands.
Locations
• When volunteers register they will be notified of an area in their vicinity that may need clean-up help. Otherwise they can choose any area. Most garbage lying around can be found near construction and commerce (strip malls, take out etc.) sites. Volunteers must not go alone to remote areas, creeks and other water.
• Volunteers are asked to please notify the organisers of their choice of location
• The Rotary Club of Frontenac will be cleaning Rotary Park and Lemoine Point shoreline.
• Friends of Inner Harbour will clean Doug Fluher Park up to Belle Park
• Unattended litter eventually gets blown/ carried by storm water into our rivers and lakes. Some organisations like LaSalle High School are organising individual students to clean up in their neighbourhoods, so not doing a shoreline is also acceptable
Garbage disposal
Cities can coordinate garbage removal in central spots on one given day. Volunteers will be notified were and when. They have to be registered. Volunteers must please ensure that their garbage bags is not left in a spot where it will not be removed.
As we are now spreading the event out, we request that volunteers ensure that they dispose of bags with garbage appropriately sorted in household recycle bins and garbage with extra bag tags.
Keeping track and measuring what we do (# volunteers; weight, types and # of litter item and where)
1. All volunteers are asked to register so we can keep track and communicate details with volunteers as restrictions change. We have 75 T shirts (for Kingston & Loyalist) and early registrants will receive a FREE t-shirt! https://kingstoncleanup.eventbrite.ca
2. Volunteers should weigh their "loot" before they dispose of it and send the weight into the organisers if at all possible kingstoncleanup@gmail.com
3. Citizen Scientists helping research by providing data. Volunters are requested to keep track of the type and volume/ number of items we pick up. Please download the App "MARINE DEBRIS TRACKER" and find the list "Rotary Great Lakes Watershed Cleanup" to record the types and number of items picked and where (GPS),
Notes:
Friends of the Inner Harbour report that the Styrofoam floats used in 3rd crossing construction has been damaged by muskrats and there are many pieces of Styrofoam particularly on the north shore of the Cataraqui River as well as much further (taken by wind & currents), even on Lake Ontario shoreline (i.e Lake Ontario Park).
A net may be useful for picking up floaty bits.
COVID-19 COMPLIANCE
New Cleanup Date May 29 2021 to June 30
Because of the pandemic and resultant emergency lock-down situation in Ontario, Rotary (District 7040) has recommend a postponement. We want all our volunteers to be safe, not take any unnecessary risks and abide by regulations.
We will adhere to all Public Health directives applicable at the time.
The clean-up is an outdoors activity
Volunteers will be deployed solo, or in household groups of 5 (people who live within your household), or small "Bubble" teams
Appropriate distancing
All participants will be physically distanced (and masked, if required)
Volunteers are asked to bring own equipment (i.e. mask, gloves, hand sanitizer, personal reusable water bottles, and pickup stick if you have one) on the day of the event. (Garbage bags will be supplied.)
Email screening: Anyone with the following, ON or AFTER May 15 will not be able to participate
new symptoms, or
who has been in contact with someone who has been diagnosed or suspected to have COVID-19 or
who tested positive for Covid-19