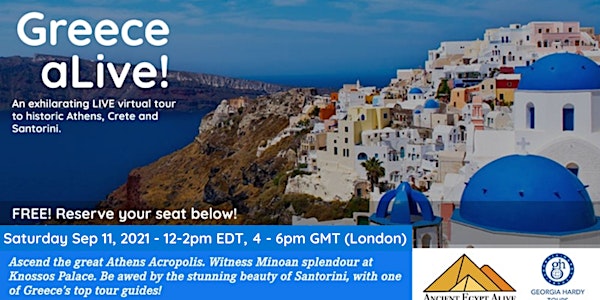 Greece aLIVE! An exhilarating virtual tour to Athens, Crete & Santorini
Come visit Athens, Crete - and Santorini -- and experience Greece online and in person this year! Sunday Sep 11, 2021 - 12-2pm
About this event
From the team who brought you Egypt aLIVE! Virtual Tour, here's another thrilling online travel and history event – ideal for ancient culture lovers. Pack your bags for an exhilarating historical tour of the legendary land of Greece.
Join us to explore the ancient Acropolis of Athens, break plates in the Plaka, and then set sail for the fabled islands of Crete and Santorini (rumoured to be the site of the lost city of Atlantis – and among the most breathtaking on the planet).
Harken to the call of the sirens, savour fresh olives -- and raise a glass of Ouzo during our whirlwind journey back to Hellas— Greece - right from home!
• Climb of to the Acropolis in the footsteps of the philosophers and behold the Parthenon
• Visit the ancient Palace of Knossos on Crete – home to the legend of Theseus and the Minotaur
• Take a cruise through the famous Santorini caldera and see what remains of an ancient volcano
• Visit the archaeological site of Akrotiri
• Learn an authentic Cretan recipe
• Be awed at the stunning beauty of the sunset in Santorini
• PLUS! Be awed and informed by our expert Greek guide, live from, Athens or Crete
More details to come. We'll be sending resources & information to help you "prepare" for your virtual trip! Register early to ensure your seat!
About Your Tour Guides
Aristotle Koskinas studied classical archaeology at the University of Ioannina, Greece. He specialized in the study of roof-tiles and architectural terracottas. For several years he participated in various excavations conducted by the Greek Ministry of Culture. He is also an accomplished narrator, and is a regular participant (by invitation of the National Archaeological Museum and the Greek Narration Festival) to participate in their yearly narration events.
Laura Ranieri Roy has a Master's degree in Near & Middle Eastern Civilizations from the University of Toronto, and has excavated at the ancient Greek site of Apollonia in Bulgaria, and in Egypt at Amarna and South Asasif (Luxor).Laura lectures on ancient civilizations, and has taught across North America at museums, historical societies, and academic conferences, including Ryerson University's Life Institute and York University/Glendon College's Later Life Learning Institute.
Kathleen Hardy is our destination expert and luxury itinerary trailblazer, who has been breathing life into Georgia Hardy bespoke travel journeys for more than a decade. An avid traveller with an insatiable curiosity (and a BA in history and English), she is a master at crafting imaginative itineraries, packed with a bounty of special extras, for clients like the Royal Ontario Museum, Ontario school boards, and culture-focused small groups.