Location
The Bob Rumball Manor
2395 Bayview Avenue
Toronto, ON M2L 1A2
Canada
Join me for an "al fresco" seafood dinner at the Bob Rumble Manor on Sunday, July 10th with wines from Cavino and stone bass from Avramar.
About this event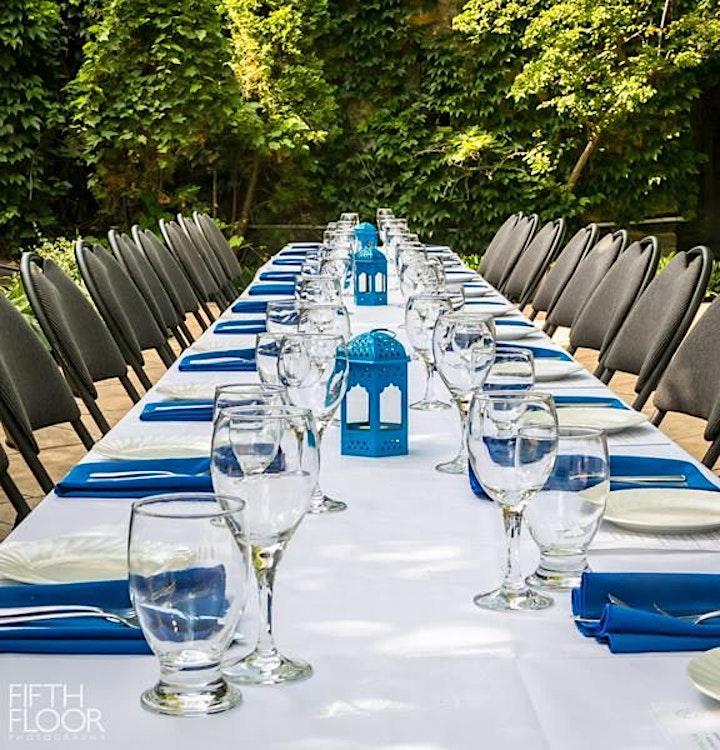 One of my favourite dinners to host are my "al fresco" Supper Clubs held in the courtyard at the Bob Rumble Manor on 2395 Bayview Avenue. Join me on Sunday, July 10th for 5 course Greek feast!
It's the perfect setting for a Mediterranean-themed dinner: a warm up for those going to Greece this summer and a taste of the Greece who will be staying local.
A Greek summertime dinner paired with Greek wines sponsored by Cavino Wines (United Stars) and Cretan olive oil and many Greek pantry ingredients supplied by MT Foods.
It's an all seafood/fish menu with lots of seasonal vegetables and some Kalofagas twists. Sponsoring the event will be Avramar, the largest producer of farm-raised fish in the Mediterranean.
The main course will feature Stone Bass, a succulent fish I worked with recently for Avramar this year at the Boston Seafood Expo. Exhibition attendees loved it, I loved it and soon you will taste and love it too!
MENU
Appetizers:
Watermelon, Feta and Mint
Taramosalata with Crab
Roasted Beet Salad with Greek Yogurt, Pistachios, Chives
Marinated Octopus With Olives on Mashed Avocado
Homemade Bread
paired with Ionos Rose
1st course: Baby Arugula Salad, Grapefruit, Shaved Graviera Cheese
paired with Ionos Whjte
2nd course: Aegean Shrimp Pasta with Tomatoes and Herbs
paired with Ionos Red
Main: Roast Stone Bass, Crisp Lemon Potatoes, Vegetables
paired with Cavino Naoussa
Dessert: Portokalopita, Vanilla Ice Cream, Candied Orange
served with Greek coffee
*Price for Dinner + Wine is $125.00
**Menu subject to change
***you must email me at truenorth67@gmail.com with the names of the people in your party you wish to have seated together
*****No refunds for cancellations made after July 3rd. Tickets are, however, transferable to another person after that date.