Green Calgary Volunteer & Member Film Night

Wednesday, March 12, 2014 from 6:00 PM to 9:00 PM (MDT)
Event Details
Welcome to the Green Calgary Volunteer & Member Film Night
This evening is FREE to Green Calgary Volunteers and Members. Organic popcorn - with REAL butter, and drinks will be served, lively discussions will take place, and the opportunity to meet like-minded folks will be had.
Tickets are free but are a limited quantity of 15. Volunteers and members are welcome to bring a guest, but please consider making a donation on their behalf for attendance.

 Film to be shown: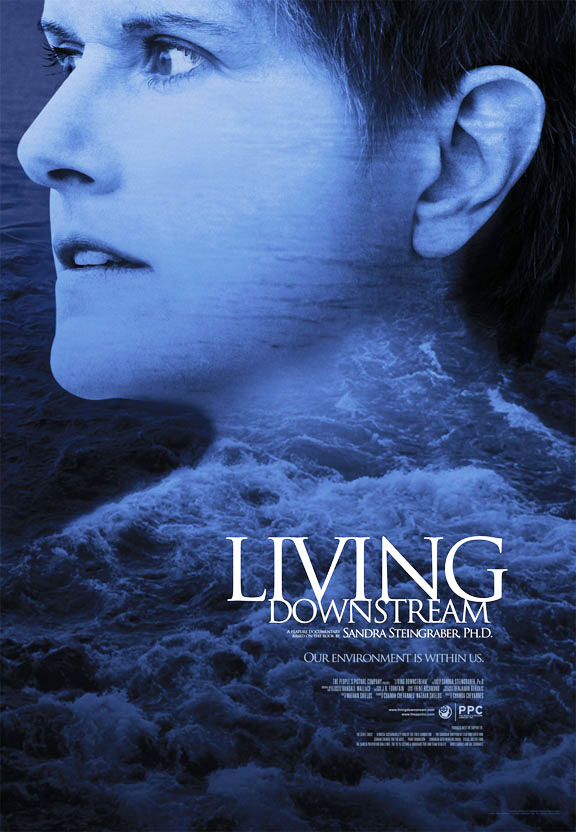 Living Downstream is a 2010 feature-length true documentary based on the book by ecologist and cancer survivor Sandra Steingraber, Ph.D. This poetic film follows Sandra during one pivotal year as she travels across North America, working to break the silence about cancer and its environmental links. After a routine cancer screening, Sandra receives some worrying results and is thrust into a period of medical uncertainty. Thus, we begin two journeys with Sandra: her private struggles with cancer and her public quest to bring attention to the urgent human rights issue of cancer prevention.
But Sandra is not the only one who is on a journey—the chemicals against which she is fighting are also on the move. We follow these invisible toxins as they migrate to some of the most beautiful places in North America. We see how these chemicals enter our bodies and how, once inside, scientists believe they may be working to cause cancer.
Several experts in the fields of toxicology and cancer research make important cameo appearances in the film, highlighting their own findings on two pervasive chemicals: atrazine, one of the most widely used herbicides in the world, and the industrial compounds, polychlorinated biphenyls (PCBs). Their work further illuminates the significant connection between a healthy environment and human health.
At once Sandra's personal journey and her scientific exploration, Living Downstream is a powerful reminder of the intimate connection between the health of our bodies and the health of our air, land, and water.
 The film was produced by The People's Picture Company.
Director

:
Chanda Chevannes.
Running time

:
85 minutes.
"Handsomely photographed and powerfully argued. . . . Steingraber's scientific cool and unflagging sense of mission make for an arresting portrait of a self-styled modern-day Rachel Carson."
~ Ann Hornaday, The Washington Post
Films generously provided by Projecting Change Film Festival
---
All refreshments provided by Community Natural Foods

---
 Cancellations and Refunds
If you reserve a ticket but are unable to attend this event, please give us 72 hours notice so that we can give your ticket to someone else. Thanks in advance for your cooperation.  
---
Parking and Transit
Green Calgary can be reached easily by alternative transportation.
LRT: Sunnyside Station is located on 9Ath Street, between 3rd and 4th Avenue NW. This LRT Station is a 10-15 minute walk (heading west) from the office.
Buses: The Green Calgary Offices have 2 stops just outside the door Bus 10 or 414 Southbound, and 10, 414, 405 Northbound. Additionally we're within walking distance the 419 and 9 bus routes. For other routes and schedules, please visit http://www.calgarytransit.com or call (403) 262.1000.
Parking: There are no customer parking spaces available at our offices, however there is metered parking all around us, including in front of our office entrance on 2nd Avenue NW, as well as two hour free parking within a block of the office in the residential area. After 6:00pm metered parking spaces are free!
When & Where

Green Calgary Offices
100, 301 14 Street Northwest
Entrance on 2nd Avenue
Calgary, AB T2N 1Z7
Canada

Wednesday, March 12, 2014 from 6:00 PM to 9:00 PM (MDT)
Add to my calendar
Organizer
Green Calgary is a dynamic, non-profit urban environmental organization with a mission to empower Calgarians to create healthy homes and communities through environmental education, products and services. Since 1978 Green Calgary has sought to address a range of pressing urban environmental issues including pollution, waste management and resource conservation. As the nature and understanding of these and other issues has evolved over the years, so to has Green Calgary's focus, programs and approach. In addition to providing information and raising awareness, our organization strives to provide the specific tools and resources that empower individuals and groups to make positive environmental changes.