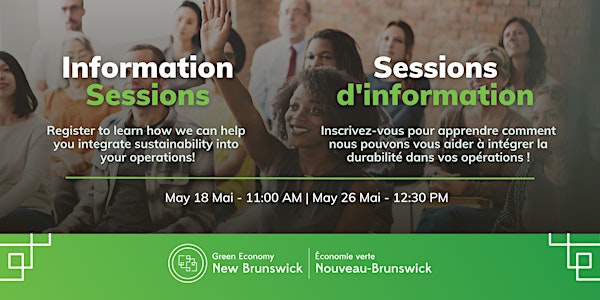 Green Economy New Brunswick Info Sessions - Sessions d'info ÉVNB
Join a movement of businesses taking action on climate change - Rejoignez un mouvement d'entreprises qui agissent pour le climat
About this event
Have you ever wondered:
How can I build sustainability into my operations and make a positive impact?
Where do I start? What resources are available?
How can I engage my employees in our sustainability work and communicate what we're doing externally?
These are questions we get time and time again from businesses of all sectors and sizes. We know that many organizations want to take action but may lack the capacity, knowledge, resources, or support needed to navigate their sustainability journey.
Green Economy New Brunswick (GENB) is here to fill that gap. GENB is a provincial Hub working with businesses of all sectors and sizes to set and achieve sustainability goals while maximizing the benefits of taking climate action. We offer a cost-effective, practical, collaborative, and community-based approach.
Register for an Information Session on May 18th or 26th, to learn how we can support your sustainability journey. Both sessions will be bilingual with simultaneous translation provided.
Green Economy New Brunswick is part of Green Economy Canada's national network. To date, the network has engaged over 500 Green Economy Leaders, who have reduced over 200,000 tonnes of greenhouse gasses so far - the equivalent of taking over 43,000 cars off the road annually.
To learn more about Green Economy New Brunswick, please visit our website or contact our team at hello@greeneconomynb.ca.
Join us and let's make business better, together!
----------------------------------------------------------------------------
Vous êtes-vous déjà demandé :
Comment puis-je intégrer la durabilité dans mes opérations et avoir un impact positif ?
Où est-ce que je commence? Quelles sont les ressources disponibles ?
Comment puis-je impliquer mes employés dans notre travail de durabilité et communiquer ce que nous faisons à l'extérieur ?
Ce sont des questions que nous recevons à maintes reprises de la part d'entreprises de tous secteurs et de toutes tailles. Nous savons que de nombreuses organisations souhaitent agir, mais manquent souvent des capacités, des connaissances, des ressources ou du soutien nécessaires pour les guider dans leur parcours de durabilité.
Économie verte Nouveau-Brunswick (ÉVNB) est là pour combler cette lacune. ÉVNB est un Carrefour provincial qui travaille avec des entreprises de tous secteurs et de toutes tailles pour établir et atteindre des objectifs de durabilité tout en maximisant les avantages de l'action climatique. Nous offrons une approche rentable, pratique, collaborative et communautaire.
Rejoignez l'une de nos sessions d'information le 18 ou le 26 mai prochain pour apprendre davantage sur le soutient que nous pouvons vous fournir dans votre parcours de durabilité. Les deux sessions seront offertes avec la traduction simultanée.
Économie verte Nouveau-Brunswick fait partie du réseau national d'Économie verte Canada. À ce jour, le réseau a engagé plus de 500 leaders de l'économie verte, qui ont réduit jusqu'à présent plus de 200 000 tonnes de gaz à effet de serre, soit l'équivalent du retrait de plus de 43 000 voitures de la route chaque année.
Pour en savoir plus sur Économie verte du Nouveau-Brunswick, veuillez visiter notre site Web ou contacter notre équipe à hello@greeneconomynb.ca .
Rejoignez-nous et améliorons les affaire, ensemble !
Green Economy New Brunswick's work is made possible thanks to the support of:
Le travail d'Économie verte Nouveau-Brunswick est rendu possible grâce au soutien de :