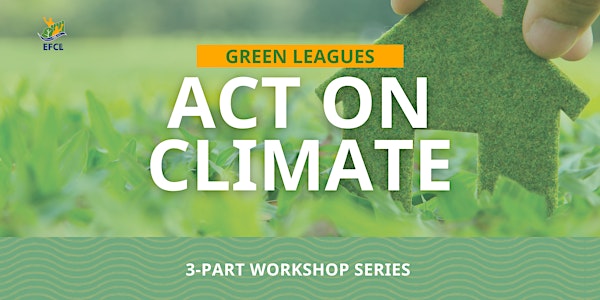 Green Leagues | ACT ON CLIMATE
Leagues can lead and tell the story of adopting green technology.
About this event
Join us for this three-session digital workshop hosted by the EFCL Green Leagues program.
Session 1 | ACT ON CLIMATE: Moving to Electric Vehicles
March 23: 6:30-8:30pm
Moving to Electric Vehicles will examine how Leagues can install charging infrastructure at their halls for EVs as well as what grants are available to build it and rebates that are out there to make EV adoption more affordable.
Session 2 | ACT ON CLIMATE: Getting to Net Zero
June 22: 6:30-8:30pm
Learn about the necessity of moving our buildings to net-zero emissions by 2050. Industry experts will present strategies for how to move your community hall and residential homes to net-zero.
Session 3 | ACT ON CLIMATE: Promoting Residential Energy Transition
September 7: 6:30-8:30pm
Act on Climate is an ongoing series brought to you by Green Leagues, an Edmonton Federation of Community Leagues project funded through grants from the City of Edmonton.
See the work we're involved in: efcl.org/initiatives/green-leagues