Description
Living Green Barrie will be hosting a screening of Plant This Movie: The International Urban Farming Documentary. The film showcases urban farming around the world, from the incredible story of Havana, Cuba to communities of urban farmers in cities as diverse as Shanghai, Calcutta, Addis Ababa, London, and Lima. In the US, the story focuses on New York, New Orleans, Los Angeles and Portland, Oregon. The film is narrated by Daryl Hannah.
Our special guest for the evening is Marcia Woods, CEO and Co-founder of FreshSpoke. FreshSpoke is an app that food service buyers can use to source fresh, local food directly from suppliers and have it prepared for pickup or delivery using excess capacity in the commercial delivery system.
The event will be held at the Barrie Uptown Theatre (theatre #5 to the right of the concession). Admission is $5. Purchase tickets through EventBrite or pay at the door - cash only.
7:00 pm - Screening of Plant This Movie!
8:30 pm - Conversation with Marcia Woods, CEO and Co-founder of FreshSpoke.

This is a zero-waste event! Please bring your own container for popcorn and fountain drinks. Popcorn will be $1 per scoop and drinks will be based on size. (If you purchased tickets online you do not need to print the tickets; simply tell us the name on the order).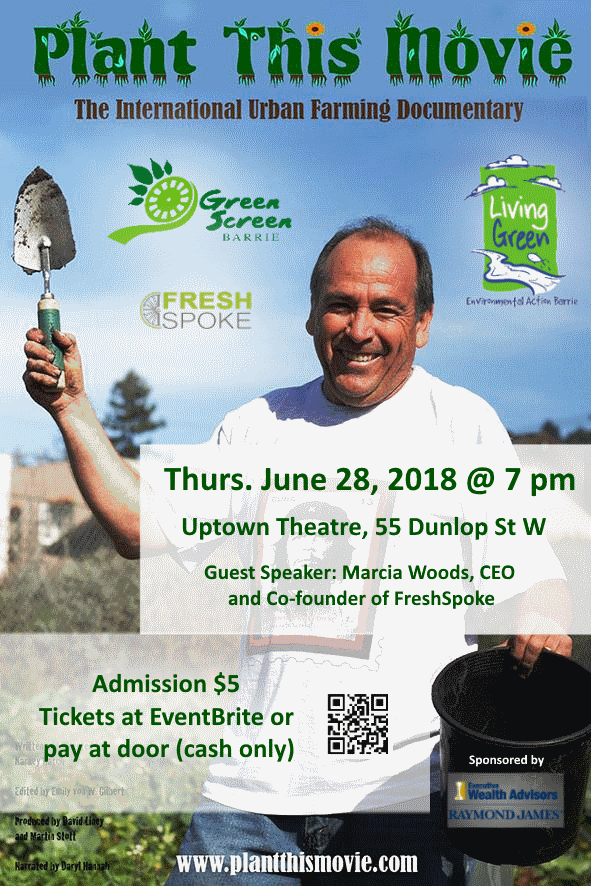 Thank you to Raymond James Executive Wealth Advisors for sponsoring the GreenScreen program.