Join us for a candid discussion, including some real-life stories shared, and what we can offer to provide lasting hope and support.
About this event
The COVID-19 Pandemic has impacted the time that families and friends were able to spend with loved ones as they were ill and dying, during previously typical grief rituals, and throughout the grief journey.
While this was beyond our control, it is necessary to acknowledge the impact this has had, and look for opportunities to effectively provide support as clients, peers, and perhaps ourselves, attempt to continue navigating this altered reality.
The presentation will cover:
The impact of the COVID-19 Pandemic on grief experiences
Finding ways to support one another and continue to seek out helpful possibilities as loss is integrated into day-to-day life
Managing our emotions and expectations of ourselves and others
Looking towards the future and how individual contributions can enhance hope and meaning
Speaker Bio:
Sonia McMahon-Comartin has worked in mental health and wellness roles within the public sector for over 20 years, assisting a multitude of people of all ages. She obtained her Psychology Degree from Wilfrid Laurier University, specialized grief and loss certification from the University of Western Ontario, and Professional Life Coaching Accreditation from the Coaches Training Institute. Sonia is the Bereavement Educator for the Canadian Mental Health Association, Windsor-Essex County Branch, offering various bereavement seminars and webinars, as well as coordinating and facilitating a number of loss-specific grief support groups.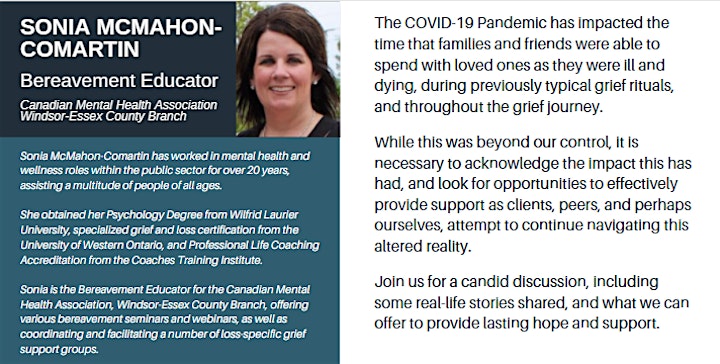 Organizer of Grief and Bereavement in the Time of COVID-19