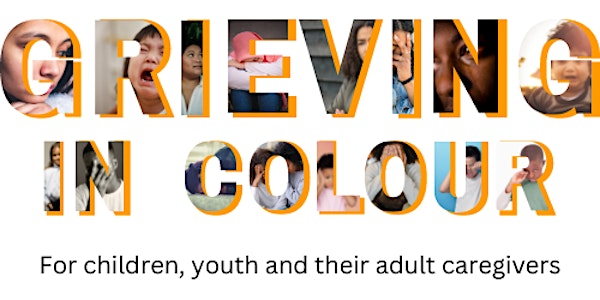 Grieving in Colour
Join us for a FREE traditional Fire & Water Grief ritual in nature for Indigenous, Black and Racialized families needing grief support
When and where
Location
Petro Canada Park 356 Bronte Rd Oakville, ON L6L 5T4 Canada
About this event
Registration is FREE and open to CHILDREN and YOUTH (3-18), including their adult caregivers and siblings, who identify as Indigenous, Black and Racialized AND have experienced a significant death(s) at any point in their life. Free multicultural lunch is included in registration. Children and parents are welcome to come as a family. Limited space available.
Funded by:
Smart and Caring Children and Youth Fund at the Community Foundation of Mississauga
10:00 - 10:30 AM - Arrival at Petro Canada Park - (A – Petro Canada Park – walk from parking lot at Petro Canada Park or park on side streets at Bridge rd. or Wyatt st.)
10:30 – 11:00 AM – Welcoming from Elders and smudging 
11:00 – 12:00 PM – Water-Fire Grief Ritual with African-Indigenous Elder Ayomide Bengo and First Nations Indigenous Elder Cat Criger, featuring live drumming with Anita Katakkar (B – Bronte Creek – 5 min walk from Petro Canada Park)
12:00 – 1:00 PM – Peer-Support Grief Circle for reflecting on grief ritual and the death of the person in your life. (C – Bronte Creek – same space as ritual)
1:00 – 2:00 PM – Multicultural lunch provided by Lighthouse. Free time to check out our facility, connect with others, and check out our grief stations including: memory box crafts, painting a cardboard casket, and cultural grief stations. (A –Ligthhouse for Grieving Children – 2522 Rebecca Street – 10 min walk)
----
LIGHTHOUSE staff will be available for tours and registration into our grief programs.
Registration for our BIPOC Peer-Support group programming starting in October 2022 for Indigenous, Black and Racialized children and youth will also be available.
Each family will be given a grief package to take home with multicultural items to support your grief journey.
----
ELDER AYOMIDE BENGO was born in Uganda, East Africa and initiated into the Dagara, Burkina Faso West African tradition on Turtle Island. She is proud of the East and West motif of her life because she comes from a long lineage of women elders, leaders, grassroots activists, artists, and mothers that were rooted in ancient African cosmology. Growing up in the West (North America) required immense trust in her Ancestor's powerful wisdom guiding and keeping her on track so she could fulfil her purpose as an initiated Elder.
She is honored to hold a safe community space, facilitate rich conversations, and witness the transformation of others using the power of indigenous ritual. She believes as an elder, facilitating dialogues around our individual/collective internalized racism or colonial mindset are crucial for our holistic healing in community.
The community work that she does is rooted in ancestral guidance which translates into personal power, transgenerational healing, and global indigenous collaborative work. She has been engaging in indigenous rituals such as grief rituals, storytelling, mask making and belonging rituals, since 2015.
She is a firm believer in access to our ancestors for all as the key to true personal and transgenerational healing which opens the doorway to an authentic life path and living our purpose on the planet!
------
CAT CRIGER is an Indigenous Elder, Traditional Teacher and Knowledge Keeper. He is from the Cayuga Nation, Turtle Clan, as well as having German and English ancestry. Cat was taught traditional ceremonies, teachings, circles, counselling, healing and plant medicines, Indigenous philosophies and pedagogies by an Anishnawbe Elder and uses these gifts to help all people.
Cat has worked as an Elder and advisor in many Indigenous Agencies, Government Ministries, Non-Profit Organizations and Corporations. He is retired from the University of Toronto, where he last held the position of Indigenous Advisor within the offices of Equity, Diversity and Inclusion at the Mississauga Campus. Cat served as part of the chaplaincy for the Pan Am and Invictus games in Toronto providing Indigenous spiritual support to athletes.
Cat continues to work towards providing Indigenous inclusion and support to all students, their teachers and staff at several secondary schools in the Toronto area. He remains active as a guest speaker, lecturer and consultant in curriculum development, cultural competency and Indigenous perspectives of wellness. Cat is part of the Peel Police's Indigenous Circle and Chief's resource council. Cat is on the board of directors for Public Health Ontario.
------
ANITA KATAKKAR is a multi-faceted composing, performing and recording artist, with a focus on North Indian tabla. With Indian Scottish roots in multicultural Toronto, Anita Katakkar's music represents a link between her heritage and community. She studies with the legendary exponent of the Lucknow style of tabla, Pandit Swapan Chaudhuri, kathak dance with Canadian Kathak choreographer, dancer and teacher Joanna De Souza and dhol with Verinder Nandra.
Anita believes in the power of community in healing, and facilitates racial awareness groups and meditation practices that explore the use of sound and silence. Rakkatak, Anita's solo project, presents classical Indian tabla compositions using a palette of rhythm, melody and ambient textures. The band's song, Heliosphere, is the opening to CBC Radio's "Big City Small World" hosted by Errol Nazareth. Rakkatak has released an EP and 3 full length albums, including their latest Char Taal and a Raga Rainbow, released in 2021.
Links:
http://www.rakkatak.com/
https://rakkatak.bandcamp.com/album/char-taal-and-a-raga-rainbow