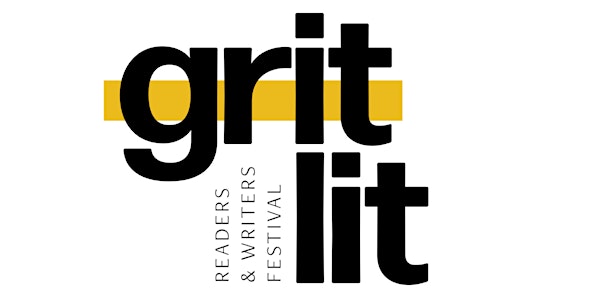 gritLIT Festival 2023 (Online Events)
Join gritLIT 2023 online for an author interview, four reading/talk events, and a free writing workshop!
By gritLIT: Hamilton's Readers & Writers Festival
Date and time
Wed, Apr 19, 2023 4:00 PM - Fri, Apr 21, 2023 4:00 PM PDT
Refund Policy
Contact the organizer to request a refund.
Eventbrite's fee is nonrefundable.
About this event
gritLIT's 2023 online program includes a mix of fiction, non-fiction and poetry from some of the most vibrant and innovative authors working in Canada today. From a discussion about pop culture with Jen Sookfong Lee to a reading from 2022 Giller Prize-Winning novelist Suzette Mayr to a workshop on self-identity and affirmation through poetry, these six real time events offer something for all readers and writers, established or aspiring.
Anyone who purchases an online pass will also have access to all available recordings of gritLIT 2023 in-person events for a period of one month after the festival.
ONLINE EVENTS
Wednesday, April 19, 2023 at 7:00 PM: Pop Culture: Identity, Belonging, and Female Rage
Jen Sookfong Lee's wonderfully intimate memoir Superfan: How Pop Culture Changed My Life explores how celebrity culture can offer both an escape from and mirror to our own reality. Lee sits down online with music journalist Melody Lau to talk about the surprising ways pop culture icons like Princess Diana, Bob Ross, Amy Tan and Kris Jenner helped her forge her own identity as an Asian woman, a single mother, and a writer.
Wednesday, April 19, 2023 at 8:30 PM: New Stories, New Voices
In Jessica Johns's horror-laced debut novel, Bad Cree, a young woman must confront how a legacy of violence has shaped her family, her community and the land they share. Tsering Yangsom Lama's first novel, We Measure the Earth with Our Bodies, traces a Tibetan family's fifty-year journey through exile to new lives in an unfamiliar place. Join event host Paige Maylott as she helps gritLIT welcome two wonderful new writers to the 2023 festival.
Thursday, April 20, 2023 at 4:00 PM: The Poetry of Self-Realization (Writing Workshop)
A. Light Zachary is a writer, editor, and artist, as well as an autistic and non-binary human being. In this online workshop, Zachary talks about how their first poetry collection (More Sure) grew from moments of love, discovery and recovery in their own life, and offers guidance to other authors - including queer/trans youth and adults - about using poetry as a tool for achieving self-realization and embracing hope. This workshop is recommended for writers age 16 and over.
Thursday, April 20, 2023 at 7:00 PM: The Definition of Us
How do we define ourselves? How do we define our family? What happens when other people try to impose those definitions on us? In back-to-back conversations, novelist Rivka Galchen (Everyone Knows Your Mother Is a Witch) and memoirist Harrison Mooney (Invisible Boy) share their stories - two very different books that each, in its own way, tries to answer these questions. Hosted by Gary Barwin
Thursday, April 20, 2023 at 8:30 PM: A Train Ride Through History
Suzette Mayr's title character in The Sleeping Car Porter is a queer Black railway worker in the 1920s forced to wait on passengers who don't care enough to learn his name. Sheila Murray's protagonist in Finding Edward is drawn into the story of a stranger whose life feels strangely connected to his own. In this online event, Sarah Raughley talks to Mayr and Murray about their stories of two extraordinary men and their journeys – both literal and figurative – of self-discovery.
Friday, April 21, 2023 at 6:00 PM: 2023 Writing Contest Winners
Contest judge January Rogers joins us online to talk with the authors she selected as winners of the 2023 gritLIT Short Story Contest.
Frequently asked questions
What is your refund policy?
Do you have a safe spaces policy?
How do I get links for the online events?
What if my event links are not working?
How can I access the event recordings?
About the organizer
Hamilton's Readers and Writers Festival was launched in 2004. Since then, gritLIT has brought over 400 of the best writers in Canada to Hamilton for readings, writing workshops, panel discussions, interviews and events for youth and children.