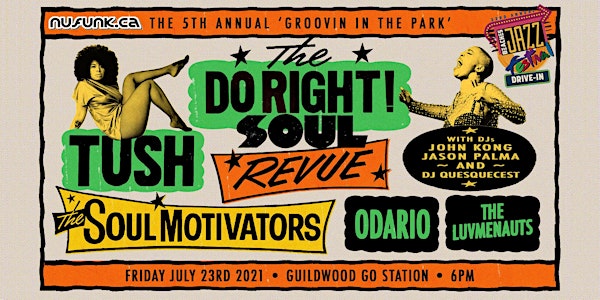 Groovin' in the Parking Lot
ONE ticket is required per vehicle which permits entry for as many people as there is working seatbelts.
When and where
Location
Guildwood GO Station 4105 Kingston Rd. Toronto, ON M1E 2M3 Canada
About this event
The 5th Annual Groovin' in the Park is back...DRIVE-IN style!NuFunk.ca Presents:
Friday, July 23rd, 20215th Annual Groovin in the ParkingLotDo Right! Soul RevueLive performances from The Soul Motivators, Tush, Odario, The Luvmenautswith DJs Jason Palma, John Kong, DJ Quesquecest
Guildwood Go Station - 4105 Kingston Rd., Toronto, ON M1E 2M3
Doors open: 6 PM
Showtime: 7 PM
Presented by NuFunk Concerts, the 5th Annual Groovin in the Park hits the OLG Main Stage once again. Join us for a night of soul, funk, disco, and hip hop, all from the comfort of your own vehicle.
Do Right Music is a Toronto-based independent record label and production company that specializes in soul, jazz, funk, and international sounds. Founded in 2002 by John Kong, the label has introduced some of Canada's finest independent artists to global audiences.
The Soul Motivatorswww.soulmotivators.com
Canada's premier funk outfit blend 70s funk, modern soul, psychedelic grooves, breakbeats to provide a fresh take on a classic sound. Since the release of their explosive 2015 full-length debut "Free to Believe", The Soul Motivators have tirelessly toured to bring their high-octane live show to the masses. They continued to push the boundaries of funk on the acclaimed "Dirt On the Floor" EP and collaborations with Funk Night Records on 45 vinyl releases. In 2020, The Soul Motivators released their sophomore album "Do The Damn Thing" showcasing their new powerhouse, Shahi Teruko. The band is currently working on a new Do Right! release slated for fall 2021.
Tushhttps://www.facebook.com/tushdisco/
Tush is a fast-rising electronic music act from Canada powered by Kamilah Apong and Jamie Kidd. Taking inspiration from electro-funk, early disco, and soulful 90s house, Tush forms a vibe all their own. More grit than glam, their sound embodies the rawness, vulnerability, and intimacy of the dancefloor. Apong and Kidd's fruitful creative partnership began while covering rare groove disco live together in Toronto nightclubs. With the pandemic de-railing live shows for the year, Tush has pivoted to a more electronic sound that showcases their versatility - their debut album "Fantast" (out July 30) is equal parts house and nu-disco, giving the listener a taste of their heavy chops with a futuristic side of what's to come. Watch the new video, 'Chrysalis': the first single on their forthcoming album.
Odariohttps://www.facebook.com/odariomusic
Odario is a storyteller, hip-hop junkie, and lover of musical soundscapes. Best known as the frontman for hip-hop outfit Grand Analog, his soulful hip-hop vibes, distinctive voice, and insightful lyrics have been featured on three albums and numerous singles, including tracks with Posdnuos of De La Soul, Mad Professor, and Shad. As the host of the popular CBC Music program Afterdark, which recently celebrated its third year, he spreads the indie soul flavour across the Canadian airwaves and beyond. He recently released his solo debut "Good Morning Hunter" - a highly original and eclectic 7-track EP that blends hip-hop, beat poetry, live instrumentation, and even a drum n' bass dub.
The Luvmenauts
www.theluvmenauts.com
Eclectic Toronto-based collective, The Luvmenauts, are dedicated to paying homage to the cinematic sounds of the past. The core band consists of Andrew Moljgun (keys), Josh Cavan (guitar), Alex Furlott (bass), and Jon Hyde (drums). together, they are on a mission to create soundtracks for films that never were. The Luvmenauts have self-released three full-length LPs, running the gamut from psychedelic surf to spaghetti western. In their latest outing, "Extravehicular Activity", The Luvmenauts have created the score for an empyreal journey through an alternate universe.
DJs:
DJ John Kong's selections for the dancefloor echo his work as a label boss with Toronto-based Do Right Music. His DJ sets are a genre-bending mix of soul, jazz, funk, disco, house, and hip-hop - the only common denominator being one great groove after another. It's a spirit of a musical journey that too few DJs nowadays are willing to embrace.
Considered one of Toronto's most popular DJs, Jason Palma has pushed the groove via his weekly radio show 'Higher Ground' on CIUT. Beyond playing countless parties across the city, Palma has held a decades-long monthly residency 'Footprints.'
A concert promoter, musician, DJ, label owner, and avid music collector, DJ Quesquecest is French for "what is that?" and throwing down rare and exclusive big beats between sets at live events is his signature. Co-Founder of Brooklyn's No Wahala DJs and Toronto's the Make it Funky Collective.