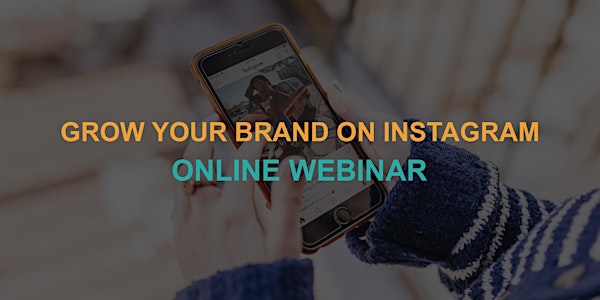 Grow Your Brand on Instagram
Grow Your Brand on Instagram
About this event
This workshop is for those that have already dipped your toes into the world of Instagram, and are looking to grow your business's reach on the platform. We'll explore different ways businesses are strategically building your following on Instagram. We'll discuss strategies for account aesthetics, promotions, shopping and ecommerce, "swipe up" links, stories, highlights and more.
You'll learn:
The key parts of Instagram (Grid, Stories, Highlights, Reels) and how to use each
How to create (and maintain) your brand's aesthetic
Tips for writing captions that deliver results
How often you should post to maximize engagement with your followers
How to properly use hashtags and location tags to increase the visibility of your posts
How to use Instagram's reporting and analytics to learn what content is performing best
This is an intermediate-level webinar, perfect for those who have already created an Instagram account and explored the basics. Beginners should consider taking the Social Media for Small Business webinar before this one.
This workshop is a free online webinar for small businesses in Ontario. Participate online for free, using your preferred device (laptop, smartphone or tablet). All you need is a fast internet connection and free webinar software. Download details will be provided after registration.
Webinars will be recorded and available to all registrants.
Everyone who registers for this workshop will be entered into a draw to win a free eBook copy of See You on the Internet: Building Your Small Business with Digital Marketing. The winners will be chosen at random and announced during the workshop, and you have to be in attendance to claim your prize.