Learn how to grow your own oyster and wine cap mushrooms at home.
About this event
Level up your gardening game with a permaculture take on home mushroom cultivation, both indoors and out.
Growing your own mushrooms is an easy way to increase the productivity, health and interest of your gardens and your plate. This workshop will offer an overview of some of the many ways you can grow delicious edible and medicinal mushrooms in your garden and in your home or apartment, by reusing easy to acquire, usually free natural materials. You will also be introduced to a new way of looking at and organizing your garden to include plant communities and garden layers to support garden and personal health and wellness.
You Will Learn:
Mushroom growing demystified- everything you need to know to grow mushrooms successfully in your home and/or in your garden
Materials to use for growing mushrooms at home and garden
How to propagate your Oyster and Wine Cap mushrooms
How growing mushrooms can benefit you and your gardens
Using plant communities and garden layers to up your gardening game
You want to take this workshop if:
You are mushroom curious but have a barrier to taking the leap to try to grow them yourself
You are passionate about growing your own food.
You want build your gardening knowledge and skills, and explore new possibilities that can be incorporated into your garden and inside your home.
You will get:
Hands-on work to inoculate your own one gallon Oyster Mushroom grow kit.
Hands-on group work to establish an outdoor Wine Cap mushroom garden so you can go home and replicate this into your own garden right away.
A hand-out full of resources and suggestions and trouble shooting to help you recreate your own mushroom garden and kit at home.
Your own, ready to grow, in/outdoor Oyster mushroom kit and outdoor Wine Cap mushroom kit to take home.
Detailed instructions for at-home care of your mushrooms.
Resources to help you build your own plant communities and garden layers.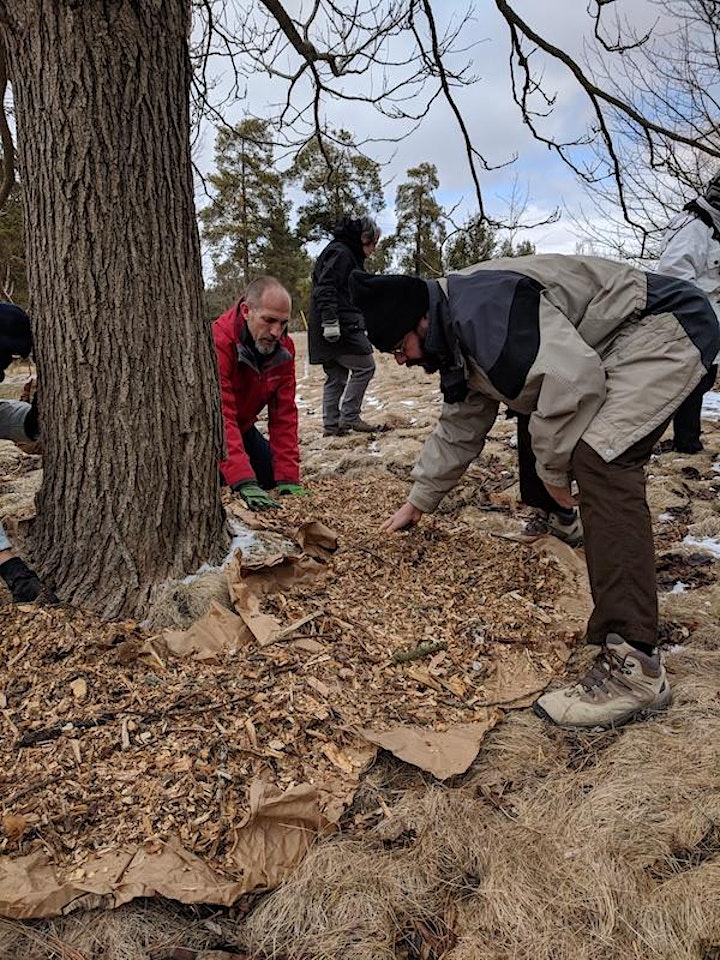 When: Saturday, June 1, 2019 from 10:00am – 2:00pm
Where: Guelph, Ignatius Jesuit Centre
Cost: $75-$90 + HST (includes light refreshments)
What to bring: Lunch, notebook and pen, indoor and outdoor clothes (dress for the weather). There are lunch spots located within driving distance if you choose to not bring your lunch.
Your Instructor: David Fields
David Fields is an Organic Master Gardener, his hands have been in the soil since his earliest memory- playing and eating in his grandfather's vegetable garden. As a community change agent and environmental activist, David builds bridges between people, ideas and nature through the power of shared experience in events, projects and strategies, including community gardens, a housing co-op and an urban farm pilot project. Cycling, reading, playing games and genealogy count among his other interests, which he usually shares with family. David's love of nature have lead him through years of garden trials and triumphs, in urban and rural contexts, shaping his approach to gardening and view of life, that we (everything) work better together.
Cancellation Guidelines
Minga will provide a 100% refund for workshops cancelled by Minga.
If a registrant cancels a workshop with more than 5 days notice, a 100% refund will be issued.
If a registrant cancels with less than 5 days notice or does not show up, no refund will be issued.
We are unable to provide a refund after the workshop takes place.
The above policies apply for pre-registered workshops. Refunds or credits will not be issued for a missed class.
Organizer of Grow Your Own Oyster and Wine Cap Mushrooms
Minga Skill Building Hub offers hands-on workshops and skill builders taught by people living in our own back yards. These skills range from anything from cheese and sausage making to coffee roasting to building solar panels and wind turbines. Think homesteading.  Our workshops are for anyone who wants to connect with their neighbours in a meaningful and deeper capacity, take back our ability to be self-sufficient by learning how to do things for ourselves, and for those who have thought "I've always wanted to learn how to do that!"