This "Growers to Sowers" workshop will introduce K-12 teachers to local food production and food systems education in Surrey BC
About this event
Join our education team at A Rocha for a tour of our organic farm in South Surrey. We'll take a look at how we grow food for our garden market and Community-Supported Agriculture program (CSA). You will also participate in three of the hands-on activities we've developed based on learning from Science, Food Studies and Culinary Arts curriculum outcomes.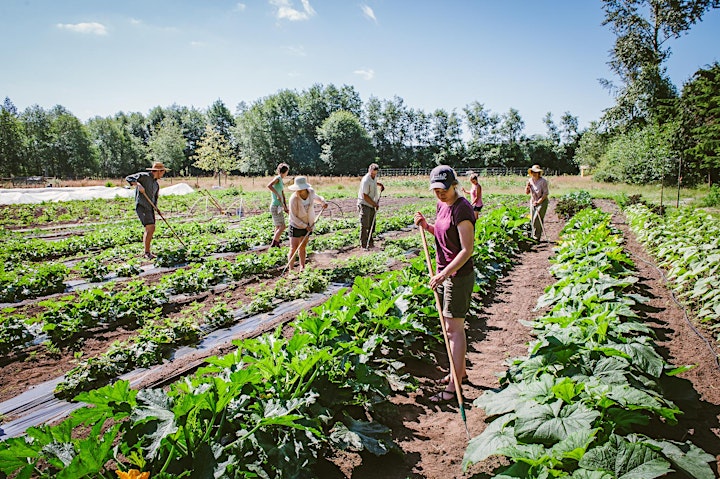 About the Series
The Farm to School BC "Growers to Sowers" series provides teachers ("Sowers", responsible for sowing seeds of knowledge and enthusiasm for food and agriculture in their classrooms) with an opportunity to visit food producing sites across Metro Vancouver and learn directly from farmers, harvesters, and other food producers ("Growers" contributing to our regional food system). The series aims to enhance teachers' knowledge of local food production and connect teachers with local food producers, potentially catalyzing future field trips or collaborative projects between students or schools and farmers. This event series is organized by Farm to School BC, a program of the Public Health Association of BC.
About the Host
A Rocha (a raw sha) is an international conservation organization operating in 20 countries. A Rocha Canada (ARC) became a registered charity in 1999 with a mission to transform people and places into healthy communities through three core programs: conservation science (research and restoration of watersheds), sustainable community agriculture, and environmental education for all ages. We annually welcome over 3,000 children, families and youth from schools and to participate in hands-on environmental education (preschool to grade 12). We also work with community partners to provide food literacy programs and food security for vulnerable newcomers to Surrey. A Rocha is committed to inspire hope, empower communities, and equip people to joyfully and practically care for the earth.
About the Location
ARC has projects in Surrey, BC, Manitoba, and Ontario. ARC's headquarters is the Brooksdale Environmental Centre, a heritage site with a sustainable farm, forest area and wetland along the Little Campbell River.
Fun Fact: A Rocha recently received Surrey Board of Trade's 2019 Agriculture Leadership Award. Read more here.
A Rocha acknowledges that we steward land within the unceded territory of the Coast Salish First Nations who have lived here for time immemorial. We are working with the Semiahmoo people, who have a reserve at the river estuary in Boundary Bay, to restore and conserve the ecology of this incredible watershed.
Accessibility
The parking lot is close to the area we'll be mainly gathering at, but our tour and activities might be a bit challenging for those with mobility issues (unpaved, grassed areas, and a trail). If you have any mobility concerns, please email surreyregion@farmtoschoolbc.ca and we can try to adapt as needed.
This workshop will operate at reduced capacity to safely comply with public health guidelines of physical distancing outside and mask-wearing indoors, and there will be a waitlist for those interested in attending.
This is an outdoor event. Rain or shine, please come prepared to experience the garden! 
This program is supported by the Province of British Columbia, the Provincial Health Services Authority, and the Metro Vancouver Agricultural Awareness Grant.