GTA Catholic Prays: Rosary Group - Tues Jun 13/17 (2ND TUES - DOWNTOWN TOR...
Description

GTA Catholic Events is hosting a rosary prayer group in Downtown Toronto and Scarborough.
THE GTA CATHOLIC EVENTS ROSARY GROUP MONTHLY SCHEDULE*:
1st Tuesday - by St George Station
2nd and 3rd Tuesday - by Harbourfront Centre
4th Tuesday - by Scarborough Town Centre
* Address will be given to those who register.
We invite everyone to join us for fellowship and deeper connection with our Lord through prayer.

Praying as a community is a very powerful thing.

If your desire is to strengthen your faith, find your vocation, pray for your family, work, relationships, health, etc. we want to be there to pray with you.

Every week we will pray the Holy Rosary. We will also add other prayers, topics and discussions to keep our sessions interesting and interactive.

The format is casual. Prayers followed by social.




WHAT TO EXPECT

• An opportunity to connect with other like minded catholic young adults on a deeper spiritual level

• Develop long lasting relationships centred on Christ

• Be blessed by your relationship with other catholic peers

• Experience living fully alive in Christ

• JOY AND FULFILLMENT

• GRACE AND PEACE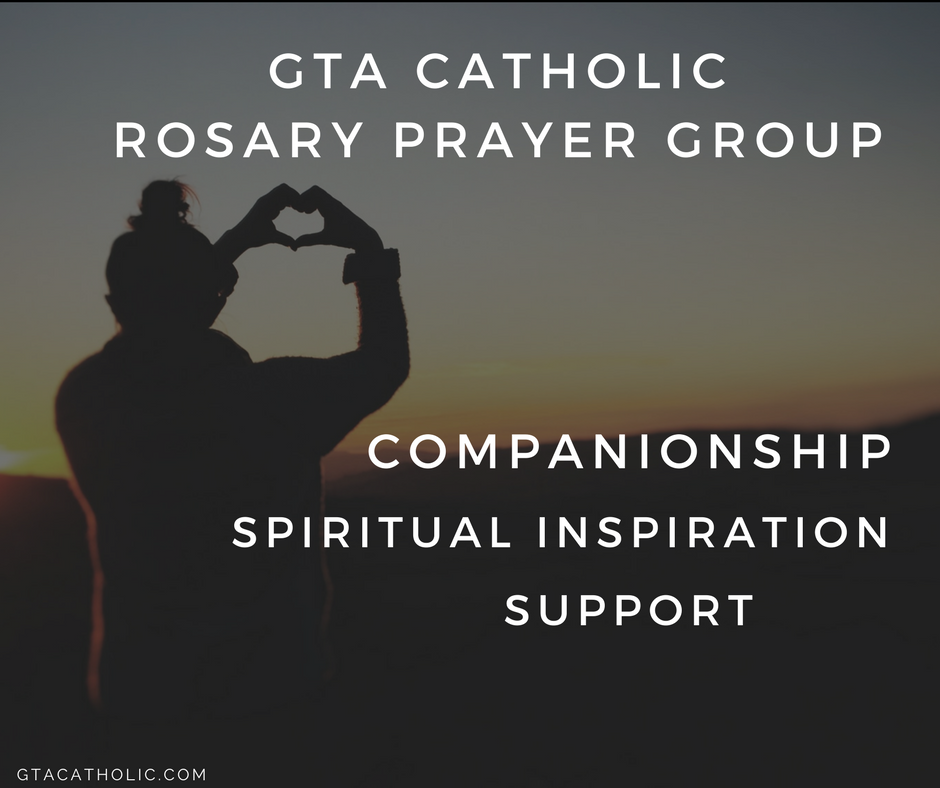 BENEFITS

1. Create a network of friends who can/will help strengthen your faith

2. Learn ways to get closer to God by being closer to people who love God and spending more time with Him and them

3. Express your joys, triumphs, pains, struggles in an open, safe, respectful environment

4. Together we will offer your concerns to God by lifting up your prayer requests to the Lord in communal prayer. We do this for everyone

5. See positive progress in your prayer and spiritual life

6. Be more hopeful and at peace

7. Be more merciful to others and yourself

8. Detach from things that are harmful to you and heal

9. Desire God and His love and truth

10. Through commitment to prayer, fellowship, and God's grace, you will become the person God designed you to be


Praying for ourselves, our community, the world...


SEND PRAYER REQUESTS





Communal prayer helps strengthen the body of Christ.
You are very important to God and to us. Please send us your prayer requests so that we can help you, your loved ones etc.
To submit your prayer intentions, go to our prayer request page on our GTA Catholic website. Link below.
DONATIONS
Free will offering/donations are accepted to help offset the costs of running the GTA Catholic Events group.


DETAILS WILL BE EMAILED TO THOSE REGISTERED
Please feel free to share this info with others. All are welcome.

If you have any questions, please text me at 647-909-3499.
Please feel free to share this info with others. All are welcome.

God bless,

Danielle
Event Organizer
GTA Catholic Events
647-909-3499

Join us on Meetup
www.meetup.com/GTA-Catholic-Events
Like us on Facebook for our daily spiritual inspirtation www.facebook.com/GTAALIVE/