GTA Catholic Prays: Young Adult Mass, Adoration, Lunch (Presented by GTA Ca...
Description
GTA Catholic Events in partnership with Divine Retreat Centre Toronto present this monthly event (every 3rd Saturday of the month)


GTA Catholic Prays: Young Adult Mass, Adoration and Fellowship Lunch for catholic young adults (19-35 yrs).


Please join us as we meet for a day full of powerful fellowship, praise, worship, fun and more.


Father Sam Samuel, VC (Director, Divine Retreat Centre Toronto) will lead us through our day. Spiritual elements include the rosary, confession, Mass, Adoration and Talk.


This is an amazing opportunity to grow spiritually as well as socialize with other catholic young adults. There will be a fellowship lunch and an opportunity to connect through group discussion.




So if you are looking to meet other catholic young adults in the GTA with similar interests, love for God and build community we invite you to check out this event.
NEXT EVENT - SAVE THE DATE!!!
Nourish your body mind and spirit. All are welcome. Please bring a friend.


DATE: SATURDAY OCTOBER 19, 2019
TIME: 1030AM-3PM


LOCATION: DIVINE RETREAT CENTRE TORONTO (Catholic - Vincentian Order)




COST: Free admission.
Love offering appreciated. Donations over $20 are given a tax receipt.



This event is for catholic young adults (19-35 yrs).
Please feel free to invite your friends and family.



GTA CATHOLIC YOUNG ADULT PRAYS - EVENT SCHEDULE
Registration/Confessions

Rosary

Praise & Worship

Mass

Adoration

Lunch

Socializing/Fellowship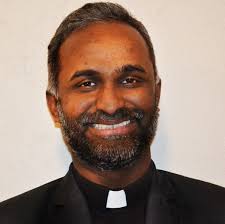 Photo: Fr Sam Samuel,VC, Director Divine Retreat Centre Toronto


RSVP SOON TO RESERVE YOUR SPOT!
WE REQUIRE YOU TO REGISTER TO ENSURE WE HAVE APPROPRIATE NUMBERS FOR LUNCH. PLEASE BE SURE TO REGISTER VIA EVENTBRITE.


God bless,


Danielle
Event Organizer
GTA Catholic Events
danielle@gtacatholic.com
Sign up for our e-newsletter

here






History of Divine Retreat Centre Toronto


The Vincentian Congregation is a religious and clerical society founded on November 20, 1904 in the Archdiocese of Ernakulam-Angamaly Kerala, India. The congregation was established by Fr. Varkey Kattarath along with three diocesan priests, forming the congregation on the common guidelines of St. Vincent De Paul.


The Divine Retreat Centre Toronto (DRCT) was initiated through the prayers, dedication and hard work of the Family Prayer Mission (FPM). FPM has been inspired and encouraged by the Vincentian Fathers to spread the good news in Canada for many years. The beginning of the DRCT has become a reality though the providence of God and through the hard work of Rappai J. Nedumpara (President) and Shiju Thomas (Vice President) of FPM.


Through this divine call, the Divine Retreat Centre Toronto was initiated with the blessings of Fr. Matthew Naickomparambil VC, under the guidance of the Vincentian Provincial Superior, in consultation with the Archdiocese of Toronto. Through providence, the Lord's eternal plan became fulfilled as this long cherished dream came true when the United Church was purchased for this purpose. Trusting in God's providence, the ministry had its blessing and inauguration on November 29, 2014 by His Grace Archbishop Lawrence Saldanha (Archbishop Emeritus of Lahore) in the presence of Vicar General Fr. Ivan Camiliri, Msgr. Thomas Kalarathil, (Director of priest's personnel) as well as many priests, nuns and hundreds of faithful. Fr. Joby Kachappily and Fr. John Cheriavely previously served in the Toronto retreat centre, and at present Fr. Sam Samuel is the current Director of the Centre. We desire and pray that the Word of God in Isaiah 56:7 "My house shall be called a house of prayer for all peoples" continues to be fulfilled in the years to come.