Description
OPEN Toronto is holding a networking event on Wednesday, March 28, 2018 from 6:30 pm to 8:30 pm at the Toronto Plaza Hotel (Trafalgar Hall), Toronto.
Seats are Limited. Walk-in are not guaranteed. Register today!
Keynote: Aziz Rakla
Aziz Rakla, coming from a very humble background, is a highly successful entrepreneur and a philanthropist. He runs a multi-million dollar real estate and tire import and distribution business. He is the past President of TCF Canada and has built 16 schools and supports them also and helps in health sector. The YMCA Canada has written personal story on Aziz Rakla. Mr. Rakla will share his success story and talk about his 3H principles for success in life.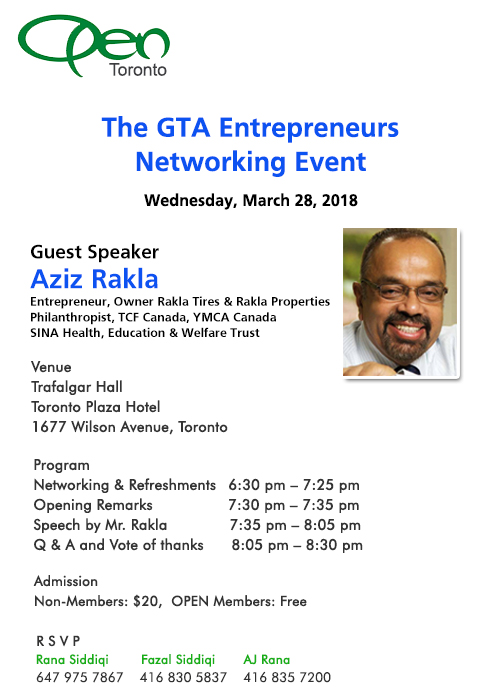 ABOUT OPEN Toronto:
OPEN is a not-for-profit, volunteer-driven, global organization with 12 chapters worldwide. OPEN Toronto facilitates entrepreneurship and business growth by bringing together entrepreneurs, leaders and professionals to network, inspire and collaborate for a positive change. Learn more about OPEN Toronto at www.opentoronto.org
Join us on Wednesday, March 28th, 2018. Meet other entrepreneurs and professionals from the GTA. Celebrate entrepreneurship.