Grosvenor Toastmasters is the best mid-week edu-tainment around. Be educated, entertained and energized in 2 hours flat!
About this event
Democracy is a living thing; it needs to be cared for and nurtured. Join us on Wednesday, July 14th to learn how to show your TLC (tender loving care).
Discover your best self in Toastmasters today!
__________
About Toastmasters Meeting:
Each meeting has 3 parts: table topics, speeches and evaluations, tied together by a stimulating theme. Guest are welcome. Join us as we hone our communication and leadership skills together.
Bring an open mind and a beverage of your choice. (Spoiler alert: we will be making a toast!)
___________
About This Online Event:
Please register to see the Zoom link from this event page. Reminder emails with the Zoom link will also be sent to all pre-registered guests.
To avoid disappointment, please ensure your screen name in Zoom matches your registration name from Eventbrite.
To protect the integrity of the meeting, Zoom lobby is in effect.
Zoom Master will only admit members and pre-registered guests on the guest lists.
_____________
About Us:
Grosvenor Toastmasters (gTM) is a Toronto-based, President's Distinguished Club open to all. Our club mission is to provide a supportive and positive place where members are encouraged and empowered to develop communication and leadership skills, resulting in greater self-confidence, personal and professional growth.
Before the pandemic, we met in-person at the University of Toronto, near St. George subway station. Currently, we are meeting virtually until further notice. Everyone is welcome to join us!
We meet on the 2nd and 4th Wednesday of every month from 6 to 8 pm EST via Zoom.
To learn more about Grosvenor Toastmasters, or should you have questions / queries / concerns prior to the event, please email the Vice President of Membership at membership.grosvenortm@gmail.com or visit us on:
https://GrosvenorToastmasters.com
To learn more about the educational system in Toastmasters dubbed the Pathways, watch the video below.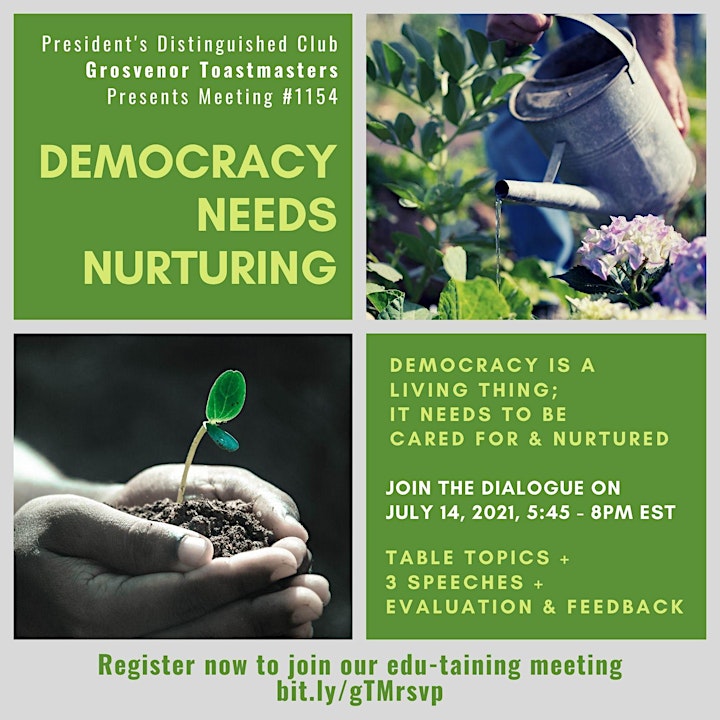 Organizer of gTM Online Club Meeting #1154 - Theme: Democracy Needs Nurturing
Grosvenor Toastmasters, founded in 1967, is one of the oldest active clubs in District 60 and in 2021 we are celebrating our 54th year as a President's Distinguished Club, the highest accolade in Toastmasters world. Steeped in rich history, we take pride in the quality of our meetings with both seasoned and young toastmasters from a wide variety of professions. As an OPEN community club, we are a culturally diverse, dynamic, friendly and fun group.