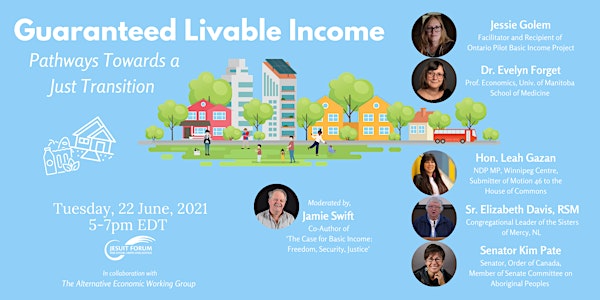 Guaranteed Livable Income: Pathways towards a just transition
The Jesuit Forum invites you to an online discussion on how a Guaranteed Livable Income could contribute to a just transition in Canada
About this event
As the Covid-19 pandemic continues to challenge our communities in multiple ways, one of the lingering effects of this past year's health crisis will be its economic toll on families and essential workers, particularly on those without significant financial savings to draw upon.
Accessibility to safe and clean housing, a healthy diet, childcare, education, medication, dental and mental health care for all those around us should be of paramount concern for us all, particularly as we seek to transition to a more just, equitable, sustainable and post-colonial society after the disruption of Covid-19.
According to the Office of the Parliamentary Budget Officer, "Governments have significantly increased their spending in response to the economic impacts of COVID-19." Soon after Canadian governments restricted the operations of the physical locations of several types of businesses (through lockdowns), a significant number of Canadians found themselves unemployed or working reduced hours. As a result, the introduction of CERB (Canada Emergency Response Benefit) has brought discussions of a universal basic (guaranteed) income to the forefront once again.
Join us in this renewed discussion on the merits and timeliness of a Guaranteed Livable Income (GLI) with the dedicated and wise perspectives of our invited panelists:
Moderator:
Jamie Swift is an author and Queen's University Professor with the Smith School of Business. He has recently written a book with Elaine Power on the merits of GLI: The Case for Basic Income: Freedom, Security, Justice published by Between the Lines Books.
Speakers:
Jessie Golem is a classical pianist and photographer. She was a recipient and facilitator of the Ontario Guaranteed Livable Income Pilot Project.
Dr. Evelyn Forget is a professor of Economics at University of Manitoba Medical School and author of Basic Income for all Canadians.
Respondents:
Leah Gazan is an NDP MP for Winnipeg Centre. She tabled a motion in parliament (Motion 46) for basic income to replace CERB.
Senator Kim Pate was the former Executive Director of Elizabeth Fry Society. A longtime advocate for GLI, she supported the policy to adopt and implement GLI at the recent 2021 Liberal convention.
Sr. Elizabeth Davis RSM Th.D. is the Congregational Leader of the Sisters of Mercy, NL and former commissioner of the Royal Commission on Renewing and Strengthening Newfoundland and Labrador's Place in Canada. She has dedicated herself to appealing to religious and faith communities in support of a Guaranteed Livable Income for Canada.
Organizer of Guaranteed Livable Income: Pathways towards a just transition
Established in 2007, the Jesuit Forum for Social Faith and Justice seeks to contribute to the creation of a more socially just, spiritually fulfilling, and ecologically regenerative world. We engage people in deeper thinking and sharing on what's going on in our globalized world, starting with their own experience through sharing circles that encourage listening and interactive discernment.