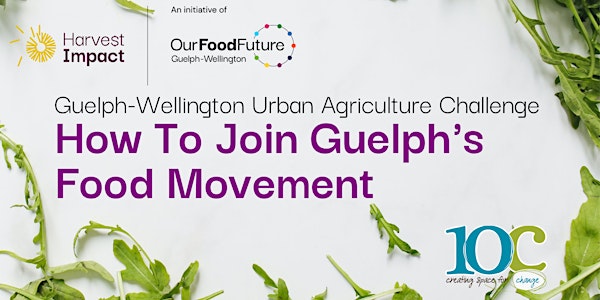 Guelph-Wellington Urban Agriculture Challenge Webinar
Information Webinar for the Guelph-Wellington Urban Agriculture Challenge
About this event
Join Harve$t Impact for a Q&A session for your questions, ideas, and comments about the Urban Agriculture Challenge on Wed, October 14, 2020.
Take this opportunity to chat about project topics, community supports, and questions you may have about the Challenge.
The Challenge is a call for projects, offering $102,000 in funding to implement ideas and projects that will support circular economic recovery and accelerate food production, getting more food to the table with less environmental impact.
The funding has been made available by Harve$t Impact, a social financing program of 10C and a core pillar of the Our Food Future initiative.
All projects should address the Urban Agriculture Challenge question:
How might business, not-for-profit and individual community members use circular thinking and urban agricultural practices to improve community resilience by increasing production of (and access to) nutritious food in urban and/or rural settings in Guelph-Wellington?