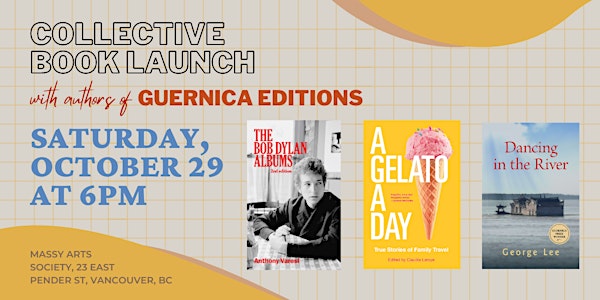 Guernica Editions' Collective Author Launch
A celebration of authors including: Anthony Varesi, Claudia Laroye, Gary Geddes, George Lee, Jennifer Zilm, Matthew Tomkinson and Ned Baeck
When and where
Location
Massy Arts Society 23 East Pender Street Vancouver, BC V6A 1S9 Canada
Refund Policy
Contact the organizer to request a refund.
Eventbrite's fee is nonrefundable.
About this event
On Saturday, October 29 at 6pm, join Massy Arts Society, Massy Books and Guernica Editions for a celebration of authors including: Anthony Varesi, Claudia Laroye, Gary Geddes, George Lee, Jennifer Zilm, Matthew Tomkinson and Ned Baeck. This cacophony of readings offers intimate looks into obsessive-compulsive tendencies, holidays-gone-wrong and acoustic legends that blend together to make a strange and harmonious chorus.
Venue & Accessibility
The event will be hosted at the Massy Arts Gallery, at 23 East Pender Street in Chinatown, Vancouver.
Registration is free, open to all and required for entrance. Masks are mandatory. The gallery is wheelchair accessible and a gender-neutral washroom is on-site.
Covid Protocols: Attendees must wear a mask (N95 masks are encouraged and recommended as they offer the best protection). We ask if you are showing symptoms, that you stay home. Thank you kindly.
The Books
The Bob Dylan Albums, 2nd Edition by Anthony Varesi analyzes the massive Dylan canon through a detailed discussion of each of the artist's officially released albums. All of Dylan's studio albums, live albums, collections and archival releases are examined in the text and in the detailed, annotated, cross-referenced discography, as are Dylan's notable soundtrack contributions, side projects and benefit concert appearances. The book also discusses Dylan's other writings and looks at recurring themes in Dylan's songs, the influence of other artists on Dylan's music, and the ongoing relevance of Dylan's work. It contains frank analyses of the more controversial aspects of Dylan's career and unearths new meaning in both Dylan's most famous works and in his songs and albums that have received less attention.
Purchase The Bob Dylan Albums, 2nd Edition by Anthony Varesi at Massy Books.
A Gelato A Day: True Stories of Family Travel edited by Claudia Laroye is a collection of travel tales that highlights the good, the bad and the not-really-that-ugly of the family travel experience. These stories go beyond holidays-gone-wrong to dive thoughtfully into the deeper parental and family connections that can occur when we take ourselves (or are taken out of) our daily routines and comfort zones. More often than not, entering unfamiliar places, spaces and situations encourages us to open up to one another or react in ways that may surprise, delight or frustrate those we hold most dear.
Purchase A Gelato A Day: True Stories of Family Travel edited by Claudia Laroye at Massy Books.
The Oysters I Bring to Banquets--the highly anticipated collection by Gary Geddes- is a diverse gathering of elegies for friends, literary luminaries and creatures and natural habitats in a world under siege; and a series of hymns to art, beauty, human dignity and endurance. His keen eye for political disasters and inequities reaches down into the "rag-and-bone shop," to human rights abuses in Africa, the refugee crisis, challenges facing women writers in a patriarchal society, and the climate crisis.
Purchase The Oysters I Bring to Banquets by Gary Geddes at Massy Books.
Dancing in the River by George Lee is the 2021 Guernica Prize winner. Growing up in a small, riverside town, Little Bright is thrusted into the political whirlwinds along with his family during China's Cultural Revolution. When a reversal of the winds of reform blows through the land, however, he learns the once-forbidden tongue—English—which lends wings to his sense and sensibility. With the deepening of his knowledge of the English language, he begins to place himself under the tutelage of Pavlov, Sherlock Holmes, and Shakespeare. When the story unravels, however, Victor's un-Chinese passion and tension threaten to topple his moral world and mental universe. Now, he must wade into an uncharted journey to unlock the dilemma and to unearth his destiny. Drawing on his own life experiences, George Lee has fashioned an unforgettable coming-of-age story about fate and faith, good and evil, power of imagination and storytelling, and, above all, wonder of English literature.
Purchase Dancing in the River by George Lee at Massy Books.
Drowning in (mis)information in a shifting media landscape that is simultaneously constant and atemporal, and in which fact checker websites are sponsored by click-bait articles on Nostradamus predictions; the poems in First-Time Listener by Jennifer Zilm explores how genres influence our perceptions, how the answers provided seldom answer the question, and how fine the line is between curation and censorship. In seeking to answer Pontius Pilate's trolling question, "What is truth?" Zilm opens her ears to myriad information sources and discourses including (but never limited to) God, Gilgamesh, CNN, the Cloud, the Bible, hypochondriac hay fever sufferers, Bob Dylan, YouTube conspiracy tutorials, Proust, marginally-housed meth heads, Benjamin Moore paint swatches, Tarot cards, ancestry.com, and even (eventually, tentatively) her own memories and senses.
Purchase First-Time Listener by Jennifer Zilm at Massy Books.
Cage of Light by Naed Baeck traces an environment of familial violence into adulthood. It witnesses the filter of addiction in life and love; it considers what sustains and protects, what constricts and harms, and the fluidity of these things. It addresses the practice of Zen and time spent in a Rinzai Monastery in Japan. It uses a language of struggle and seeks through the 'food chains' of human animal life, including episodes from literature and dream, for ways to see clearly what we foment as we go, and for what is there regardless.
Purchase Cage of Light by Naed Baeck at Massy Books.
oems by Matthew Tomkinson is a collection of thirty-six lipogrammatic poems composed entirely of flat words such as "sunrise" or "unconsciousness," which contain no ascending or descending letters. Proceeding from the author's lived experience of OCD, the book leans into obsessive-compulsive tendencies, attempting to exorcise them through overuse. In the spirit of rumination, these poems repeatedly circle one nagging question: namely, the matter of what remains after language has been sifted and sorted, sandpapered and planed. In chasing the frisson of a polished stanza, oems performs a personal reckoning with the pleasures of fixation, the virtues of sublimation, and the costs of erasure.
Purchase oems by Matthew Tomkinson at Massy Books.
The Authors
Anthony Varesi has a Bachelor of Arts degree from the University of British Columbia, at which he studied history and American and English literature, and a Bachelor of Laws degree from the University of Saskatchewan. He works as a Crown prosecutor and lives in Kamloops, British Columbia, with his wife and their son. The first edition of The Bob Dylan Albums was published by Guernica Editions in 2002. A French translation, Bob Dylan au fil des albums (1962– 2001), was published by Triptyque in 2006.
Claudia Laroye is a writer, editor and family travel expert living with her family in Vancouver. She is the founder of thetravellingmom.ca and claudiatravels.com. She has been travelling her entire life, and enjoys writing about adventure, family and sustainable travel, as well as culinary and historical topics for a variety of publications around the world. Follow her on Instagram @itsclaudiatravels, and on Twitter @travelling_mom.
Gary Geddes has written and edited more than fifty books of poetry, fiction, drama, non-fiction, criticism, translation and anthologies, including 20th-Century Poetry and Poetics, and won a dozen national and international literary awards, including the Commonwealth Poetry Prize (Americas Region), Lt.-Governor's Award for Literary Excellence, and the Gabriela Mistral Prize.
George Lee was born and raised in China. He earned an M.A. in English literature, a Juris Doctor degree, and a Coaching Certificate in Canada. Now he is an attorney, family mediator, and life coach. He lives with his wife and children in Vancouver, Canada. Dancing in The River is his debut novel.
Jennifer Zilm is the author of two previous collections: Waiting Room (Book*hug, 2016), which was nominated for the Robert Kroetsch Award, and The Missing Field (Guernica Editions, 2018), which was nominated for the Pat Lowther Award. Her poems have appeared all over the place. She is a former/failed Bible scholar, mental health worker, and a librarian/archivist. She is interested in any editing, writing, fortune telling, collage, horoscope casting, poetry reading/ writing, prophesying etc. She is always on the lookout for new ways to communicate and connect and scheme. She lives in Greater Surrey Regional District and in Ecuador.
Matthew Tomkinson is a writer, composer, and doctoral candidate in Theatre Studies at the University of British Columbia. He is the author of For a Long Time, a chapbook out with Frog Hollow Press, and the coauthor of Archaic Torso of Gumby, an experimental short fiction collection out with Gordon Hill Press.
Cage of Light is Ned Baeck's second full-length collection of poems with Guernica Editions. (His first collection, Wait, was released in 2018.) He is also the author of a chapbook with LyricalMyrical press. Baeck studied Liberal Arts at Concordia University and Asian Studies at the University of British Columbia. He has lived for most of the last twenty years in Vancouver.
Donating to Massy Arts Society
Have you noticed our by donation ticket option? Massy Arts Society is primarily funded by Massy Books, an Indigenous woman-owned and operated bookstore on the unceded territories of XwMuthkwium (Musqueam), Sḵwx̱wú7mesh (Squamish) and Selilwitulh (Tsleil-Waututh) Nations. To date we haven't received any operating funds from any grants and are now providing the option for folks to contribute to keeping our events accessible and doors open. All proceeds from your donation will go towards operation costs of our community hub while we focus on supporting the practices of Indigenous and over-excluded artists. Consider donating when you register for your next event.