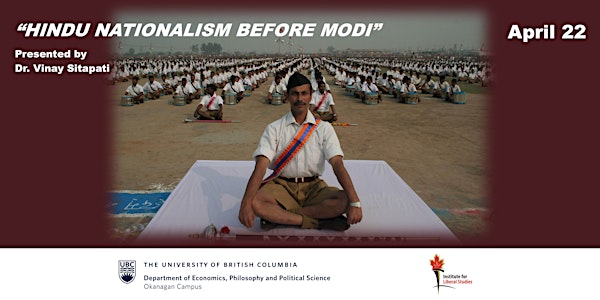 Guest Speaker Dr. Vinay Sitapati
"HINDU NATIONALISM BEFORE MODI" Presented by Dr. Vinay Sitapati
When and where
Location
The University of British Columbia - Okanagan Campus 3333 University Way Library Building: LIB 317 Kelowna, BC V1V 1V7 Canada
About this event
"INDIA'S Narendra Modi has been a hundred years in the making, and this talk provides the backstory. It begins with the creation of Hindu nationalism, moves on to the 1980 formation of the Bharatiya Janata Party (BJP), and ends with its first national administration, from 1998 to 2004. By revisiting these events, we can trace the Modi government's current dominance of Indian politics all the way back to its origins.
Vinay Sitapati follows this journey through the entangled lives of the party's founding fathers: Atal Bihari Vajpayee and Lal Krishna Advani. Over their six-decade-long relationship, Vajpayee and Advani worked as a team, despite differences in personality and beliefs. Bound together by RSS discipline and shared ambition–for a Hinduised Indian polity– their partnership explains the nature of the BJP before Modi, and why it won power."
Vinay Sitapati is associate professor of political science at Ashoka University (India), and currently visiting associate professor at Princeton University (USA). He has degrees from Harvard Law School and a PhD from Princeton University. He is the author of two bestselling books: Half-Lion: How P.V. Narasimha Rao Transformed India and India Before Modi: How The BJP Came to Power. His writings have appeared in the Oxford Handbook of the Indian Constitution, The Harvard Black Letter Law Journal, and the International New York Times.