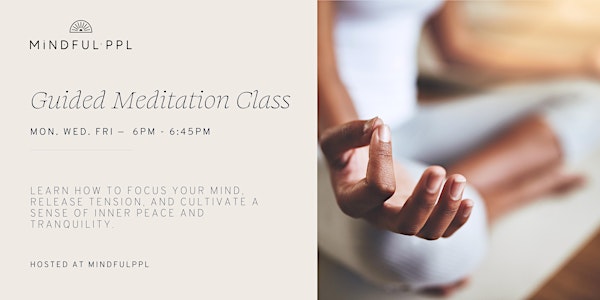 Multiple dates
Guided Meditation Class
learn how to focus your mind, release tension, and cultivate a sense of inner peace and tranquility.
Date and time
Mon, Feb 6, 2023 6:00 PM - Wed, May 31, 2023 7:00 PM EST
Location
MindfulPPL 5 Dickens Street Toronto, ON M4M 1T8 Canada
Refund Policy
Contact the organizer to request a refund.
Eventbrite's fee is nonrefundable.
About this event
Looking for a way to reduce stress and improve your overall well-being? Our guided meditation classes, based in the Buddhist tradition, may be just what you need. Our experienced instructor will guide you through each session, helping you to develop a deeper understanding of Buddhist meditation techniques and practices. You'll learn how to focus your mind, release tension, and cultivate a sense of inner peace and tranquility. Each class is designed to help you connect with your inner self and discover the power of meditation.
So why wait? Join us for our guided meditation classes and experience the transformative power of Buddhist meditation.
Discover the benefits of guided meditation in the Buddhist tradition and start your journey towards a more peaceful and fulfilling life.
Studio Description:
Welcome to our peaceful meditation studio in Toronto's Leslieville neighborhood, owned and operated by a passionate female practitioner. Our studio offers guided meditation classes based on traditional Buddhist practices, designed to help you find inner peace and mindfulness.
Our classes cater to all levels of experience, from beginners to advanced practitioners, and are led by experienced instructor who have studied under renowned Buddhist teachers. Whether you're looking to reduce stress, improve focus, or simply find a moment of tranquility in your busy day, our classes are tailored to your unique needs and goals.
At our small studio, we pride ourselves on offering personalized attention and care to each and every student. Our intimate setting allows for a more individualized approach, ensuring that you receive the support you need to achieve your meditation goals.
We believe that meditation is an essential tool for living a more balanced and fulfilling life, and we are committed to sharing this practice with our community. As a small business, we rely on the support of our community to keep our doors open and continue offering our transformative classes.
If you're looking for a welcoming and supportive community where you can deepen your meditation practice and find inner peace, we invite you to join us at our studio.
https://www.mindfulppl.com
@mindfulppl
Studio Directions:
Visit us at 5 Dickens Street (Dundas Street and Logan Avenue), Toronto. If you are driving, you will enter Dickens Street from Carlaw Avenue. There is a Green P parking section outside the studio, alternatively, there is free parking on Logan Avenue.
If you are entering the studio from Logan Avenue, you can take the set of stairs on the east side of the street (just north of Dundas) that will bring you directly to the front door of our space.
Refund Policy:
MindfulPPL's events and workshops are not refundable.
We thank you for your understanding and cooperation.
About your facilitator
Elena is a Meditation Facilitator and Certified Mindfulness Teacher. For almost a decade, she has committed herself full-time to studying Tibetan Buddhist teachings and practicing meditation. Elena now directs her drive and lifelong commitment to growth and self-awareness by helping others find their own paths to self- realization. Elena's mission is to create a safe space where people can connect with each other while learning new skills or sharing knowledge they already have.
Elena believes that this kind of connection brings undeniable energy into the space and makes us stronger as individuals and better equipped to handle whatever life throws at us. Because when you're connected with ourselves and with others, we're never alone.
Certified Mindfulness Teacher - Professional Level
Completed Foundations of Applied Mindfulness Meditation Certification at UofT
Completed RYTT 350h
Certified EFT Trainer
Certified Yoga Instructor
Have any questions? email us info@mindfulppl.com or DM us on Instagram @mindfulppl