Description
Have you ever wanted to be a part of an Official GUINNESS WORLD RECORDS™ attempt?
Now is your chance!
PLEASE NOT DATE CHANGE!!!!!
DUE TO OVERWHELMING POSITIVE RESPONSE and PEOPLE WANTING TO GET INVOLVED IN SUPPORTING THEIR CHARITY OF CHOICE BUT FEELING THEY DON'T HAVE ENOUGH TIME...WE ARE MOVING THE DATE TO COINCIDE WITH THE 2OTH ANNIVERSARY OF AMANDA'S LEMONADE STAND IN 2018. NOW EVERYONE WILL HAVE TIME TO PUT TEAMS TOGETHER AND PARTICIPATE IN MAKING OUR WORLD A BETTER PLACE BY HAVING ALL THE CHARITIES COMING TOGETHER AT ONE TIME AND ONE PLACE.
On JUNE 17 2018 Amanda's Lemonade Stand - Joshified will host an Official GUINNESS WORLD RECORDS™ attempt for the Longest Line of Lemonade Stands and also one for The Most Charities Supported at 1 Time in 1 place at Downsview Park in Toronto. Every booth will be able to raise money for a charity of their choice!
If the records are broken, all registered participants will be able to order an Official GUINNESS WORLD RECORDS™ certificate from the GUINNESS WORLD RECORDS™ website. You MUST register in advance AND bring your ticket to the event in order to be eligible to receive this as well as the items listed below.
Step 1: Register today to be part of the record attempt and get your lemonade stand (also order FREE tickets for friends and family to join you)
Step 2: Zoom in on the map to select your booth location and #
Step 3: Print your confirmation ticket
Step 4: Tag us on Twitter, Facebook or Instagram to tell us which charity you'll be supporting!
About the Event:
After 19 years, Amanda's Lemonade Stand is moving off the front lawn and onto Canada's Front Lawn - Downsview Park in an attempt to break the GUINNESS WORLD RECORDS™ for the Longest Line of Lemonade Stands, each supporting a different charity (a 2nd record attempt for the most charities supported at 1 event at 1 time). We are celebrating Canada's 150th Birthday!! This event will not only support fixing kids' Hearts (Amanda and Joshua's chosen charities: Sick Kids, Heart & Stroke, Save a Child's Heart, The David Foster Foundation, Trillium Gift of Life, Canadian Blood Services) but as Amanda always says, everyone should have a lemonade stand for something They Believe in, so Each of participating lemonade stands can choose to support a youth, health, family, animal or environment registered charity of Their Choice. We will all come together to support so many worthwhile charities and we'll show that as Amanda and Joshua say "You're never too little to make a big difference and no effort is too small to change the world - one glass of lemonade at a time!!!!
This event in FREE to the public but registration to participate in the GUINNESS WORLD RECORDS™ is required in order to receive you Lemonade Stand Kit, T-Shirt, Baseball Hat and more listed below.
Come out and join us with family and friends for the Guinness Record Lemonade Fun Fest on Sunday June 17th, 2018 from 12:00 pm to 5:00 pm.
The event will have tons to do for all ages including the Delorean from Back to the Future, great entertainment, live and silent auctions, Outdoor Laser Tag and Super Sized games, pony rides, petting zoo, fun fitness obstacle course, kids' games, Pizza, Corn on the Cob, of course Lemonade and Cookies and much, much more!
Please check in regularly to website to see added events, entertainment and foods....
Register for your own lemonade stand and support a charity of your choice and take part in the world record OR just come by to enjoy the fun and support charities.
When you Register:
• Each one of our participants receives a complete Lemonade Stand kit, which includes a re-usable and amazing Guinness record lemonade stand, lemonade, donation jar, serving pitcher and cups.
You will also receive a Guinness record Lemonade stand T-Shirt & Baseball Hat
• Each lemonade stand will be equipped with a space on their stand for company and charity signage (dimension details to be provided upon registration).
You can choose your stand # and location upon online registration - First Come First Serve. In order to see the stand numbers, zoom in on the map when you register.
We need a minimum of 365 stands - don't miss your opportunity to take part in these 2 amazing World Record attempts!!!
We will have a GUINNESS WORLD RECORDS™ judge onsite so that the determination will be made that day as to whether we have officially created new world records!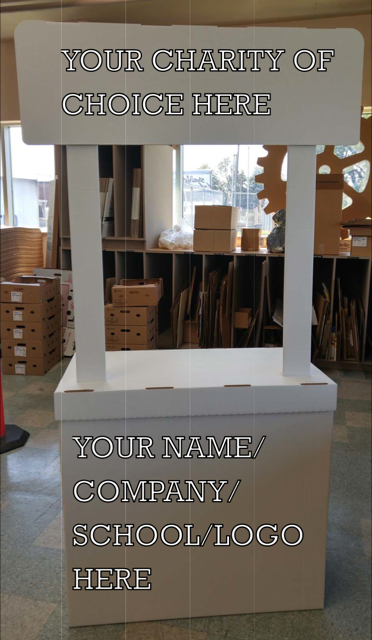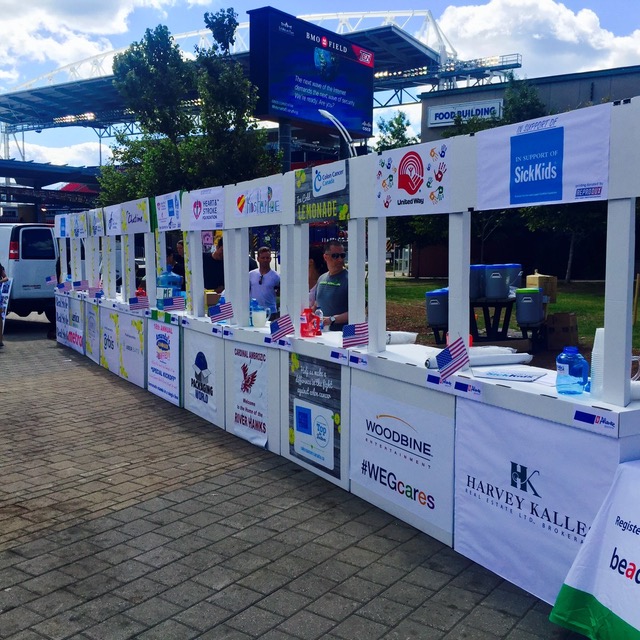 FAQs
Are there ID or minimum age requirements to enter the event?
There is no minimum age requirement, we welcome people of any age to take part! - the more the merrier!!!
What are my transportation/parking options for getting to and from the event?
Downsview Park is accessible by TTC bus, subway (Downsview Station) or car. There is FREE PARKING at Downsview Park.
How can I contact the organizer with any questions?
Please email us at amandaslemonade@gmail.com if you have any questions
Who can I contact about sponsoring this event?
Please email us at amandaslemonade.joshified@gmail.com to discuss sponsorship
Organizer of Guinness World Record Multi-Charity Lemonade Fun Fest