Event Information
Location
Nest
423 College St
Toronto, ON M5T 1T1
Canada
Description
We're excited to announce our DJ Line-Up for this year's Caribana Thursday Gumbo! Alongside our resident DJs Sean Sax and Dj Revy B, Artiste Team, one of the buzzing crews in Trinidad right now is coming down to join Montreal's Godfather D representing Haiti with the Kompa/Dancehall sounds and Toronto's own DJ SHY . We've moved the party a few blocks over to a bigger venue: Nest. So you can catch a proper wine without knocking over somebody's drink this time
Advance tickets guarantee entrance before 1am. To book a booth please contact the Nest directly: justint78@rogers.com
Believe it or not, Gumbo is coming up on its 3 year anniversary! Thank you for making this the hypest party in every city we have touched down in: Toronto, New Orleans, Brooklyn, Montreal! As Caribana season takes over Toronto, we'll be celebrating with our own brand of Bacchanal: video art, culture, dance and of course music. There will be Soca, Dancehall and Reggae and Afrobeats will get some run too. Stay tuned for more details! Don't wait too long to get your tickets to the livest party on Caribana Thursday! It sells out pretty fast!
THE MUSIC:
1 YEAR ANNIVERSARY MIXES https://soundcloud.com/gumbo-8/sets/gumbo-1-year-anniversary-mixes
LIVE DJ SETS FROM 1st GUMBO PARTY https://soundcloud.com/gumbo-8/sets/live-dj-sets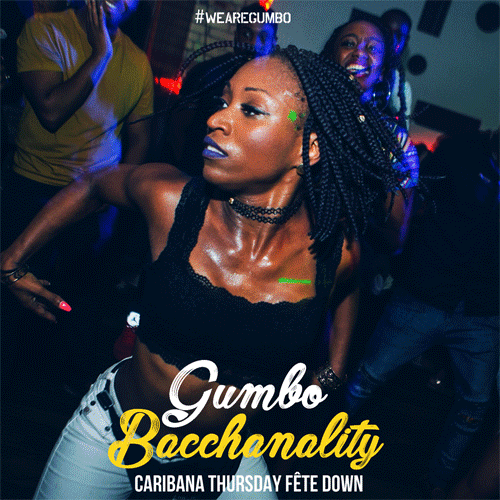 ABOUT:
Founded by hosts Wan and Chi in 2015, the GUMBO music series has traveled from Toronto to New Orleans to Montreal to Brooklyn where they collaborated with Afropunk for an epic throwdown. Now going on its 14th edition and gearing up to celebrate it's 3 year anniversary in August, GUMBO has quickly gained notoriety as a sweaty, dancey, sure thing wherever and whenever it touches down. Almost all installations of GUMBO have sold out before the doors opened! GUMBO pulls from a deep roster of DJs to make connections between Afrobeats, Soca and Dancehall and excursions into the worlds of Kompa, Soukous and Afro House music.
Everybody makes the flavourful Gumbo soup in their own way and call it by their own name. The Gumbo soup as it is known in Louisiana is called Okro or draw soup in Nigeria, Callalo in Trinidad and Quimbombo in Cuba. The thought behind the GUMBO music series, debuting in Kensington Market on a Caribana Thursday, is similarly as simple as it is complex. It's a combination of sounds that overlap, blend and clash to create a delectable music palate. It is the connection between Afrobeats and Soca that intersects with Reggae/Dancehall and overlaps with Samba, Baille funk and Afro house, with a dash of hip hop & R&B. They feed off each other and they all feed us. Imagine Black Coffee + Shabba Ranks + Machel Montano + WizKid all in the sound system and you end up with GUMBO.
This is what you get when a Supafrik & a Shaman meet. We select the DJs, they play the music and you bring the vibes. Together we make GUMBO
Date and time
Location
Nest
423 College St
Toronto, ON M5T 1T1
Canada
Refund policy