Description
GUNG HAGGIS FAT CHOY | Robbie Burns Chinese New Year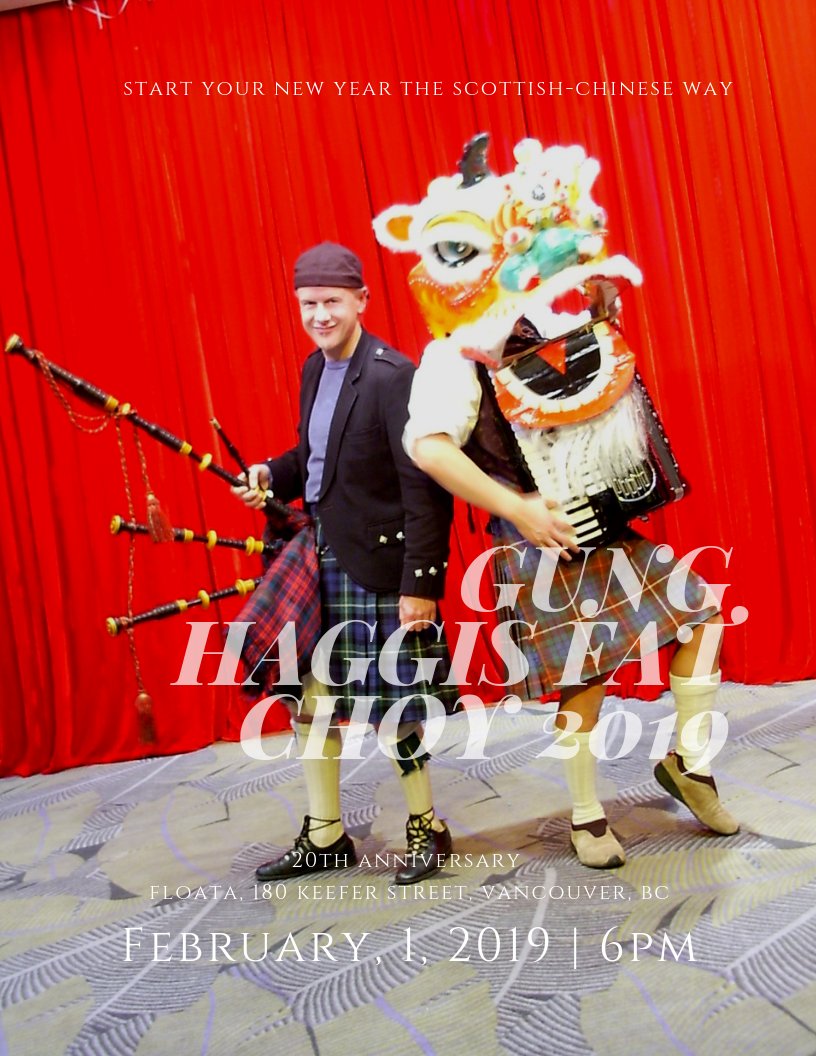 Join us for an evening of intercultural fusion at Gung Haggis 2019!
This year's schedule of events include:

Purchase an individual ticket for $75 or a table of ten for $700. For more information, visit www.gunghaggis.com
About Gung Haggis:
Gung Haggis Fat Choy started out as a small fundraiser of 16 people in 1998 in a crowded living room. Twenty years later it serves dinner at the biggest Chinese Restaurant in North America, and has spun off a CBC television performance special, and the SFU Gung Haggis Fat Choy Canadian Games. The idea for this intercultural celebration originated in 1993 when a Simon Fraser University student was asked to help out with the University's annual Robbie Burns celebrations. Todd, a fifth-generation Canadian, quickly learned about Scottish-Canadian culture with its traditions of men wearing kilts, carrying swords, playing bagpipes and eating exotic foods.
As 1993 was the year that the Chinese Lunar New Year fell on January 27, only two days away from Robbie Burns Day, which is always January 25, Todd decided to celebrate the Scottish Bard's birthday along with the Lunar New Year. "Gung Haggis Fat Choy!" said Wong, "I can celebrate two cultures at the same time." And thus was born the persona of "Toddish McWong" with his growing appreciation of Scottish Canadian history and culture. This is the "Little Dinner that Could" which is now growing into a Vancouver premiere! Creator Todd Wong has been interviewed by BBC Radio Scotland, plus local and national media.
Today, it is a major fundraiser event for Asian Canadian Writers' Workshop and LiterASIAN Festival – helping to create positive examples of interculturalism in our community!
For more information, visit https://www.gunghaggis.com/.