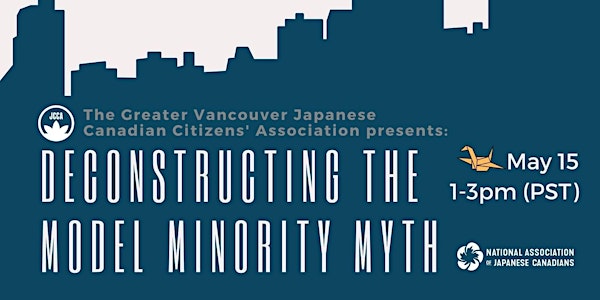 GVJCCA Session 4: Deconstructing the Model Minority Myth
"Deconstructing the Model Minority Myth" is the final session in GVJCCA's online workshop seraiming to empower, educate, and build allyship.
By Greater Vancouver Japanese Canadian Citizens Association
Date and time
Sat, May 15, 2021 1:00 PM - 3:00 PM PDT
About this event
The Greater Vancouver Japanese Canadian Citizens' Association (GVJCCA) is pleased to introduce a series of monthly Zoom workshops to support racialized communities, address racism, and build community networks. These sessions aim to empower, educate, and build allyship.
In this session we will be focusing on the model minority myth. Which communities are most affected? How is this myth perpetuated? In what ways is it harmful? How can we begin to deconstruct it? Guest speakers will provide their perspectives, followed by participant discussion in breakout rooms. All are welcome to join us in this conversation.
Guest speakers:
Eli Oda Sheiner is a 4.5 generation "Japanese Canadian" who recently moved from Montreal to so-called Vancouver. Eli is active in the struggles against racism and the drug war, and is also a doctoral candidate in medical anthropology.
Audrey Kobayashi is a Patricia Monture Distinguished Scholar at Queen's University in Kingston Ontario. She has worked in the Downtown Eastside, especially the Powell Street district, since the 1970s, and has written extensively on the historical geography of the Japanese-Canadian community, as well as on a range of issues of social justice and human rights.
Linda George is a Squamish Nation elder who has lived on the Eslha7an reserve (located in North Vancouver) her whole life. She has held numerous positions with the Squamish Nation, working primarily in community services and social development. From 1985-1997 she held a seat as member of chief and council, and has attended Capilano University, Langara College, and UBC.