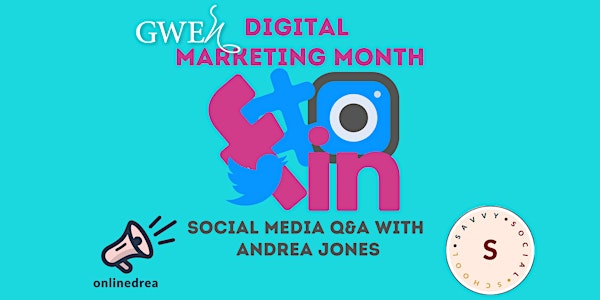 GWEn's Digital Marketing Expert Series: Social Media Q&A with Andréa Jones
An open Q&A session on all things social media with social media manager and educator, Andréa Jones of Onlinedrea and Savvy Social School
About this event
Social media is often the anchor to your digital marketing success, and platforms release changes constantly making it difficult to stay on top of it all and actually see results. It can be frustrating for small business owners and solopreneurs, so we're here to help!
Have questions about your social media strategy for your business? About measuring your social media results? Content that converts? Or specifics to optimize a specific social media platform? Social Media Strategist and owner of Onlinedrea, Andréa Jones is here to answer all your questions in this 30-minute open Q&A call.
Submit your question in advance for priority, or ask it directly in the call.
About Andréa
Andréa Jones is fiercely committed to helping businesses and podcasters build profitable online communities through simple social media solutions. She's the host of the Savvy Social Podcast, which was nominated for "Best Business Series" at the 2020 Canadian Podcast Awards.
Andréa is also the creator of the Savvy Social School, a digital platform designed to teach its 100+ members (predominantly small business owners) how to implement organic social media strategies. For those businesses seeking a curated, done-for-you approach to growing an engaged online audience, Andréa and her team of seven serve nearly two dozen notable brands across the globe.
Named one of Social Report's top marketers to follow, Andréa can routinely be found speaking at highly-publicized events, including Alt Summit, Podcast Movement, and PodFest. You can find her online at onlinedrea.com or @onlinedrea on Instagram.
----------------------------
GWEn is happy to provide a month of digital marketing content to help our amazing community of entrepreneurs succeed. Whether you've been doing the digital marketing thing for years, or are new to the game, we're sure to have something for everyone from our experts, collaborative working group and additional content available.
Things to know:
All sessions in our Expert Series will be recorded and made available to registrants in case they're not able to attend.
Your registration enters you in a draw to win a copy of Donald Miller's book "Building a Story Brand"
You'll receive a link to the GWEn's Digital Marketing Playbook, chock full of resources!