GXSLab Presents Accountability Revolution in Sport Media Virtual Conference
GXSLab PRESENTS ACCOUNTABILITY REVOLUTION IN SPORT MEDIA: VIRTUAL & ON-DEMAND CONFERENCE
About this Event
GXSLab PRESENTS ACCOUNTABILITY REVOLUTION IN SPORT MEDIA: VIRTUAL & ON-DEMAND CONFERENCE
Join the GXSLab as they host the first-ever Accountability Revolution in Sport Media virtual conference, a conference designed to orchestrate meaningful conversations throughout the sports landscape. The conference will feature plenty of notable guest speakers, keynote addresses, and networking opportunities.
#RUAccountable
10:00 am Opening Remarks - "On-DEMAND"
Nathanuel Johnson, RTA Sport Media, GXSLab Project Lead
Laurel Walzak, Prof Walz, RTA Sport Media, GXSLab Director
Dr. Kathleen Pirrie-Adams, Chair, RTA School of Media
10:15 to 10:45am
Keynote speaker to be announced
11:30 am - 1:00 pm Accountability Revolution in Sport Media "IN-CLINIC LIVE"
To challenge and change sport and sport culture as male-only, we galvanize global leaders in the sport industry and academy in a virtual forum type environment, to engage in meaningful discussion about inequities for women in sports. Discussion topics to include four key high-level categories: exposure, programming & media's role; access and participation; and commercialization, see categories below. At this meeting of the minds, the leaders exchange ideas to realize and leverage their influence, and in many cases their already established research and resources, to identify how the industry can collectively bring quicker global responsiveness of the blatant and not so blatant inequities women face in sport. At this forum, we will explore the possibility of establishing a working group to develop some level of a strategic action plan, designed for immediate and deliberate systemic improvements and change within the four categories, but not limited to these, mentioned herein. While, In-Clinic, the expectation is for all parties to be blatantly forward and transparent with their thoughts and ideas on the topics, preferably, there is no room for political agendas, fear of offending or economic constraints.
10:30 am - 3:00 pm "ON-DEMAND"
Kayla Alexander, WNBA, Minnesota Lynx
Dr. Kathleen Pirrie-Adams, Chair RTA School of Media, Ryerson University
Shireen Ahmed, Journalist, Writer, Author, Contributor on TSN, & Podcaster on Burn It All Down Podcast
Harrison Browne, Past NWHL Player
Carly Clarke, Canada Basketball Coach/ Ryerson University Head Coach, Women's Basketball
Jarel Cockburn, Athlete Institute
Richard Coffey, RTA Sport Media, 4th Year Student
Dr. Lindsey Darvin, Assistant Professor Sport Management, State University of NY College of Cortland
Julie DiCaro, Journalist, Radio Host and Author "Sidelined"
Ailish Forfar, Former Professional Hockey Player, On-Air Host, Content Producer
Amrit Gill, Punjabi Hockey Night in Canada
Dr. Guy Harrison, Assistant Professor, University of Tennessee
Jon Holmes, LGBTQSportMedia.com
Michael Goldsmith, Senior Director, Human Resources, Rogers Sportsnet
Amen Isegohi, Motivational Speaker
Moe Khan, Radio and Podcast Host
Dr. Ivan Joseph, Author, "You Got This", & VP Student Affairs, Wilfrid Laurier University
Marsha-Gaye Knight, Canadian Olympic Committee
Grace Li, Marketing and Communications Coordinator at Field Hockey Canada
Scott MacArthur, Fan 590 Sportsnet
Dr. Emmanuel Mogali, PhD
Donovan Mitchell, Director of Diversity and Inclusion, New York Mets
Sarah Owens, RTA Sport Media, Alumnus
Theo Rabinowitz, TEQ, Former CBS
Joe Recupero, Prof Joe, Program Director, RTA Sport Media, Ryerson University
Jennifer Reynolds, Equity, Diversity and Inclusion Lead, MLSE
Brian Richardson, Director of Diversity, Equity, and Inclusion, Indianapolis Colts
Matt Scianitti, TSN and RTA Sport Media, Advisory Committee Member
Karen Sebesta, Executive Producer, CBC Sports
Linsey Shea, Freelancer, NFL/ Fox Events
Devon Sherwood, Coordinator, Alumni Public Relations at the New York Mets
Parminder Singh, NBA
Olivia Ghish-Swaby, Commissioner, Ontario Women's Intercollegiate Football Association
Julia Tocheri, Content Creator, TSN's BarDown, RTA Sport Media Alumnus
Kelsey Fluehr Trainor, Esq.
Danica Vidotto, PhD Candidate, OISE, University of Toronto
Laurel Walzak, Associate Professor, GXSLab and RTA Sport Media, Ryerson University
Dr. Jen Welter, 1st Female Coach in NFL, The Juke Podcast
Stephanie Wetmore, Managing Director-Piloti, & Associate Vice President- Canadian Tire
Dakota Whyte, Nike, and Former NCAA Athlete
Jonas Worth, Director, You Can Play
3:00 pm - 4:00 pm Black Figures in Sport 'ON-DEMAND' Panel Presented by GXSLab
Panelists:
Marsha-Gaye Knight, CBC Sports (Olympics), Black in Sport Business
Brian Richardson Jr., Director of Diversity, Equity, and Inclusion, Indianapolis Colts
Moderated by: Nathanuel Johnson, 4th Year RTA Sport Media Student and Team Project Lead, GXSLab Accountability Revolutn in Sport Media
4:00 pm - 5:00 pm Out On Air "LIVE VIRTUAL" Panel by Joe Recupero, Associate Professor, RTA Sport Media
Panelists:
Scott MacArthur, Fan 590, Rogers Sportsnet
Anastasia Bucsis, CBC
Devin Heroux, CBC
Richard Coffey, RTA Sport Media, 4th Year Student
Moderated by: Laurel Walzak, Associate Professor
5:00 pm - 5:30 pm Closing Remarks "LIVE VIRTUAL"
Dr. Ivan Joseph, Vice President Student Affairs, Wilfrid Laurie University and Author, You Got This (Previous Athletic Director, Ryerson University).
5:30 pm - 6:00 pm Industry/ Student Networking & Cocktail Party "LIVE-VIRTUAL"
Software By Run the World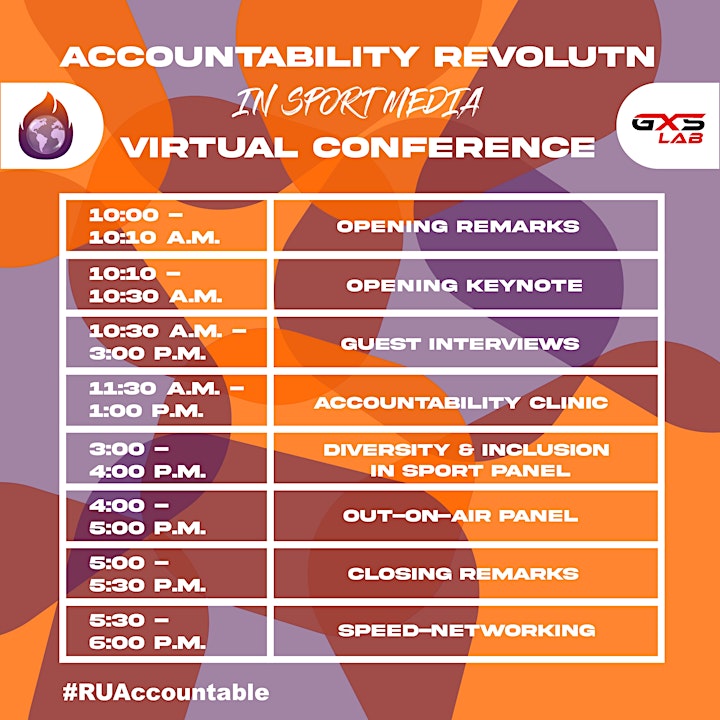 Q&A:
1. HOW IT WORKS - ON DEMAND
The main event will run from on April 13th from 10am to 6pm and consists of over 40 speakers from the following four categories: Athletes, Front Office, Sport Media Organizations and or Influencers, and Academia.
We know that sitting in front of your computer screen can be exhausting, so the concept behind the 'on-demand' portion of this event is so that you as an attendee can access content that appeals to you 'on-demand' on these issues at your own convenience starting at 10:00am on April 13th. The speaker videos are between 10 to 45 minutes, you select the video, tune in, binge watch or watch one, and come back and watch, again at your convenience.
If you have registered, the speaker videos will be accessible following the day of the event, so that you can still go back and watch what you want, when you want, and for however, long you want. Essentially, you can still view your favourite speakers and access the content in the future.
2. HOW IT WORKS - LIVE VIRTUAL
"In-Clinic" Live 11:30AM - 1:00PM
Out on Air Live 4:00PM - 5:00 PM
Closing Remarks Live 5:00PM - 5:30PM
Speed Networking Live 5:30pm - 6:00pm