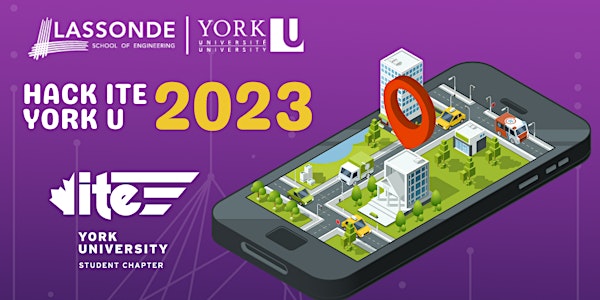 Hack ITE York U 2023
Hackathon by ITE York U Students Chapter for students at York University.
By ITE York University Student Chapter
Date and time
Fri, Mar 24, 2023 5:00 PM - Sun, Mar 26, 2023 5:00 PM EDT
Location
Bergeron Centre for Engineering Excellence 11 Arboretum Lane Toronto, ON M3J 2S5 Canada
About this event
IN-PERSON EXPERIENCE
Hack ITE York is going to be ITE's second hackathon. Over 36 hours with 50+ of the top graduate and undergraduate technical talent from York University. They will create, code, and collaborate to build their projects and solve the most interesting sustainable mobility challenges. Students from all faculties are welcome!
This is not a coding hackathon! You will be able to work on various aspects without needing to code. Coding is completely optional.
General Prizes: $500 first place, $250 second place, and $100 third place.
Location: Bergeron Centre for Engineering Excellence.
Time: Friday, Mar 24 (5 pm -11 pm), Saturday, Mar 25 (9 am - 11 pm), Sunday, Mar 26 (9 am - 5 pm)
Theme: Smart Mobility
Team Formation: You can register as a team or make one during team formation happening on Friday 24.
Skills and Experience required: NONE! Everyone is welcome no matter what your previous experience or skills are.
Price: $15 (York U Students), $25 (Non-YorkU Students)
YSpace at York University, in partnership with Experience Ventures, powered by the Hunter Hub for Entrepreneurial Thinking at the University of Calgary, is offering a $400 - $525 stipend to eligible York students who are fully participating in the ITE Hackathon from March 24 to 26 and meet all the eligibility criteria below:
Eligibility criteria for the stipend:
York University domestic and undergraduate students
Minimum of 16 hours of engagement
Reviewing a 30 min training module
Complete exit survey
If you have received funding before during this school year from Experience Ventures, then you will be ineligible. Here is a list of opportunities that will be providing stipends to students, so if you have completed or are completing one of these then you may be ineligible.
Completed and paid via the UNhack Hackathon with Lassonde
Currently enrolled in C4 program for the Fall 2022 or Winter 2023 semester
Completed National Hackathon 2023 with us
Completed and paid via the Ellehacks
Completed and paid via the CSHub Local Hack
Currently enrolled in ENTR 4800/6655
Currently registered and planning to attend Together 2023
Currently registered and planning to attend YSpace Venture Catalyst